Does your cat like to find a place high above the room to hang out and observe the scene? It seems to be a common occurrence for the cat to find the most elevated spot in the room that he can reach, and then to spend time up there regularly. Have you ever asked, "Why do cats like to be up high?"
Carlos, my last cat, had a favorite spot on top of the kitchen cabinets. He'd jump to the counter top,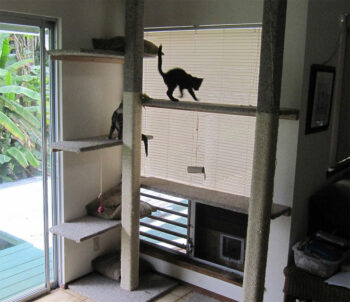 then to the refrigerator top, and then up to the top of the cabinets. From there, he had a commanding view of all the house activity.
I used to call him my "vulture cat," as he watched the room and any activity with great interest. It's just as well that he didn't have wings.
It All Has To Do With Instinctual Behavior
The reason for such behavior: it's part of his instinctual make-up. Because in the wild the cat is both predator and prey, he instinctively needs to observe his world from high up. In this way, the cat can watch for prey and also can see any predators that may be lurking below.
Not only that, but if there is a predator down below, the leaves and branches give the cat some cover. Also, many predators, such as coyotes, are no good at climbing trees, so the cat is safe from them.
Cats often love to climb. Domestic cats enjoy climbing because it gives them mental and physical stimulus. A cat who can climb, jump, or perch is less apt to become bored and get into mischief.
If You Don't Have A Cat Tree, Build Or Buy One
That's why a cat tree is so important, especially for indoor cats, as it gives the cat a climbing challenge and offers high-up observatories.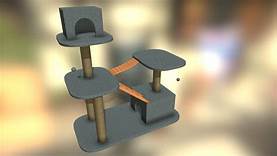 Early cats were hunters and often lived in rain forests. Swift escape up a tree in time of danger made for a great advantage. The cat's flexible musculoskeletal system provides them with exceptional coordination and balance. The cat can jump quite high, and the strongest muscles in their hind quarters gives him the ability to leap several times his own length, either horizontally or vertically.
Those claws are important for anchoring and for leverage. These are the cat's built-in climbing tools. They allow him to hold on to a variety of surfaces, including rocks and certainly to tree-trunks.
The cat's instinct to climb to a high spot is hard-wired into his system, so even though he no longer need worry about predators and he doesn't hunt as much as a cat who must survive on what he catches, he still has that affinity for climbing to where there is a good view.
High Places Offer A Chance For A Peaceful Nap
In a household with more than one pet, or perhaps with rambunctious children, they find peace and a chance to de-stress when they climb to a high perch. They may consider it their place to escape the house activity.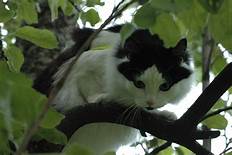 Also, in a multi-cat household, there is some status to climbing high. The cat who has the highest lookout in the room is normally the dominant cat, so of course he needs the best observatory.
Because of this built-in tendency to climb to a high spot, the cat fulfills the need for a lofty lookout. You can help him satisfy his urge for height with cat trees and window perches.
Thus, in this post I will offer a small selection of great cat trees and perches, all from Chewy.com. The company has an impressive selection of such items. You may see one you like in the selection I am offering. However, feel free to click on a Chewy.com link from this post, and then look over the entire collection.
Please help me out by clicking on a Chewy product that I offer here, as then I will earn a small commission from any item you end up selecting, because you used a link with my I.D. to get there. I would appreciate that a great deal.
Your cat will be so happy if you find him a new way to gain a high vantage-point. You will be happy if you can find what you feel would be the perfect cat tree for your home.
References I used for this post are as follows:
anythingkitty.com/2018/06/17/4-reasons-why-cats-like-high-places
vetstreet.com/our-pet-experts/why-does-my-cat-like-to-sit-in-high-places
petassure.com/new-newsletters/understanding-why-cats-like-high-places
thesprucepets.com/why-cats-like-high-places-4773676
Now, let's go to Chewy to select a few pieces from their wonderful array of choices. Remember, to visit the Chewy site click on the blue item title or on the blue caption under the picture.

GoPetClub 67-inch Faux Fur Cat Tree & Condo
by Go Pet Club
Price: $74.99 plus free shipping
Materials include high-quality natural sisal rope. This tree is available in a variety of colors. It's good for a multi-cat family, and the number one dominant cat can have the highest perch.
The tree weighs 48 pounds and is intended to promote exercise, giving kitty a good place to climb up and down.
Perches measure 12.75″ by 12.75″.  The cat tree is intended for cats of all ages.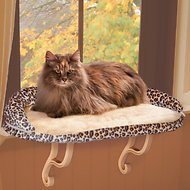 K & H Pet Products Deluxe Kitty Sill Cat Window Perch
by K & H Pet Products
Price: $54.99
Free 1-3 day shipping
Leopard Design
This perch has a removable bolster that zips off, converting the perch into a plush kitty sill.
The perch is strong and easy to assemble. Using the provided hook and loop, the perch can be installed with no tools. It's sturdy enough to hold a cat up to 40 pounds. Measurements are 14″ long x 24″ wide x 3″ thick.
Removable bolster cover can be machine washed. 
On 2 Pets 60-inch Large Round Modern Cat Tree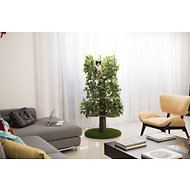 by On 2 Pets
Price: $145.23
Free 1-day shipping
Easy to assemble: Can be ready in less than 10 minutes, no tools needed.
This large 60-inch tree was designed and assembled in the United States. Materials are pet-safe and non-toxic.
Brush or wipe with damp cloth with mild soap to clean soiled areas. Perches and base are wood, so clean accordingly.
This tree is designed for cats up to 32 pounds. It's great for a cat who loves trees and the outdoors — bring a little of it inside.
Frisco 72-inch Faux Fur Cat Tree and Condo

by Frisco
Price: 74.99
Free 1-3 day shipping
This tree is a great one for multiple cats. Containing three perches, two condos, and ten scratching posts, this tree has it covered. Its dimensions are 27 x 29 x 72.
On this tree, your cat can do it all, from lounging to leaping to honing hunting skills. Kitty can jump from perch to perch, climb to the top look-out, play with dangly toys, or sharpen claws on one of the ten sisal-wrapped scratching posts. The two private apartments provide great space for naps.
I especially like the trees on which the perches have low "walls" around the edges, so your cat won't accidentally roll off. They also provide something for kitty to lean against when he's curled up for a snooze.
I hope you liked this post, and will find a new cat tree to delight both you and kitty. Your cat will benefit a great deal from this new way to climb and exercise, and you will enjoy watching his antics.