Have you ever wondered who thought of the idea of jigsaw puzzles? Actually, these first started from a painting. One cut a picture on a flat, rectangular piece of wood into small pieces using a jigsaw. Thus the jigsaw puzzle got its name.  John Spilsbury, a London cartographer and engraver, made the first commercial jigsaw, around 1760. This first jigsaw showed a map of the world.
HERE ARE A FEW PUZZLE FACTS
In the early 19th century, the recipients of puzzles became for the most part children of wealthy families.  The puzzles often adapted the idea of educational themes.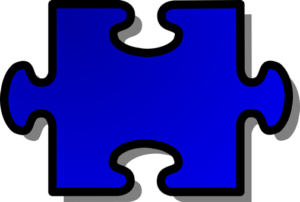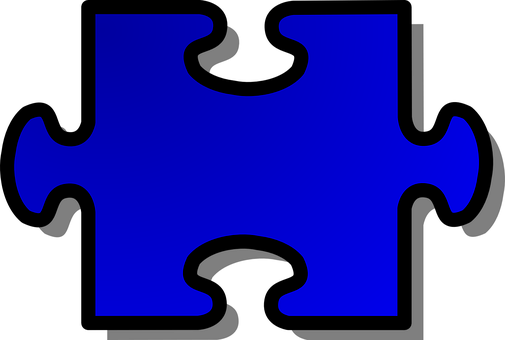 Then, puzzles for adults appeared, and became very popular.
 The end of the century saw the invention treadle-operated jigsaws.  Also, wood became available in thin sheets, and printing improved considerably.  These advances allowed puzzle-makers to add much more durable designs, as well as more intricate and colorful.
During this period, Raphael Tuck, a German furniture dealer, developed techniques that set the stage for the next century of jigsaws.  Cutting became more intricate.  Puzzles now included "whimsies," pieces cut into recognizable shapes.  Puzzle-makers started using plywood or thick card stock for making puzzles.
Raphael Tuck's ideas soon got adapted in America, and by 1908, puzzles became a full-blown craze.  By 1929, Americans bought two million jigsaws a week.
To meet this demand and to save costs, some manufacturers developed the technique of "stack cutting."  Up to eight puzzles could be stacked on top of each other and all cut at the same time.
In the 1920s, an American company developed a technique for die cutting cardboard puzzles.  This reduced production costs to a fraction of the cost of hand cutting.  Now, with the improved quality of printing, superb images became available at a reasonable price.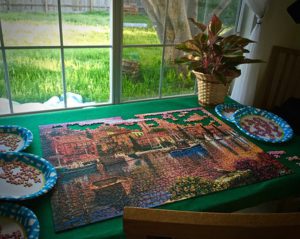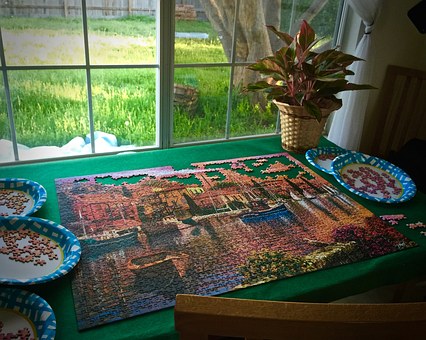 Check out the Guinness World Record for the largest commercial jigsaw puzzle in the world, both in number of pieces and finished size. The puzzle, "Memorable Disney Moments," contained 40,320 pieces and measured about 22 1/2 feet wide by 6 1/2 feet high, and weighed in at 43 pounds
HEALTH BENEFITS FOUND IN PUZZLES
Working on jigsaw puzzles or crosswords can provide many health benefits to the brain. The brain produces a chemical known as dopamine. This chemical is quite important because it is chiefly responsible for learning and memory. When engaging the brain in solving puzzles, the production of this chemical increases.
Because working puzzles stimulates concentration and strengthens short-term memory, puzzles benefit us by helping reduce the risk of dementia.
THE JIGSAW CLASSROOM TECHNIQUE
In education, there is something called the jigsaw classroom technique. This is a method of organizing classroom activity in such a way as to make the students depend on each other to succeed. Classes are broken into groups and assignments are broken into pieces. When the group assembles these pieces, they complete the puzzle.
HINTS ON PUZZLE SOLVING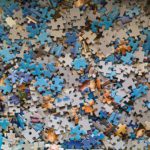 Here are some suggestions for puzzle completion. First, sort the pieces by color, using the picture on the box for a guide to color and shape groups. Find all the edge pieces and assemble. Then do the center, using your color-sorted groups.
When your frame of edge pieces is finished, leave the center of the frame free of pieces, putting in only completed sections. This makes your building job much easier.
Then take your pieces sorted by color, and see if some will combine to make small sections. Look for colors along the edge that match your color groups.
Consult the picture on the box often. Walk around the table to view the puzzle from a different angle. For extra assembling assistance, you can purchase a felt puzzle board that will keep your pieces safe and in place. When you are done working, you can roll the felt board up and store it.
Some people glue their puzzle pieces to a permanent surface and display them as art.
(Information for this article comes from Wikipedia and from jigthings.com
SELECT A PUZZLE ABOUT CATS FOR YOUR FAMILY FUN
The Literate Cat Jigsaw Puzzle — 1000 piece
by Vermont Christmas Company
Price:  $16.95
Prime
The Cats of Charles Wysocki:  Frederick The Literate
750 Pieces
Price: $14.95
Prime
by White Mountain Puzzles
1000 pieces
Price:  $17.99
Prime
by Buffalo Games
300 Large Piece Puzzle
Price:  $7.30; shipping not included
Kittens Fishing
— 550 pieces
by Vermont Christmas Company
Price:  $14.95
Prime
Sun's Out On The Shelf
– 1000 pieces
by SUNSOUT INC
Price:  $13.49
Prime
Tapestry Cat — 1000 pieces
by
White Mountain Puzzles, Inc.
Price:  $15.99
Prime
Curious Kittens
— 1000 pieces
by White Mountain
Price:  $17.99
Prime
The Witching Hour 80013 1000 piece
by Cobblehill
Price:  $23.99
Pr
ime