How many of you remember Laurel Burch? Her folk-art designs and amazing use of vivid colors were signatures of her work. Though Laurel died in Novato, California at the too-young age of 61, her work is still being produced and sold in many places. Her art will bring her immortality.
Laurel's Early Years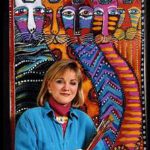 Laurel Anne Harte was born on New Year's Eve, 1945, in the San Fernando valley of California. Later, Laurel's parents divorced, and Laurel and her sister lived with her mother.
At age 14, Laurel struck out on her own with no more than a paper bag of clothes.  She was already battling the disease that she was born with and that would be her nemesis, osteopetrosis.  As a result of this rare and painful bone disease, she had more than 100 bone fractures during her life.
Cooking, cleaning, and babysitting for room and board, she began her search for a stable way to support her fragile body.  She had no job, no money and no dreams.  Then she reached the Golden Gate of San Francisco, and settled in.
Her search for connectedness was evident in the jewelry she made to wear herself.  She used old coins, bones, and beads, arranging them into necklaces and earrings. She said, "I found metal in a junkyard, and hammered it out on the back of an old frying pan." When she wore her pieces, she felt a sense of belonging to a world of her own creation.
Starts her Own Business
People on the street began asking her where she got her jewelry, and thus a new business was born. The jewelry became a bridge to Laurel, leading to friendships and patrons.  In 1960, she launched her own business, "Laurel Burch Artworks." She made her creations out of whatever was available.
Laurel was a self-taught painter, seeing herself as a folk artist who told stories.  She said, "In our fast-paced, changing world, we need symbols that are a reminder of the ongoing world of the spirit." She also made dolls and sewn art, skills she had learned from her mother, who was a seamstress and designer.
The World Starts to Find Her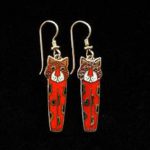 Soon, some of the local stores began stocking her creations. Samples of her work went to China, and in 1971, Laurel went herself, and discovered cloisonne, a kind of enamel work. Laurel designed paintings and had the designs made into earrings.
The business grew, with Laurel being the president and chief designer. In the 1990s she licensed her designs to several companies. These companies have allowed us to keep Laurel's work alive, as they are still creating and making her art worldwide.
Laurel's art always had an underlying theme of bringing different cultures together.  She believed in our connection with the earth and all living things, ideas that only increase in relevance today.
She was a very prolific artist, even when recovering from bouts with her disease.  During these times she was forced to paint from a wheelchair or while in bed, but kept on producing art.
Laurel said "I refuse to have anything in my life that I can't turn around into something magical and beautiful.  I just refuse." Her art will always convey a sense of lightness, passion, and joy.
Her figures display an inner strength, as they are formed with bold lines and graceful curves. Her colors explode into a joyful treat for the eye.  Her imagination was so fertile and uplifting, and every flower, animal, or dragonfly was transformed, until it became magical and beautiful.
Dealing With Her Disease
In spite of her ongoing illness, Laurel found time to perform hundreds of speaking engagements around the country.  As you can imagine, the subject of healing was always an important one to her.  "Being physically vulnerable is, in a lot of ways, a tremendous advantage in terms of human wisdom.  My bone disease was my gift," she said. 
Laurel always gave freely to charitable causes, designing special art such as book covers, posters, and murals around issues that she held with special concern.
We Lost Her Far Too Soon
After two marriages that did not work out, Laurel married a third time to Rick Sara.  As they say, the third time is the charm.
On September 13, 2007, at age 61, Laurel died at her home in Novato, California. She was survived by her daughter, Aarin, her son, Jay, and two granddaughters, Soffiya and Karly.
I am so grateful that Laurel had the foresight to parcel out her lines of products to several companies, as it allows us to continue enjoying her work today.
Miscellaneous Additional Information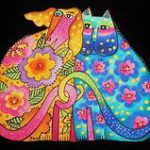 Although Laurel created many products with cat designs, she utilized several other subjects as well, including horses, dogs, and people. We are including just some of her cat designs on this site.
The items shown with this post are all sold on Amazon. Please note that, as I am an Amazon affiliate, I earn a small commission for qualifying sales.
Material for this article came from Everipedia, a branch of Wikipedia and from an article on the Laurel Burch official website, laurelburch.com.
Here is a small selection of Laurel's art for your enjoyment. They all need good homes, so if you see something you particularly like, please click it and make your purchase on Amazon.
"Three Amigos" 100% silk scarf
As an Amazon associate, I earn from qualifying purchases.
2.
 Laurel Burch Indigo Cats
100% silk scarf
As an Amazon associate, I earn from qualifying purchases.
3.  Laurel Burch Artistic Mug Collection           
14 ounce
As an Amazon associate, I earn from qualifying purchases.
Artistic Mug Collection
14 ounce, multicolor
As an Amazon associate, I earn from qualifying purchases.
5.  Laurel Burch Cosmetic Bag
3 in 1 cosmetic bag sets; 3 zippered bags
4 1/2 x 7 1/2; 5 x 9; 6 1/2 x 10
As an Amazon associate, I earn from qualifying purchases
"Tres Gatos," blue and gold
Zipper top
12 x 3 1/2 x 8 1/2
As an Amazon associate, I earn from qualifying purchases.
Crossbody tote with zipper top
As an Amazon associate, I earn from qualifying purchases.

8.  Laurel Burch Crossbody Handbag
A color bonanza
Size:  15″ x 10″
As an Amazon associate, I earn from qualifying purchases.
Blue and Purple
As an Amazon associate, I earn from qualifying purchases.
10.  Laurel Burch Tin Box
(One box in picture is cardboard container for tin box)
Colorful cat design
Measurements:  6 3/4 x 2 5/8 x 1
As an Amazon associate, I earn from qualifying purchases.
These are just a few of the many cool and colorful designs in Laurel's collection.  I'd love it if you found one or two pieces you couldn't live without. Just click on the item or the name, highlighted in blue, and a link will take you directly to Amazon, so you can make your purchase. If you really like Laurel's art, I will post another selection at a later date.