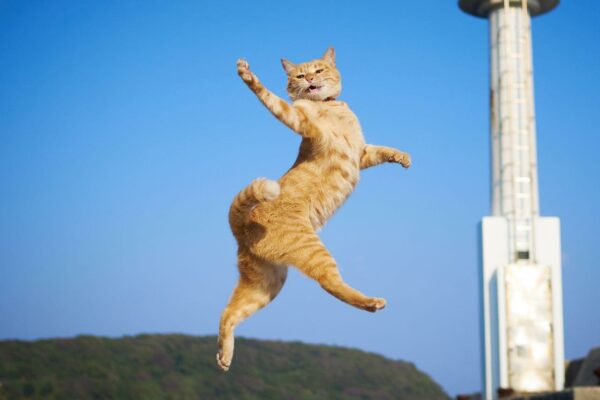 When you see a cat jump to an incredible height, it might make you wonder if the cat is practicing for the Olympics. You might ask yourself, "How high can a cat jump?"
Many factors combine to determine this answer. You can guess that a kitten or an old arthritic cat does not jump as high as a young athletic cat. My Pogo, for example, is an old man cat with arthritis in his bones. He can get on my bed, but that's about as high as he will go.
Actually, Pogo has never been much of a jumper, for whatever reason. It's helpful, now, because he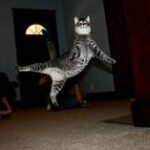 and I are growing old together and I'm just as glad not to have to be on patrol to make sure he doesn't jump on the wrong thing.
You cat's ability to jump depends on his powerful hind legs which propel him upward. He uses his tail for balance. An adult cat can jump approximately five to six times his height (30 cm.) This means the average cat can jump 150-180 cm.
Sometimes they eye the distance between two surfaces which might be rather far apart. Usually, they know if it is a distance they can reach, though occasionally their calculations are off, and they fall to the ground. More often, though, they are successful.
The longest distance on record of a cat jump goes to a cat named Waffle the Warrior Cat. He jumped 213.36 cm.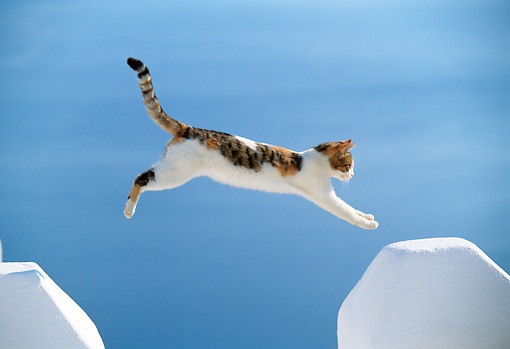 Numerous factors come into play when measuring a cat's ability to jump. These include the length of the hind limbs, fat mass related to lean body mass, age, and such conditions as arthritis.
My last cat, Carlos, loved to jump from kitchen counter to refrigerator top to cabinet top, where he could watch everything below him. He had no trouble jumping from one set of cabinets to another, across the kitchen window.
Once I watched him do something quite remarkable. We'd fenced our yard, and put in four gates. The fence was six feet tall. Before the permanent gates were installed, we used make-shift plywood ones. Their heights varied a bit, though they almost reached the fence-top.
Carlos decided he wanted out of the yard. He walked around the whole fenced area, looking up at the tops of the gates. From this inspection, he discovered that the double front gate was the shortest. It only went up about 5 1/2 feet.
After his survey, he came back to the front gate, backed up as far as he could, and made a run for the gate. His jump took him up a good 4 1/2 feet; then he clawed his way up to the top, tipped forward, and jumped off.
He never made that jump again. I think he was just trying to prove he could do it. Of course, not too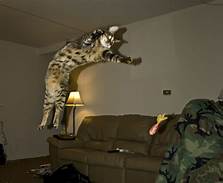 long afterward, we put a cat door in the bottom of the fence for him.
Apparently, Carlos' technique for clearing the fence is the common method. When a cat wants to climb a tree or go over a fence, it is a combination of jumping and climbing. After the initial leap, the cat's powerful back legs help the cat to get where he wants to go.
The rear claws give him traction and forelimbs and shoulders pull him up to where his front claws can get a better grip. As long as the cat has enough traction, the heights to which he can climb are limitless. Coming down from 'way up there is a bit harder, though. Have you ever called the fire department to get your cat out of a tree?
A cat's startle reaction can produce some wonderful jumps. I hope you've seen a few of the clips of cats jumping up and backwards to get away from an innocent cucumber on the floor. So funny!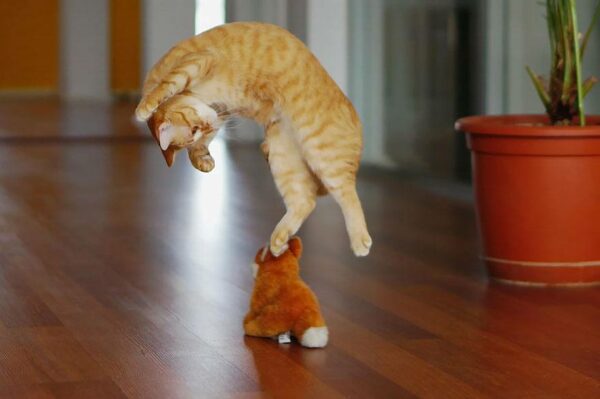 One of the funniest startle jumps I ever saw occurred when I had to stay in a motel overnight with my two black Kodiak cats, Uptight Cat and Loose Cat. I opened the room door to bring in a load of belongings, and Loose Cat, who was used to a lot of freedom, escaped.
He ran down the sidewalk in front of the motel units, me close behind. After a long straight walk, the sidewalk made a left turn and then continued. Just around that turn, up against the corner of the building, a big German shepherd lay sleeping in the sun.
Loose Cat got to the turn, and suddenly saw that dog. He shot straight up in the air about four feet. When he returned to the ground, every strand of hair stood on end and he appeared three sizes larger than when he went up.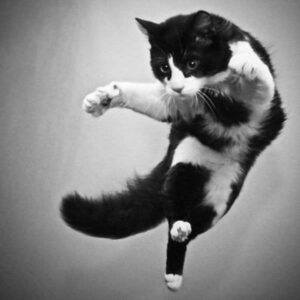 The dog didn't wait for Loose Cat to reach the ground — he took off at a dead run across the motel yard. Be the time the cat came back to earth, the dog was far away, still running.
Cats jumping from a high distance can often land safely. That's because they have a trait known as a righting reflex. If they jump or fall from a great height, this reflex allows them to turn right-side-up in mid-fall, so they can often escape injury. In fact, they are more apt to be injured if they fall a short distance, as there is not enough time for the reflex to right them.
I am including an extra-long URL for an article from Bored Panda. It has such an excellent collection of cat pictures that I wanted to share them with all of you. There are over 50 marvelous pictures. I'm especially fond of #10. Here's the URL:
boredpanda.com/jumping-cats/?utm_source=google&utm_medium=organic&utm_campaign=organic
Here are references I used for this post:
cat-world.com/how-high-can-cats-jump-html