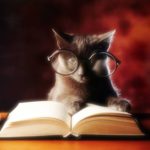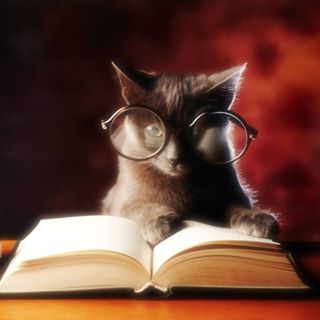 Enjoy stories from three more Cat Writer's Association members. It's such fun for me to put on these little member sketches. I hope you are enjoying them as much as I do. Remember, if there is a link, you can contact the member directly to buy a book. If there is no link, let me know in the comments below the post, and I will forward your contact information.
Tracy Ahrens
Though she grew up in Kankakee, Illinois, located about 60 miles south of Chicago, Tracy now lives in a little historic town east of there called Momence.
For over 25 years Tracy was a full-time journalist and editor for magazines and newspapers. She went through several lay-offs and found it necessary to aim her full-time work elsewhere in order to survive financially. She now works at a pharmaceutical company that uses donated human blood plasma to make life-saving medications.
At first, she was in a department making a medication. Now she inspects finished products of various types.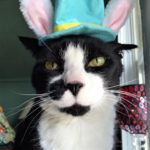 However, she still freelances for various publications online and in print.
Most of her current freelance writing has been focused on fun essays about raising her pets. She currently shares these essays with WagtheDogUK.com, American Pet Magazine, Catster.com, Dogster.com, and two area newspapers, Russell Publications and the Momence Progress Reporter.
She used to contribute pieces to Tails Pet Media, BigBark, and Woofswipe.com. You can find those stories archived online.
If you'd like to find out more about Tracy, you can visit her website at www.tracyahrens.weebly.com
Tracy has published eight books. Four are children's books, two are books of poetry, and two are non-fiction. The pet-related books include her children's book,Sammy Sparrow's First Flight. Through sales of this book, she assists ten regional humane rescue organizations.
Raising My Furry Children is a book that was in publication for a short time until the independent publisher went out of business. Some "used" copies are available online through various sources. Now she has found a small publishing company who plans to re-publish, hopefully this year.
Raising My Furry Children, at the time it was published, assisted American Brittany Rescue through a portion of the proceeds.
Tracy has dedicated several of her books to assisting organizations/causes. Her latest children's book, Come With Me, is assisting a children's cancer research foundation based in Florida.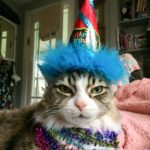 If you would like to see all of Tracy's books in one place, look on Amazon.com and search for her name. Each has a description noted.
Tracy is a founding member of a couple of rescue organizations in her hometown area. She has volunteered on many levels for various organizations. Most of her help has been through fundraising and media outreach.
She has three cats right now, though she once had four. Her three cats are Joan of Arc, who is 19, Captain Jack Sparrow, 15, and Forest, 13. Forest was adopted from a local cat shelter. Joan and Jack she found as kittens. Joan was one month old and in a road at night beside her deceased sibling. Tracy saw her eyes in the light of her car headlights and literally drove over her. Tracy says, "She is a warrior."
Jack was part of a feral litter a friend captured. Tracy saw him while he was still wild and said she thought he was handsome. Her friend gave Jack to her. He was three months old. Forest was adopted at four months of age. He was found on the streets of Chicago, very sick with intestinal parasites.
Forest picked her. It was good timing, as she had just lost two senior cats within one month of each other. She says her fur babies are all truly angels.
For you dog lovers, she mentions her adopted senior dog. Angel is approximately 13; Tracy adopted her at age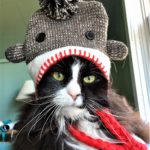 11. She became Tracy's dog after she lost Trucker, her previous dog, to cancer. Trucker was fighting cancer and lost his battle with it while Tracy was fighting her own battle with breast cancer.
Tracy says she has had many favorite stories that her cats have given her over the years. She continues to write about their antics for various publications. You can view some of them that are archived with Catster.com at https://www.catster.com/author/tracy-ahrens.
Her cat, Forest, has his own Facebook page. Follow him on Facebook at ForestBellyUp.
Denise Fleck
Denise is originally from Winter Park, Florida, but has spent 30+ years in Los Angeles going to film school. She then worked as a Motion Picture Studio Publicist on films such as "Ghost," "The Untouchables," "Forrest Gump," the "Indiana Jones" series and hundreds more.
She decided to "go to the dogs, cats, rabbits and all the other animals," and relocated to Northwest Georgia, where she is enjoying the mild four seasons.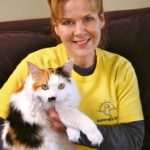 For 20 years, Denise has helped people through her business, Sunny-dog Ink. She's helped many pets as an Animal Care Instructor, specializing in pet first aid and CPCR (Cardio pulmonary cerebral resuscitation), pet disaster preparedness, and caring for senior cats and dogs.
She is proud of having won a Muse Award for her weekly "Pet Safety Crusader Radio Show," but now she is mostly teaching and writing.
Denise has written more than a dozen books. Her newest one, The Cat Safety Bible, will be available on Amazon this July. Here is a summary of the new book:
A long and happy life with your cat begins at the time of adoption, takes you through adulthood and culminates in the senior years with many wonderful memories shared together.
Between the covers of this Cat Safety Bible, the authors hold your hand (so that you can hold your pet's paws) through your cat's journey of life! More than 20 years of helping people to help their pets is revealed by Denise Fleck and Robert Semrow in this text, providing PAWsome ways to make you a more pro-active pet parent.
Subjects covered include:
Pet first-aid and CPCR

Basic needs including nutrition and obedience training (yes, cats must learn manners too)

Pet-to-Pet introductions

Caring for newborns

Senior pet care

Reading body language to keep you safe

Denise & Rosebud

Proper handling and restraint

Safety precautions for every room of the house

Chaos brought about by seasonal changes and holidays

Traveling with your cat

Pet disaster preparedness

Your cat's first-aid kit and more
When Denise's yellow Labrador retriever, Sunny, experienced a back issue, it led her on a new path, teaching pet first aid and CPR to pet parents, rescue volunteers, doggie day care and kitty hotel providers, trainers, grooming schools, professional pet sitters and more.
To date, Denise has personally trained more than 20,000 humans in animal life-saving skills. She's been lucky enough to share this information with millions more via national television segments. She's also given private classes in the home of Oprah Winfrey, Kirstie Alley and several Playboy bunnies along with other animal-loving celebrities.
For five years, Denise taught an animal care class as a joint project between the Burbank Unified School District and the Burbank Animal Shelter. She says one of her proudest accomplishments was teaching high school juniors and seniors everything she could about domestic animals.
She included information about breeds, health conditions, diseases, vaccinations, TNR, the horrors of declawing, BSL as well as basic care and safe handling and restraint.
Then, on Sunday mornings, she trained them to become kennel attendants (she even took them through mock job interviews and taught them to write their resume.) She saw many of them get jobs in pet stores, vet offices and even more, as some headed off to vet school.
Since moving to Georgia, Denise is trying to spend more time at home with the last of her pack, Haiku, a 14-years young Chikita (Chow-Akita) who was found wandering in the desert at four weeks of age.
Denise is a very busy lady. She is now teaching the next generation of pet first aid instructors, LIVE using modern technology. She has students across the U.S., in Australia, Dubai and Ireland thus far.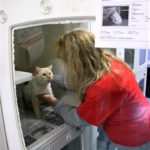 She also writes a weekly blog at www.PetSafetyCrusader.com/blog; then she discusses the topic LIVE on Facebook, Thursdays at 3:00 pm EDT. To hear these discussions, go to www.Facebook.com/Sunny-DogInk.
She also writes for several other blogs and serves as president of the Grey Muzzle Organization. She proudly tells us that this organization will give out over $400,000 in grants next month to rescues and shelters across the country that help senior dogs (dental programs, other medical needs, adoptions, retention in homes, hospice, etc.)
Though she is quite involved with dogs, Denise says she is definitely a lover of felines. She gets her "feline fix" by teaching pet first aid at kitty rescues and hotels and through volunteer work.
She had a precious calico-Siamese named Rosebud as a young girl. The cat adored her great Dane, Ulysses,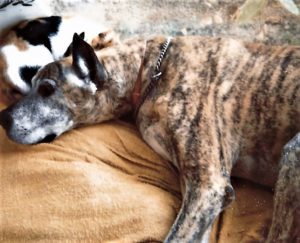 and would lay curled up next to the 180-pound canine.
When she was volunteering at the Burbank Animal Shelter in California, she was told to go to "maternity" and get the
friendly feral cat and bring her back for an exam. Somehow the labels got switched, and Denise, expecting a friendly cat, received a nasty surprise. The feral cat was certainly not friendly and went ballistic, giving Denise 13 punctures from her protective teeth.
Denise did the necessary clean-up and doctor visit, as she is one of those humans who needs to go on IV penicillin from the infection. However, she realized it was human error and never harbored ill feelings toward the cat. After all, it thought it was acting in self-defense.
If you would like to know more about Denise and her writing, go to https://www.petsafetycrusader.com/about/denise-fleck/
Jane A. Kelley
Jane hails from Seattle Washington, where she works by day as a content writer for a digital marketing agency. By nights and weekends, she is a freelance writer with a blog and a column in Catster magazine.
Her blog is titled Paws and Effect. It's a cat advice blog, written by cats for people and their cats.
Jane currently lives with three cats that she says are wonderful: Thomas T. Bombadil, age 18; Belladonna Moonshadow Kelley, age 7; and Tara Wilomena Kelley, age 6. Her family had dogs and cats, plus chickens and a goat or two for as long as Jane can remember.
It wasn't until she turned 13 that the cat love bug really bit her, when she had the cat encounter described below:
When she was 13, her mother adopted a cat, a tuxedo lady named Maddy Gold, who had been living with a friend of hers. This cat did not get along with the other cats in the household, or more accurately, they weren't getting along with her.
In any case, as soon as they brought Maddy home and let her out of her crate, she ran under the couch and stayed there. She would come out to eat and use the litter box, but only when no one else was around.
One day Jane got it into her head that she would change the cat's behavior. She opened a can of cat food and placed it under the couch, then sat back on the other side of the room.
As soon as Maddy finished a nibble and stepped back, I moved the can out from under the couch…and continued this for a good 15 minutes, moving the can just a few inches at a time.
Finally, the can was within arm's reach, and so was Maddy. I let her eat a little bit and then touched her head gently. She jumped back, looked at me, looked at the food, looked at me…and then she climbed in my lap, curled up, and started purring. She and Jane were inseparable until she unfortunately died of cancer less than a year later.
Looking back, Jane says she is quite sure that Maddy had been sick since before she was adopted, and that is why the other cats had been after her. Jane says she is grateful she could give Maddy a few months of love, safety and happiness before she died.
That concludes the Cat Writer's Association review for this post.  I'll be collecting more stories so I can do another post for you soon.