Here is the next installment of interviews with Cat Writer's Association members. Enjoy reading about these talented ladies, and if you wish to order one of their books, you can do so. In some cases, the author has provided a link, so you can access her directly to order. You can also let me know in the contact section at the end of the article, and I will forward your request.
Marjorie Dawson
Though Marjorie has lived in New Zealand for over ten years, she is originally from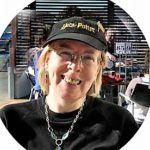 Great Britain. She is a professional blogger, crafter and photographer. Marjorie has written a book called Make Your Cat an Internet Movie Star. 
Marjorie says she loves cats and fights in their corner as much as she can. She donates to assist with a medical emergency or promotes her favorite New York City foster network, PlaceforCats. (http://www.placeforcats.org).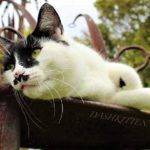 She fights against declawing at every opportunity. She is a strong supporter of City the Kitty and his mom Lori, who are in the vanguard of the fight against ignorance AND MISINFORMATION (Marjorie's emphasis there.)
She says she owns lots of cats. She adds that you don't want to see her monthly insurance bill.
She tells an amusing story about a senior cat they lost recently whose name was Dusty. He adored car rides and was the star of several movies on the blog at Dash Kitten (Her blog, which produces cat movies.)
He was a quiet soul who never spoke out except for a hoarse croak. Then one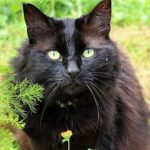 Sunday morning while my partner was making coffee, she heard a VERY LOUD MEOWWWW followed by an astonished "Dusty?" from Paul. Dusty had finally found his voice! From then on until he passed he took every chance to tell us he was hungry.
We love and miss him still.
Melissa Lapierre
Melissa, who lives in South Burlington, Vermont, says that in her non-cat life she works as a data specialist for a construction news journal. The title of her blog is "Mochas, Mysteries and Meows". Visit the blog at https://www.mochasmysteriesmeows.com.
She says "Mochas, Mysteries and Meows is the purr-fect destination for everyone who embraces a cozy, cat-centric lifestyle; curling up on the couch with a warm beverage, and great book, and a cat…or three. The blog's primary focus is to chronicle her cat lady life with Mudpie alongside reviews of products for both cats and cat moms. She also shares knowledge she's accumulated in four decades of life with cats.
Her writing has won a Cat Writers Association Muse Medallion and ten Certificates of Excellence. Last year she also had two poems published in a book called The Whole Kitten Cat Boodle.
Melissa tells us that she has had cats in her life since the day she was born. Her current fur baby is a beautiful tortie named Mudpie. In addition to her cat blog, she's a freelance writer for a major pet food company's blog and a volunteer for Anjellicle Cats Rescue in New York City, for whom she collects online pledges.
In July 2015 she suffered the greatest cat-related tragedy of her life when her previous tortie named Truffles passed away unexpectedly. Cause of death was a saddle thrombus blood clot. Truffles was just four years old.
Melissa had adopted Truffles less than two years earlier, after a succession of senior cats with numerous health issues left her emotionally exhausted. She longed for a young cat with whom she could spend many happy and healthy years. Unfortunately, that wasn't to be, and Truffles' death was a crushing blow. Nearly four years later, she is still having a hard time fathoming what happened to the young cat.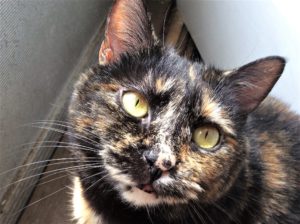 After suffering such a loss, it is natural not to want to go through the heartache again. However, life without a cat was not an option for Melissa. A month later, though still heartbroken, she saw a cat on a website of a nearby shelter. She said that precious little face called out to her.
A few days later she came home with Melissa, and they have been inseparable ever since. The new kitty's name is Mudpie. Melissa says the cat brings a smile to her face and joy to her heart every single day. Though you can never replace a cat you have lost, you can make new memories with another who needs the love and the home you can provide.
Melissa says she has no doubt that Truffles sent the new cat to her.
Ramona Marek
From Vancouver, WA, Ramona is a freelance writer. She writes for many consumer publications, both digital and print.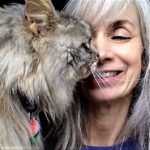 In 2016, she won the CWA Muse Medallion in the Books — Health and General Care
category with her book titled, Cats for the GENIUS. Here's a book description:
Are you a cat owner or are you thinking about becoming one? If cats have already cast their magical spell on you, you'll find valuable information for you and your feline friends.
If you're getting your first cat or find yourself unexpectedly living with a feline roommate, welcome to the cat fancy. Get ready for a whimsical, enchanting, and affectionate lifelong relationship!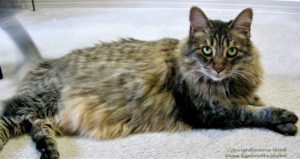 Love is the foundation for your feline relationship, but proper care takes time, money and a lifetime of commitment. Are you ready? Written with clever wit and in an easy-to-read conversational style, Cats for the GENIUS will make sure you are.
Ramona tells us she loves and respects all animals. Cats cast their magical spell on her in childhood. At present, she has two cats, 14-year-old Tsarevich Ivan, a joie de vivre silver tabby Siberian, and 11-year-old Natasha Fatale, a full-time diva dressed as an "anything but plain" brown tabby.
Ramona tells us that when she was growing up they had dogs for pets, as her mother was allergic to cats. Her brother, sister and she always wanted a pet cat. When she was in high school, a neighborhood friend's cat had kittens. Her siblings and she hatched a plan to get one. She says she will always remember the date, as it was her parents' wedding anniversary.
Ramona says, "I called Mother and told her to come straight home after work because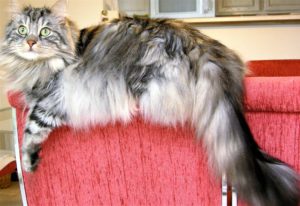 we had a surprise for her. Then I did the same thing with Dad. We were sure they thought we had prepared a special celebratory dinner for them."
"They came in and, 'Surprise!' We handed them the most precious silver and black tabby kitten. Dad sat down and petted the kitten, and Mother went to the store for food and litter. We had a kitten! Whiskers lived with us until I was well into college."
Dawn White
Now a New York City girl, Dawn is originally from Rockland County, New York. She says that "by day I am a Behavioral Psychologist (working with adults with intellectual disabilities and autism) and a licensed massage therapist." She also teaches in a massage therapy program for the City University of New York.
By night, she is a writer and blogger. She started out as a "microblogger" with an active Facebook page. After publishing her book she branched out and founded her blog in December, 2014. She is passionate about animal rescue and rights and wants to help promote responsible pet ownership.
She also thinks her cats are cute, and wants to share them with the world.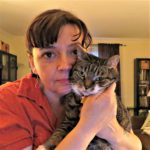 Dawn has written a book called Lola: Diary of a Rescued Cat. This is the witty and sincere rags-to-riches story of a young cat abandoned in a garbage dumpster.
It chronicles Lola's life beginning with her rescue from the dumpster and continues on to her stay in the shelter system (where she became very ill), her rescue from the shelter, adjustment to her forever family and new feline sibling after being adopted; and ultimately, her recovery.
It is written in the form of her diary, with each entry dated, and includes many beautiful photos. Included in the book are many heartfelt stories of other rescued pets. Lola: Diary of a Rescued Cat will make you laugh, cry, and laugh again.
Dawn says that she is owned by two beautiful rescue cats.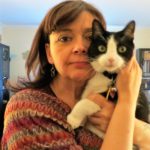 Lexy is an 11-year-old black and white cat with beautiful expressive eyes and a cute pink nose. She is inquisitive and playful and is learning to do high fives. Lexy was abandoned by her first family when they moved away, and was left outside to fend for herself.
Lola is a nine-year-old brown tabby with white paws. She is extremely lovable and affectionate, and loves giving kisses to everyone. Lola had a rough start in life. When she was about six months old, she was found in a dumpster. While at the city shelter, she came down with a horrible cold and almost died. Dawn is happy to say she's better today.
Dawn says, "When I met both Lola and Lexy for the first time, it was love at first sight. I knew we were all meant to be together."