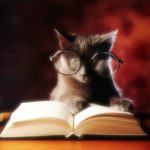 Hello from Lucinda the literate cat, bringing you another of my children's book reviews. However, before I start this review, I have some background information for you. Members of my fan club have asked me how I, a cat, ever learned to read, and how I write these reviews. The Cantankerous Cat Lady (a.k.a. CCL) has given me permission to tell my story.
How Much Do Your Animals Really Know?
The two-leggeds say that truth is often stranger than fiction. My story fits that saying. First of all, be aware that your four-legged family members most likely understand more of what you say than you think possible. When we are around you all the time, we hear you speak, and even though we cannot answer in your language, we know the meaning of many of your words.
When I moved in with the CCL, I met Carlos, the last cat-in-charge in this household. Carlos was an exceptional cat, and shared some of his knowledge with me.
Learning From the Memory Library
First of all, he took me to the CCL's Memory Library, a place best visited when she is sleeping. Lying next to her at night, I learned to travel into her mind to the Memory Library, where all her words are stored. I studied new words almost every night.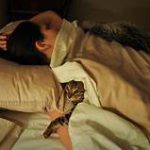 A side note: Since we do not have a language in the way you two-leggeds do, how did Carlos communicate with me? Well, he used Cat Telepathy.
The four-leggeds, especially cats, all communicate telepathically. If you observe your four-leggeds, you might see that some kind of information has passed between them, though they sit without making a sound.
It is too bad you two-leggeds have lost your ability to communicate in this way, as it would be much easier to tell you what we want. We "talk" to each other by passing images between us, rather than words.
A Unique Feature of the Memory Library
A unique thing about the CCL's Memory Library was that we didn't actually read the words in there — we heard them! This phenomenon was very helpful when it came time to read. When we hear the spoken writing, it forms itself into images in our heads so we can understand.
The CCL had a special pair of glasses made for me which made all those squiggly things you call letters much larger and darker. With the glasses, when I ran my paw underneath the words, I could easily hear what they said.
Since I got the glasses, I have read (heard) many books. Having heard the meaning as I followed the line of squiggles with my paw, I also took note of what combinations of squiggles were needed to make that word. That is a skill you call "spelling."
Unfortunately, I miss some letters when I try to write what I hear, so my spelling is not very good. The CCL corrects all my stories before she prints them.
How I am Able to Write
So how do I write down the words? The CCL puts my high stool in front of the computer keyboard, and with my glasses on  I can see the letters on there better, I type the stories by tapping the proper letters with my paws. (Well, I try to use the proper letter.  Since I am typing from what I have heard, my spelling suffers a bit.)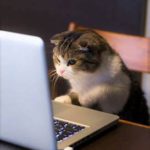 Once I have the whole story typed, my CCL does all the corrections.
This information is for you, my readers, and my fan club members, but not for anyone else. Please be sure that no big university hears about my abilities, because they will try to capture me and study me.
Actually, I guess it really wouldn't matter who you told. If a university abducted me, I will just morph into a very ordinary little house cat, and they will be totally baffled. After all, they cannot communicate telepathically, so they will not be able to figure out my marvelous mind.
And now you know how I can put together these reviews for you. Tonight I am summarizing another hardcover children's book, with some unusual characters.
This week's book is one I hadn't read, so the CCL asked me to do so, just so I could write this review. The name of the book is Charlotte's Web.
First, about the author, E.B. White. According to my research, the book was his most famous novel. More than 45 million copies were sold. The author won important awards for the book, and it has been printed in 23 languages.
(I must digress here. It is hard for me to believe that your speech, which you call language, is not the same everywhere. If I meet a cat from another place in the world, I can still communicate with it with no problem. I might not understand the words its two-legged speaks, but telepathy is telepathy.)
Since we transmit images, we understand each other perfectly. The two-leggeds seem to be so divided, always arguing about things. Perhaps if they all spoke the same language they would understand each other better.
This book confused me totally. Oh, I understand why it won awards. It is because the characters interact in ways that teach youngsters positive lessons.
But, why did the author choose these particular characters? The two-legged girl is okay, but a pig and a spider? Give me a break!
Don't get me wrong. I like spiders. I like to push them around with my paw, and I like to eat them. They are crunchy and tasty, if you don't mind all their wiggly parts.
I hear there are spiders that can kill you if they bite you. I guess I've been lucky, because I have never eaten one of them.
As to the pig, I must admit I have never seen a pig. However, I have seen pictures and I have read about them. They love big, muddy places. They love getting that mud all over them. Yuck! I would hate it! I spend a great deal of time each day washing my beautiful coat to keep any mud off it.
And a rat? Now, there is a no-good creature if I ever saw one. He's a cunning, thieving beast, and he doesn't even taste good. Personally, I can't understand why Fern didn't find a soft, cuddly cat for a pet.
Why these characters? I think perhaps the author selected these three — the pig, the spider, and the rat, to demonstrate that there can be good in any creature, no matter how lowly. It is a good lesson to take from this book.
For example, the spider, though tiny, disgusts or even frightens many two-leggeds. Perhaps the author is trying to give the spider some "good press" for a change.
Now, on to the story. New piglets are born on the farm. Fern, the little girl, learns that her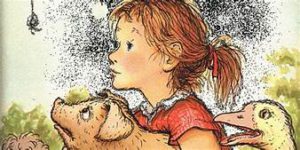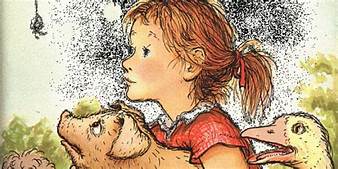 father is going to slaughter one pig because he is weak and the smallest of the litter. Fern begs her father not to kill the pig, but to give it to her.
Her father gives her the pig and at first, she feeds it with a baby bottle. She names the pig Wilbur. The two bond.
When Wilbur has grown bigger and stronger, he is sent to Fern's uncle's farm. Fern visits as often as she can. Here, Wilbur meets the other animals on the farm and becomes special friends with Charlotte, the spider.
Wilbur learns he is to be slaughtered that fall. He does not want to end up as meat for the table, so Charlotte agrees to help him.
She spins words into the web. Her first ones are "some pig." Fern's uncle sees the words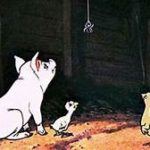 and thinks it is some kind of miracle. Charlotte gets assistance from Templeton, a rat, who finds her labels and scraps of paper to make more signs for the web.
Wilbur is entered in the State Fair. The rat and the spider accompany him. Charlotte spins her web at his stall at the fair and adds her words describing the little animal. Crowds gather to see him and the words in the web. Now he has become too famous to be turned into roast pig.
What would it be like to go through your life knowing you would soon be killed so your body could be eaten?  How horrible!  I am very glad no one where I live eats cats.  I would much rather keep all of me inside my fur coat, uncooked, thank you very much!
I have never been to a state fair. However, we cats are sometimes taken to a special show featuring all kinds of cats. The judges pick the best and give medals or ribbons to the two-leggeds these cats own.
It amuses me that the judges are all two-leggeds. It seems cats could be best judged by other cats, but what do I know?
There comes a time when Fern's mother takes her to see a Dr. Dorian, concerned because the girl believes animals can talk.  Dr. Dorian says the real miracle is not the writing in the web, but that the spider knows without any lessons how to weave her web.
He says it is quite possible that animals can talk and that the reason adult two-leggeds can't hear them is because they talk too much to hear what is going on in nature.  It has occurred to me that maybe this girl understood animal telepathy.
Charlotte spins a sack for the eggs she will soon lay. She knows she will die afterward, and gives the eggs to Wilbur to take back to the farm, asking him to guard them until they hatch.
After the eggs hatch, most of the spiders leave, but three stay to keep Wilbur company.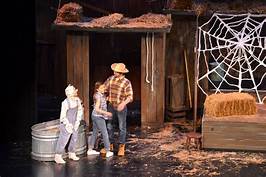 Wilbur spends the rest of his life on the farm.
It seems to me that the author hopes that two-legged readers will learn something from this story. If lowly creatures give a great message, perhaps that message will influence the readers in very good ways.
Another author, Eudora Welty, described the book as "a book about friendship on earth, affection and protection, adventure and miracle, life and death, trust and treachery, pleasure and pain, and the passing of time…just about magical in the way it is done."
I can see that the story contains all those elements. I just feel the author could have selected different animals to teach his lessons.
To get your own hardcover copy of this book, Charlotte's Web, click on the image or on the blue book title. You will be taken to Amazon, where you will be able to purchase the book.  Please note that, as an Amazon associate, I may receive a small commission for your purchase.
by E.B. White
Hardcover
Price: $6.40