Hello, two-leggeds. and welcome to the fourth of Lucinda's Online Shopping Bazaar. I hope you will like this new selection of gifts.  Think about that Christmas list, and you might find something on here that would be perfect for a friend or loved one.
Gift Idea #1: The Incredible Journey
As I am a literate cat, I'm happy to bring you a book I read and reviewed for our website.  This book happens to be my favorite story.  Thanks to my CCL (Cantankerous Cat Lady) for selecting this one for our bazaar.
Have you read the book, "The Incredible Journey," or watched the movie? After reading the book, I am not able to understand how they were able to make it into a movie.  They must have found some talented animals, to be able to act out the story.  I'm amazed.
I was very happy that they pointed out that the cat's hunting skills helped a great deal in keeping the animals alive.  Without that feline ability, the trio would have had a much more difficult journey.
The story illustrates well the amazing ability to find home from incredible distances.  I don't think you two-leggeds could do such a thing, and this is why you have invented maps.  It's just another thing you have to carry along, and what if you have no map? You'd better hire a cat to lead you home.
Gift Idea #1: The Incredible Journey
by Yearling
Price: $7.79
Prime
Gift Idea #2: Mystical Cat In Secret Places Coloring Book
Here is a two-legged toy.  It's an adult coloring book called "Mystical Cats In Secret Places." As you can see by the cover picture, these are very elaborately detailed drawings, and you are given 80 of them to play with.
I think perhaps some of the allure of this two-legged toy escapes me, as I don't have the coordination needed to hold a colored pencil to turn these drawings into color pictures, and as CCL keeps reminding me, I can't see all the colors you two-leggeds can, so might not be able to color them properly anyway.
However, if these are something that can occupy your time, it will keep you from interfering with my nap or with any important task I must complete.
Gift Idea #2: Mystical Cat in Secret Places Coloring Book
by Waves of Color
Price: $9.79
Prime
Gift Idea #3: Jacob's Musical Silhouette Wind Chimes
Now, here is a new kind of musical instrument. It's played by the wind.  The two-legged who designed these wind chimes is Jacob Sekoff. He is a musical instrument maker, and tuned the four hanging metal pieces to the pentatonic scale, whatever that is.
Apparently, that means that when the wind "plays" this instrument, the sound will blend.
How novel and fun! These wind chimes make a windy day more exciting, because now you will hear a harmonious wind composition for your chimes.
It seems like there is potential for music in everything.
Gift Idea #3: Jacob's Musical Silhouette Wind Chimes
by Jacob's Musical Chimes
Price: $27.99
Prime
Gift Idea #4: Laurel Burch 3-in-1 Cosmetic Bag Set
I've noticed that you two-leggeds really like to have an assortment of bags for all the little things you collect.  Perhaps you are related to the pack rat, and that's why you are always collecting new stuff. I know my CCL has a large assortment of bags that she uses for many purposes.
We cats are lucky. We have no interest in accumulating a lot of things that we would then have to carry around with us, or we'd worry that we would lose them.  Worry is not something we need in our lives, either. We like the simple life, so we keep things uncomplicated.
For you two-legged females, though, these little bags are a boon.  You can put a great many things in them, and then you can put all those little bags in one big bag and carry them all.  Don't you get tired of carrying stuff?
The nicest thing about these bags, in my way of thinking, is that they have some of Laurel Burch's colorful cats on them.  Might I suggest that you include a few cat treats in one of those bags, to go with the cat theme?
Your feline friends would then be very enthusiastic about those bags.
Gift Idea #4: Laurel Burch 3-in-1 Cosmetic Bag Set
Three zippered bags
4 1/2 x 7 1/2, 5 x 9, 6 1/2 x 10
Price: $28.00
Prime
Gift Idea #5: Eurographic Yoga Cats
Here's another two-legged toy — a 1,000-piece jigsaw puzzle. This one is quite unique, as it shows many cats in many yoga positions.
Perhaps I could study this puzzle, if CCL gets it and puts it together, and then I could learn some helpful cat yoga poses. After all, it's the latest trend.
Personally, I don't understand why you two-leggeds enjoy putting such a thing together — the only use I see for these pieces is to bat them around the floor, but CCL would not approve. However, apparently you find puzzles amusing and challenging, so grab this one and try it out.
Gift Idea #5: Eurographics Yoga Cats
1,000 piece puzzle
by Eurographics
Price: $16.99
Prime
Gift Idea #6: Go Pet Club 72-inch Cat Tree, Black
Now, this one is more my speed.  It's even in my color, black.  I'd blend in nicely on this cat tree.  And, oh, so fun to go up to the top and look down on the rest of the world.
This tree supplies good sleeping and observing spots, plus it gives us cats needed exercise climbing it. The black and white color is good, CCL says, because it will blend well with any house's colors.  I wouldn't know, as my color sense is not as good as it is with you two-leggeds.
However, my CCL undoubtedly knows what she's talking about.
Gift Idea #6: Go Pet Club 72-inch Cat Tree, Black
33 in. x 22 in. x 72 in.
by Go Pet Club
Price: $89.76
Prime
Bonus Gift
Here is a preview of a new line of products coming your way.  On Saturday, I'll be posting a collection of these canvas cat totes from Zazzle, a unique company that puts the creative process in your hands.  Learn how you, too, can be personalizing lovely gifts from Zazzle by providing your own artwork.
Bonus Gift: Cat Tote by ShyCreativeMess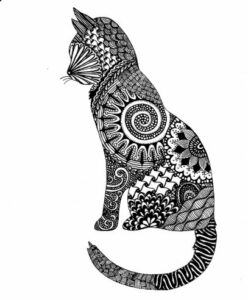 Canvas bag with original design
Available styles: Impulse, grocery, budget, jumbo, tiny
Colors: Natural, or natural combined with red, hunter, navy, or black
Jumbo Tote Price: 11.65
(Price will vary on these bags, depending on size)
Be sure to check through the full selection of 12 more bags in Saturday's post about Zazzle.
That's all for this week, folks.  You will receive a new bazaar post next Wednesday, with more great gift ideas for you to peruse.