We know that cats are very curious and that they love boxes. These two factors — curiosity and a box — lead to a cat's journey. The cat, Panda, did not expect to take a long trip, of course. He simply walked into a shipping container on a Washington dock, and got sent to Kenai, Alaska. The trip of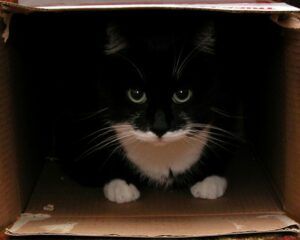 2,500 miles took over a week to complete.
Fortunately for the cat, some local businesses lent a hand and social media played a part in his rescue.
Barge And Cat Arrive In Kenai
On October 24, 2020, the shipping crate was delivered to the Kenai Home Depot. What was a cat doing in there? Who was his owner? The employees wanted to find the answers to these questions.
An employee posted Panda's picture in a Seattle lost pet group, and it was there that D.D. Ponder saw the post.
Ponder had been communicating with Panda's owners, with advice and tips on how to find their pet. Then, at the same time as the first post was aired, Christina Clevenger, Panda's human "mom", says her aunt noticed another lost and found picture in a King County group.
It was determined the cat was definitely Panda, even down to the color of the collar the cat was wearing. Ponder, who operates a Seattle lost pet group, is also the leader of United Angels, a Washington-based nonprofit that raises money for pet medical emergencies.
Travel Plans Made For Panda
The group got to work raising money to get Panda home. Their efforts included flight costs from Anchorage and vet expenses.
A caring Home Depot employee, who wanted to remain anonymous, took Panda to the Kenai Veterinary Hospital to get a health certificate so the cat would be allowed to fly. The clinic also updated vaccines and gave the cat a microchip.
The same kind employee offered to drive Panda to Anchorage from Kenai for his flight. However, Grant Aviation offered to fly the cat for free.
The morning of the flight, the Kenai people heard from Grant Aviation that the trip would be complimentary, and that their employees had all pulled together to help make it happen. The Kenai Animal Shelter lent a kennel for the transport.
It is a mystery how the cat got to the container in the first place. He lives in farm country, with no supply of large trucks driving by. It is thought that perhaps the cat got on a mail truck headed that way, and from there may have jumped into the container.
It Was A Long, Dark, Cold Trip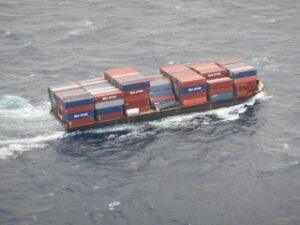 Panda was in the container for nine or ten days, as it traveled to Kenai via barge. The cat had no food and no water, and the container was dark and cold.
Amazingly, though hungry and scared, the cat arrived at Home Depot in okay condition.
Panda is now back with his family in Washington, and is readjusting to the eight other pets that are all part of his family. Christina Clevenger says he's been a bit grumpy since his return. She says, "Apparently he's copped a little attitude on his vacation. But other than that, he's been amazing."
She goes on to express her gratitude to everyone who helped Panda get home. She says Panda will not be leaving the house for a while.
It's so nice to read a story about helpful people who help unite a lost little cat with his owners. If Panda could be interviewed, I am sure he would give many purrs of gratitude.
The original of this story was written by Sabine Poux for KDLL in Soldotna. Many thanks to my friend, Bonnie Harris, for sharing it with me.