Hello, two-legged readers. Lucinda the literate cat is here to offer our newest list of gift ideas. You might find the perfect gift for someone you love on this list, so be sure you look it over carefully.
Gift Idea #1: Miss Patina Kitty Anthem Shirt
From catfashionista.com comes this sweet cat-themed shirt. I know that, for all your cleverness, one thing you cannot do is turn into a cat. I think some of you would like to become a cat. It's too bad you don't have that ability.
However, if you wear apparel that has cats on it, perhaps that is the best you can do. It is a nice way for you to show your love of cats.
When I sit on my CCL's (Cantankerous Cat Lady) lap, and she is wearing a garment with pictures of cats on it, I purr extra-loud just in case they can hear me.
We cats do like to receive recognition for our great beauty, intelligence, and affectionate attention that we give you. Wearing something that has a cat theme is one way of showing your caring for us.
Besides, this shirt is quite attractive, and I think you two-legged ladies would look nice in it.
Gift Idea #1: Miss Patina Kitty Anthem Shirt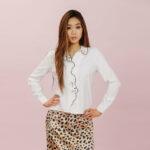 Cotton; polyester
Kitten Paw collar; machine wash
Price: $83.00 or four installments of $20.75
Gift Idea #2: Alice In Wonderland Blank Book
My CCL says that it's always good to be able to open a blank journal and see all those fresh pages waiting for you to jot down your ideas. A great work of literature starts with a blank page. Perhaps you will create a masterpiece.
Or, perhaps you just want to jot down ideas to remember later. Maybe you'd like to start a gratitude journal. There are any number of ways you two-leggeds could use a blank journal.
You could use it to write notes about your cat — Cute and smart things he's done. We cats are so clever and do so many things that are good to remember. Or, perhaps you make notes about any health challenges in the cat or in you that you might be monitoring.
A cat who doesn't write has no idea how useful such a book can be. However, I, your literate cat, understand the helpful function of this book. If you, too, see the value, order one for you and one for a gift for a friend.
As an Amazon associate, I earn from qualifying purchases.
Gift Idea #2: Alice In Wonderland Blank Lined Notebook
by Independently Published
Prime
Gift Idea #3: Tapestry Cat 1,000 Piece Jigsaw Puzzle
My CCL says this is one of her favorite puzzles, as it is so intricate and artistic. If she had it, I'm sure it would go out on the puzzle table right away. She amazes me, that she can sit for so long at that table playing with those little colored puzzle pieces.
But then she finishes the whole thing, and I can see that the cat picture is complete. However, I have never seen a cat that looks like that. Such imagination!
Sometimes it is important for a cat to have time to himself, especially during these lockdown days. This puzzle will keep your two-legged occupied for indefinite periods of time, giving you a chance to do those things that you need to do without interruption.
What better way to keep peace in the family?
As an Amazon associate, I earn from qualifying purchases.
Gift Idea #3:  Tapestry Cat 1000 piece puzzle
by White Mountain Puzzles, Inc.
Prime
Gift Idea #4: Friends Forever Interactive Cat Laser Toy
Now, I could really enjoy this toy. It has captured that beam of light that we sometimes get to chase. It's called a "laser beam," and it can run you cats in circles or have you trying to climb the walls.
I could chase such a laser light all day! Fortunately, this toy is built so that every 15 minutes the light retreats to its hiding place, so the cat gets a chance to rest. Then the game can go on again.
The light rotates, and will move across the floor and walls in a random pattern. I can vouch for cats — it is hard to resist chasing that light. It provides an excellent way for an indoor cat to get needed exercise.
There are even three speed settings: slow, fast, and random. What fun! The company says you can even play with this toy outdoors.
This selection provides great help to cats and two-leggeds because it provides plenty of opportunity for exercise. In fact, the company is so sure you and your cat will love this gift that they provide a 100% satisfaction guarantee. Now, that's something to purr about.
As an Amazon associate, I earn from qualifying purchases.
Gift Idea #4: Friends Forever Interactive Laser Toy
by E & E Co.
Battery operated (three AA batteries, not included)
Prime available
Gift Idea #5: Skechers BOBS Women's Plush  Slippers
I have learned that many two-legged women love shoes. Thus, this item could be very popular. Made by Skechers, these are BOBS plush slippers.
Order the size you normally wear, as these slippers fit true to size. Price may vary according to your size.
My CCL is always telling me she needs her warm slippers to keep her feet warm. Sometimes my feet get cold, too, because I don't wear slippers.  Then, at night-time, I crawl in bed with the CCL and warm my feet against her toasty body. Sometimes, she warms my paws by holding them in her hands. That's very helpful.
Well,  I am very happy that we cats don't have to have a collection of slippers. More things to lose!
As an Amazon associate, I earn from qualifying purchases.
Gift Idea #5: Skechers BOBS Women's Plush Slippers
Color: Black
Prime
Gift Idea #6: Catit Flower Water Fountain
One last gift for this week's bazaar, and this choice is one of my favorites — the Catit Flower water fountain. The regular price is $34.99 but if you click on the link here as soon as you see it, you will be taken to Chewy.com. You might be in time to catch their sale price of $20.00.
As the fountain has a filter that removes everything that is not clean water, the bubbly fountain will always taste like fresh, clear spring water. Yum!
The fountain can be switched from gentle flowing water to a bubbling top, or a faucet-like stream. With these three settings, you can provide the type of water action your cat likes best.
It's easy to put together and is heavy enough that it won't tip over. If you need them, Chewy can sell you extra filters, too.
I like what I see here — there's nothing a cat likes better than to have fresh, bubbly water to drink at all times. It's like bringing that beautiful stream outside into your house where you can enjoy it even more.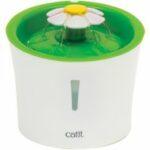 Gift Idea #6: Catit Flower Water Fountain
by Catit
100-ounce capacity
Price: $34.99
Bonus Gift: Rose Kitties Vintage Floral Face Mask
Here's something every two-legged can use right now, with the horrible Covid pandemic threatening your health and well-being — A cat face mask.
When a product such as a face mask becomes  something all of you two-leggeds are required to wear in public places, it is only a matter of time before somebody gets the idea of making masks that are more fun to wear.
These cat masks fill that requirement. Now you can wear a face covering that lets everyone know that you are a cat person. Because this product is so important at this time, on Saturday my CCL will post a selection of 12 masks for you to consider. Think of them as an excellent stocking-stuffer at Christmas.
In the meantime, here's an example, if you'd like one right away. The price of all of them is $12.95, a reasonable amount, I am told. These masks come from Zazzle, the same company who does the wonderful canvas totes.
Please note: The image shows the fabric only, not the mask. When you click on the link that takes you to Zazzle where you can order, you will see the fabric made into a mask.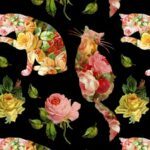 Rose Kitties Vintage Floral Face Mask
by 13 Moonshine Designs
Adjustable ear loops and nose wire to ensure a great fit
Price: $12.95
There is your gift selection for this week, friends.  I hope you see some things you like. Remember that, on the Amazon choices as well as ones from other affiliates, I will receive a small commission.