Recently I've had several questions from folks who wanted to know what water fountain they should buy for their cat. "What is the best cat water fountain?" they ask. I vote for the Catit Flower Water Fountain.
From my research, I'm convinced that this product could be responsible for many happy cats. It appears to provide plentiful fresh water for your fur baby, and I believe your cat might enjoy it.
Name: Catit cat water fountain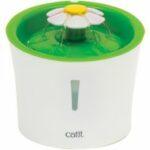 Website: www.catit.com
Price: $27.99
Rank: 4.5 out of 5
Here is what you get: A 3-liter drinking fountain with triple action filter. Here are some of the fountain's benefits:
The fountain will encourage the cat to drink more, helping prevent urinary tract diseases.

Allows three water flow settings for fussy drinkers.

Unlike bowls, the Flower Fountain offers only fresh water on top

Compact three-liter (100 fluid ounces) reservoir

Made of BPA-free materials

Includes triple action filter and a small energy-efficient pump

Low power usage
It is very important that your kitty drink water regularly, as getting sufficient water helps ensure proper kidney function. It also prevents crystal formation that could lead to disease.
The fountain has three different water flow settings: gentle water flow, a bubbly top, or a calm stream. This water is clean at all times. Unlike bowls, this water fountain pushes only filtered, running water to the surface. Thus, your cat has no access to dirty water.
This fountain has a triple action filter. The purpose is to help prevent urinary tract diseases. The filter removes magnesium and calcium from tap water. If not removed, these minerals accumulate in your pet's lower urinary tract and can thus lead to common health issues of cats, such as urinary tract problems.
The active carbon in the filter removes odors and impurities such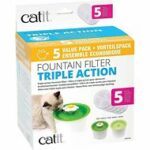 as stray hairs, sediment, and debris.
The design of the filter is compact and ergonomic. It was designed in such a way as to take up minimal floor space. The unit offers more clean water and is much more stable in comparison to other fountains. It is compact yet solid, and it will not be easy for your cat to tip it over Plastics in the unit are BPA-free.
The fountain requires regular cleaning, but is easy to clean. You can take it apart quite easily. When cleaning, you will find that each component is accessible. Just clean with water and natural soap. Be sure to rinse thoroughly after washing.
Locate the fountain in the place where the cat is most likely to use it. Don't get it too close to their food, and keep it away from the litter box. I've found, however, that it is helpful to put the water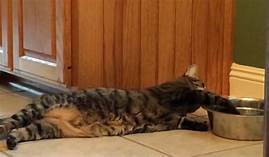 supply close to the food, but not where it might spill into the food dish. My cat eats his meal and then likes a nice, fresh drink of water afterwards.
Also, remember to locate the fountain close to a power outlet as it requires electricity to run.
Make sure you put the fountain where you won't trip over it, but where it is very accessible to the cat. Also, consider your flooring. Will you need to put something under the fountain to protect the floor from possible spills? A waterproof mat to put under the unit is probably a good idea.
Do you drink your tap water? If so, it's probably okay for the cat as well. However, if your water has additives such as fluoride, chlorine, or ammonia, these are not good for the cat. Also, if the tap water smells strong, the cat probably won't drink it.
The filters are safe for cats, as long as they are cleaned regularly, and water is kept circulating and oxygenated. In general, you should clean the filter or change it at least once a month. Follow the instructions from the manufacturer to make sure the unit stays bacteria free and safe for your cat.
A cat water fountain has three primary parts: A water reservoir, a pump, and a filter system. When the reservoir is full of water, then it circulates through the filters, up into the fountain, and trickles out where your cat can enjoy his fresh drink. The water not drunk recirculates through the system.
Of course, if you don't plug it into an electrical outlet, it won't work at all. The pump is very energy-efficient, so it is inexpensive to run.
This water fountain looks really good and will enhance the room where you place it. It is simple to set up and operate. When the water gets low, there is a level indicator on the side of the reservoir so you will know at a glance when it's time to refill.
You may also be able to tell by the sound when the water is low, as the motor will become louder at that time.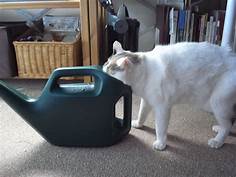 Customers said the Catit Flower Fountain was the easiest to operate because it's simple to clean and maintain and very quiet. Because it has smooth surfaces, lack of crevices, and a small number of parts, it is easy to clean and reassemble.
This Catit Flower Fountain is being offered to you by Chewy.com. You might be interested to know that the product is the same price on Amazon. If you want to treat your cat to this fine water fountain, click on the blue-highlighted product name below and you will be taken to Chewy.com, where you can buy the fountain. Please note that I will make a small commission from your purchase.
Besides the water fountain, I'm offering a couple of filter-ordering selections as well, as you will need to change the filter each month.
Treat your cat to an outstanding way to get some good, clean water. His health will benefit.
Catit Senses 2.0 Cat Flower Fountain #L Cat Water Fountain  
by Rolf C. Hagan (USA) Corp.
Price:  $27.99