Hello, two-legged readers! It's Lucinda, the literate cat. I am starting something new today. I'm calling it "Lucinda's Online Shopping Bazaar," and it will be a feature of my website every Wednesday until Christmas.
Tacky, right? However, might as well tell it like it is. My CCL (Cantankerous Cat Lady) says that if we want to be able to exchange gifts this Christmas, we'd better get some sales so we will have money to buy with.
So, for this weekly bazaar, I will choose a half-dozen or so products from those we carry, and feature them for your shopping pleasure. I will give a cat's-eye view of these products for you. I will provide an image and a blue-highlighted link to each of them which, if you click it, will take you to the place where you can buy this product.
From this list, I'll hope you will be able to enhance your Christmas shopping from our selections.
Gift Number 1: Cat Signs For Home Decor
This first gift presents a "cattitude" that I can understand. If you are not afraid to let people know that you are crazy about cats, this one is for you. Or, perhaps you know someone for whom this small gift is perfect.
After all, cats can't talk back, so there are fewer arguments than you'd have with other two-leggeds. If a cat likes you, he has no reservations about showing it. There are no qualifying rules needed to gain his approval — he simply accepts you.
You announce your appreciation with this sign for your wall.
by Jenny Gems
Prime
As an Amazon associate, I earn from qualifying purchases.
Gift Number 2: Pet Safe Slim Cat Interactive Toy and Food Dispenser
Do you have an inside cat who needs exercise? If so, this toy is the ideal gift. What better incentive, to chase a toy that gives you food treats? If you roll it just the right way, you get a kitty kibble as a reward. It's like wages for your work.
Yes, it is a game of sorts, but it also helps satisfy your hunting urge. Thus, you combine exercise, play, and a chance to get a treat, and you hone your hunting skills at the same time.
This one is a great gift. If you have more than one cat, or more than one friend with a cat, get one for each of them.
PetSafe SlimCat Interactive Toy and Food Dispenser
by Toys and Behavior
Prime
As an Amazon associate, I earn from qualifying purchases.
Gift Number 3: There Are No Ordinary Cats
Yes, we cats all know that, and some of you two-leggeds know it, too. If you need a place to record your day's activities and ideas, and particularly the strange and wonderful things your cat does, this journal is just what you need.
Buy one or two for yourself, and send one to your cat-loving friends at Christmas. What better way to preserve the memory of the extraordinary adventures you and your cat share together?
Besides, we do love it when you write about us. The words serve as reminders of all the reasons you two-leggeds love your furry friends.
by Compendium, Inc.
Prime – Paperback
As an Amazon associate, I earn from qualifying purchases.
Gift Number 4: Meowfia Premium Felt Cat Bed (Medium Size)
I can speak of this gift from experience, as we have a wool felted cat cave in our house. It's a warm, dark hidey-hole where your cat can go to nap and escape the bright, noisy world. We cats enjoy the smell of wool, and find the cat caves to be very comfortable.
Not only are they comfortable, but they are also an attractive addition to the room. It's definitely our piece of furniture, though, as no two-legged can fit in the cave. Privacy is a nice advantage.
Both you and your cat can enjoy the shape and appearance of this cat cave, but only your cat is lucky enough to be able to use it. CCL says she would like one big enough for her.
Meowfia Premium Felt Cat Bed (Medium)
Hand made 100% Merino wool
by Meowfia
Prime
As an Amazon associate, I earn from qualifying purchases.
Gift Num

ber 5: OK Lighting Cat-Themed Touch Lamp
This light is perfect for the bedroom, because you can light it just by touching it. No need to get out of bed to find the light switch. In fact, you can teach your cat to turn it on for you.
We have a touch lamp in our bedroom, and clever Carlos, CCL's last cat, knew how to turn it on. That skill can be helpful for you cats if you want to wake your two-legged up for some important reason. However, at 3:00 a.m. when you wake your two-legged, she may not be too pleased.
Well, maybe you'd better not teach your cat how to turn it on.
The lamp has 3 stages of brightness. The panels are glass, each one featuring a cute picture of two white kittens. The base of the lamp is antiqued bronze. That's all information that may be meaningful to you two-leggeds. All I care about is that it furnishes light for our bedroom.
Of course, I can see well in the dark, but I've gotten to like the effect of electric light, and how it pretends to be the sun. We know better, but don't tell the lamp — just enjoy its light.
OK Lighting Cat-Themed Touch Lamp
Antique Bronze Base
by Wantech International Corp.
Price:$40.00
Gift Number 6: Torre Cat Furniture, From Tuft And Paw Designer Cat Furniture
Here is a gift both your two-legged and you cats can enjoy. In fact, I have put it on my Christmas wish list. If I had it, I could climb to the very top to nap and could have an elevated view of all that happens in our house.
The solid base plate of this tree ensures stability, and it has a large curved surface with scratching felt, ultra-durable and does not need replacing. The tree is constructed of molded plywood with ash veneer. Its diameter is 18″, with a height of 28″ for a small size and 44″ for the large.
Two-leggeds like this company because these products are designed with both utility and beauty in mind. If you want a new cat tree for your cat, but don't want an inferior one that looks like something less than elegant, select this one. It will enhance the beauty of your living quarters.

MiaCara Torre Cat Tower
by Tuft and Paw Designer Cat Furniture
Price: $699.00 or 4 payments of $174.75
Gift Number 7: Laurel Burch "Spotted Cats" Cross-body Tote With Zipper Top
Though I have never seen real cats as colorful as those designed by Laurel Burch, I do find her artwork attractive. This cross-body tote, measuring 10″ by 9 1/2″, is big enough that a small cat like me would probably fit in it, and you could carry me on your shoulder.
If you have a larger cat, Laurel also designed some other cat bags that might be large enough to hold your cat. When you take a look at this one, you can also look at the others available. How fun, to ride along on your two-legged's shoulder when she goes walking.
Of course, this bag is also handy for all the other things you two-leggeds like to carry. Consider selecting one for a friend and one for yourself for carrying all your items that you feel are necessary to take with you.
As for me, I am glad we cats don't have to carry a bag full of plunder, though we might find it fun to ride in such a carrier.
Cross-body tote with zipper top
Price: $18.56
Final Bonus:
Here's one additional thing I'd like to include in all the Wednesday bazaars. Kitty Treats! You can add a bag to your cat's "Christmas mittens" (instead of stockings), if he hasn't lost them all.
This week's choice is a 16-ounce container of Temptations tasty chicken flavor cat treats. Order one early to start your cat's holiday celebration right away.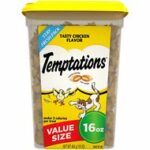 Tasty Chicken Flavor Cat Treats
16-Ounce Tub
Price: $8.24
I hope you liked this week's selection of gifts. Remember, to learn more about the ones you like, just click on the image and/or the blue-highlighted link. You'll be taken to the company selling the product, and can start your Christmas shopping right away.
Thanks for reading — Feel free to share with friends.
Lucinda
P.S. With Amazon, as well as with the other companies represented, my CCL will receive a small commission if you buy a product or two. We'd both appreciate it, as it will help us pay for our Christmas celebration.