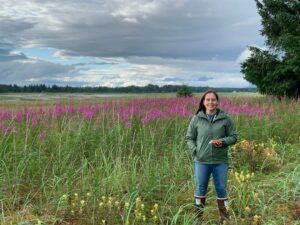 In my small community of Gustavus, Alaska, there are around 400 people, that number being higher or lower, depending on the time of the year.  Most families here have at least one pet, and sometimes several.  However, until now, local veterinary services have been unavailable.
Up until October, 2020, the closest vet lived in Juneau, which meant if you needed vet care for your animal, you had to go to Juneau, an expensive journey that, under the circumstances, neither you nor your pet enjoyed.
You can imagine our community's relief and happiness to have our own vet, as of this month.  Susan Reese Schaff, (a.k.a. Suzy) small animal vet, has now joined us.  She is here because her husband, Tom Schaff, just received the job of Deputy Superintendent of Glacier Bay National Park.
Susan began her life a long distance from Alaska, as she was born in Miami. Florida.  When she was three or four, the family moved to Washington D.C.  They lived in D.C. or just outside the district in the state of Maryland for many years.
Starting college at 18 at Boston University, Susan obtained her undergraduate degree in ecology and conservation biology. After earning this degree, she immediately became involved doing vaccine clinical trials, and then went into public health.
She went to Berkeley and got her Master's in the public health field, specializing in epidemiology.  She worked in the field for a while in El Paso, Texas, where she was involved with a group going back and forth across the Mexican border, a rather dangerous job at that time because of violence in Mexico.
While working in El Paso, she met Dr. Waldrop, a man who became her veterinary mentor.  Working with him inspired her go back to vet school.
While she lived in El Paso, she met her husband, Tom.  They met at a Regional Pandemic H1N1 Flu conference, where Susan was giving a talk on non-pharmaceutical interventions.  At the time, Tom worked at the Guadaloupe Mountains National Park.
Susan obtained her vet degree in 2016 from Colorado State University in Fort Collins.  During her third year of vet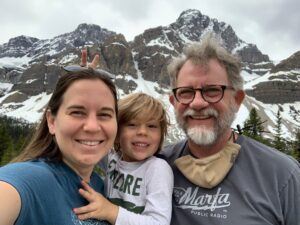 school, her son, Jake, was born.
After she earned her degree, the family moved back to El Paso because of her husband's job with the park service.  While there, she worked at a small animal clinic in El Paso, a job that lasted for two years.
Then, in 2018, they moved back to D.C.  Her husband had a fellowship with the Park Service, working in Legislative Affairs.  During this time, Susan worked in a small animal practice in D.C.
Her husband had to find another park service position after two years.  He had not even considered Glacier Bay, but Susan was intrigued and Googled it.
She'd been interested in Alaska, but it seemed so far away.  Pictures of the area attracted her.  She encouraged Tom to investigate the position, and they decided to make the move.  She says she thinks they will be around for a while, as she doesn't want to move again soon.
So, now we have the Glacier Bay Veterinary Service, a general practice clinic.  At present the clinic has no building, so Suzy is doing house calls. She's centrally located in town, so can reach everyone here quite easily.
Now at home here in Gustavus, Susan, Tom, and Jake, now five, are settling in.  She says Jake loves it here and is happy to be with other Gustavus kids.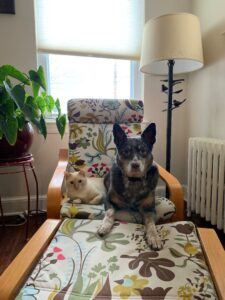 Besides the human family members, they also have two dogs and three cats.  One of the dogs, Sadie, is a Blue Heeler-Catahoula cross.  This dog would love to have a job caring for a herd of animals, but in the absence of such an opportunity, is obsessed with tennis balls.
Cisco, the second dog, is a "mutt from El Paso," according to Susan.  She also has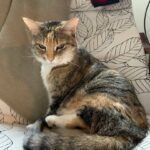 an "old lady cat," Sushi, who is about 14.  Suzy says she got the cat before plans for vet school.
She has not really been a cat person, but didn't want to start with a dog.  Sushi did her job and turned Susan into a dog and cat person.
Zuma is a mama cat who got dumped behind the El Paso clinic, where she had a litter of kittens in a shed there.  Susan ended up keeping Zuma and one of her kittens.
This new kitten was named Leo, but Suzy's son couldn't say the name, instead calling the cat "Meo."  The name stuck, so he is now known as "Meo."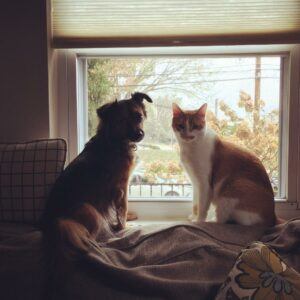 As I have found it very helpful for my cat, I asked Susan if she knew of any studies that have been done on administering CBD to animals.  She said that Colorado State University has been doing tests concerning using CBD for arthritis and seizure control.  It will be interesting to see those sty results.
I asked about common problems with some pets, and Susan mentioned dermatology studies.  She says itchiness in the ears or allergies are common.  Also, dogs can develop digestive problems from the things they get into.
Cases of animals having had an encounter with a porcupine have not yet appeared. Though she would rather not earn her money in this way, she is waiting for her first patient who has received quill implants.
She believes in the importance of vaccines.  In our small community, protection is still important, though problems arising due to nonvaccinated animals do not arise often.

She would find it interesting to ask pet owners to collect fecal samples from animals who go outside, so she can find out which parasites are common, and what kind of preventative practices does the community need.
If you have a need to contact our new vet, perhaps the easiest way is to email her at glacierbayvet@gmail.com. I know many of you share my sentiments of gratitude that we now have vet service available to us.  Three cheers for Dr. Susan Reese Schaff and her family – May they stay here forever!