Until a few days ago, I had no idea that I would ever see a cat in armor. Now, I find that such a thing has been around for a long time. A friend of my housemate told her about his recent visit to the Ripley's Believe It Or Not Museum in Myrtle Beach, South Carolina. Here, he saw a display of cat armor.
Some cat armor is known as samurai cat armor. The Japanese apparently believed in the possibility of a samurai cat. There still exists a Japanese company that makes such armor. The company goes by the name of Samurai Age, and they make pet armor modeled after that of the Samurai Age in Japan.
Jeff de Boer's Craftsmanship Excels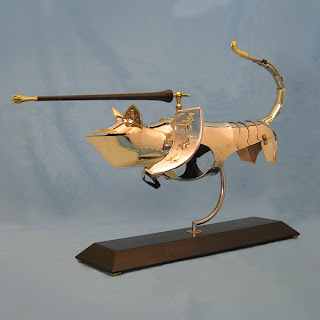 Other artists have gotten involved in this re-birthing of an ancient art. Artist Jeff de Boer creates meticulously crafted protective outfits for cats, and even for mice. I'm not sure how you would catch the mouse to dress him in his protective suit. That would be interesting!
Though I could not find much about ancient cat armor, I did learn that different time periods and countries, including the Edwardian period in Japan and Medieval England made some of these suits of armor. Jeff de Boer draws his inspiration from these far-away ages.
These suits become substantial works of art, as the cat armor might take up to 200 hours to create.
Mr. de Boer started this unusual creative theme while attending the Alberta College of Art and Design. As he had extensive knowledge of armor, his first cat suit became a sculpture class creation. After the first one, he refined his ideas and designs.
Here is a warning, though, from Mr. de Boer. He says, though he has never put a mouse in armor, he has put his cat in a suit, and he has the scars to prove it.
Don't rush right out and order one, though, as the artist does not sell his work very often. If he sells you one, you must patiently wait for his creation. It takes a lot of time, and also requires a lot of money. These suits can cost as much as $25,000.
Paul and Pamela Mott and Nicole Mellon have a company in San Diego, California, with a website called coyotevest.com.
Coyote Attack Protection For Dogs And Cats
Their company started because they wished to design a vest that would protect their small dogs from coyote attacks. This endeavor expanded to include a spikevest for cats. This vest, smaller than their original coyotevest has Velcro snaps instead of buckles.
The purpose of the vest is to help slow down and prevent a surprise attack, and to give you time to react before serious injury can occur.
The Spikevest has a full set of chrome spikes. These protect the neck and the sides of the back. These spikes, made of very hard plastic, allowing you to handle them safely. However, with enough pressure, they are sharp enough to hurt.
These provide necessary protection, but taking them off is easy, thanks to Velcro.
Coyotevest constructs their protective vest from a super-tough puncture-resistant Cordura fabric. This fabric can resist sharp canine teeth. A large collar protects the back of the neck.
These protective vests prove a bit more affordable, as they cost $99.95. I you go to the website, coyotevest.com, you will find a complete sizing guide to help ensure that you get exactly the right size for your pet.
Here is another creative genius who uses modern technology for the purpose of creating customizable kitty armor. Andrew Sink (Jwall), who has a YouTube channel called "Print That Thing," uses his impressive 3D printing skills to do his designing.
Print That Thing On YouTube Gets Into The Action
The design of this spiked kitty armor has spikes that serve their protective purpose. There's even a hole for a leash and a pocket for catnip storage, a detachable tail protector, and a name tag ring.
Andrew says the cat's full armor lacks only one thing. There's no helmet for head protection. Therefore, he's asked all subscribers to send him their ideas for this helmet. The winner will receive the kitty armor that Andrew's cat, Bobo, wears in the video.
And now, in case you wonder about the uses for such armor, an article by Michael Leaverton for catster.com, gives you a list of 44 uses for cat armor. Here you will find a few of his suggestions. Your cat might need armor to protect him in these situations:
Let's Hear It From Catster
Sleeping under a toddler eating corn chips
Napping on the patio during a hail storm
Wading into an anthill
Eating the dog's food — or a human's food
Knocking toiletries off the sink, or the silverware of the table
Toppling the bookshelf
Breaking into a poultry farm
Scaring dogs or guests
I'm sure you can think of your own suggested uses. Perhaps your list will be much better. Needless to say, if you and your cat find such gear useful, by all means acquire some.
As pictures often speak louder than words, I have included videos to help bring this story to life. Enjoy!
References used for this post:
catster.com/lifestyle/44-uses-for-cat-armor-humor-3d-printing
yahoo.com/lifestyle/someone-made-armor-cats-freaking-193327769.html?fr=syssrp_catchall
coyotevest.com/products/feline-spikevest
boredpanda.com/pet-dog-cat-armor-samurai-age-japan/
mentalfloss.com/article/61167/protect-your-cat-suit-armor