It is not known exactly when cats first came to Japan. I've found more than one source suggesting they arrived around 500 AD, brought in on ships sailing from China to Japan. These cats had the job of protecting religious documents from being destroyed by mice, as these little vermin really liked the taste of books written on parchment. Over time, the importance of cats in Japanese culture grew.
Maneki-Neko Figures And The Temple Of Botokuji
Many Japanese believe that cats bring good fortune. This belief is expressed in the little figure called maneki-neko, which means "beckoning cat." Many legends have arisen on the origins of this figure, which has one paw raised. The most popular comes from its association with the Botokuji Temple in Tokyo.
As the story goes, the temple started as little more than a run-down hut. Its only inhabitants were an impoverished monk and his cat. Though he had trouble feeding himself, the monk always made sure he fed his cat.
One day, when a wealthy man traveled in the area, a violent storm arose, and the man took shelter under a tree next to the temple. Then, he spied the monk's cat, who appeared to beckon him into the temple.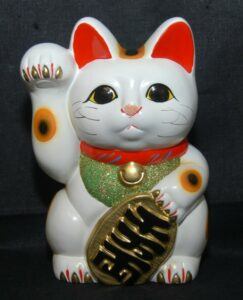 Just as he approached, a bolt of lightning hit the tree under which he had been standing, and destroyed it. The man, saved by the beckoning cat, became a sponsor of the temple out of gratitude.
The temple then became increasingly prosperous, and when the cat died many years later, his figure became immortalized into a symbol of good luck. Now people leave maneki-neko figures at the temple as a thank you for their good fortune or success.
Meaning Of The Raised Paws
This figure always has at least one paw up in a beckoning gesture. A raised left paw has the purpose of inviting new customers into a business. A right paw raised encourages good luck and wealth, especially in the home.
The colors of the figure also have significance.
Calico (white with spots): Here we have a traditional combination. Japanese believe it to represent the luckiest of all maneki-neko cats.
White: Significance: The bringer of happiness, purity, and positive things
Gold: This color brings wealth and prosperity.
Black: This maneki-neko wards off evil
Green: Used by those desiring health and/or academic success
Red: Either a wish for a successful relationship or for good health
Folklore Involves Supernatural Cats
Not all cats, however, bring good fortune. In Japan, you will find a long and sometimes very scary history of folklore which involves supernatural cats. This cat folklore ranges from magical .shapeshifting cats, called bakeneko to horrible cats known as demonic corpse-eaters (kasha).
A folk belief long held among the Japanese tells us that when anything lives too long, it manifests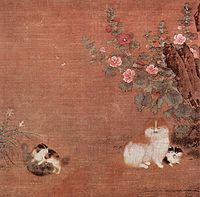 magical powers. Cats seem somewhat unique because they can manifest a variety of powers and can assume a multitude of forms.
Perhaps because they are not being indigenous to Japan, cats have an aura of coming from somewhere outside the known world. Cats have a mysterious nature anyway, and they have some qualities that add to this mystery.
Examples: The way they can stretch to proportions that seem unnatural, their ability to walk making no sound, and those glowing eyes that change shape at night. Don't these qualities lend themselves to the creation of a magical animal?
Was It A Tiger Or A Supernatural Cat?
The first known supernatural cat to appear in Japan arrived in the 12th century. Reports said that a massive, man-eating, two-tailed cat named the nekomata patrolled the woods of the Nara prefecture, the former capital of Japan.
Local newspapers at the time reported that this nekomata "caused several to die in its jaws." Today some speculation has arisen that the legends came about because of an escaped tiger, brought from China, or of an animal with rabies.
During the Edo period, around 1600, magical tales became woven into art and theatre, as the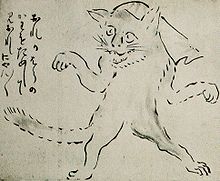 country seemed hungry for tales of magic.
Now cats appeared everywhere, as cat and human populations grew together. Stories followed of the shape-shifting bakeneko. Some of these involved cats who could change to human form. Other stories said that cats who lived extra-long lives changed into these bakeneko, then killed their owners and took their place.
You will find tales of the bakeneko that did not involve evil-doing. Around 1781, the spread of rumors claimed that some of the courtesans living in the walled pleasure districts located in the capital city of Edo were transformed bakeneko and not human at all.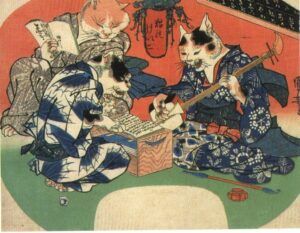 Artists at the time could not resist creating illustrations which featured a wild world of cats. These cats danced at dark, until late in the evening. They smoked pipes and played dice. Of course, they indulged in all sorts of trouble that the hard-working farmer wished he could enjoy.
Story Of The Evil Kasha
The kasha stories came from the dark corners of magic. The kasha was a demon from hell who fed on corpses. Once a normal house cat, the smell of dead bodies filled him with an overwhelming desire to feast, and he transformed into a flaming devil.
The story had such power in Japan that it still remains part of the culture when it comes to funerals. The Japanese have a custom to hold a wake after a loved one dies. They bring the body home and the family gathers, but to this day, cats cannot come into the room where the wake is held.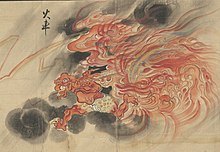 The root of the notion of the cat who takes many forms rests in Shinto, Japan's indigenous faith. Shintoism encompasses the animistic belief that spiritual qualities can be found in things in nature, such as trees and rocks. You will find a long history of attributing these qualities to objects, animals or even a natural force, such as thunder.
In modern times, you can see these beliefs presented in the form of Japanese manga, or comics. The leading character, though not human, becomes endowed with human traits in order to create empathy in the reader.
Creation of Hello Kitty
Pop culture has found an avenue of expression for many artists and artisans, focusing on cats. A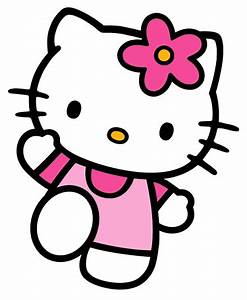 prime example: Hello Kitty, the bulbous-headed feline created in 1974 by designer Yuko Shimizu. Hello Kitty has become the best-loved cat character in Japan.
At first, Hello Kitty went on the market as a product for young girls. Now she has become a global pop culture heroine with a wide variety of product lines and endorsements that bring in billions of dollars.
Hello Kitty fans can even board a Hello Kitty jet, with a staff of stewards dressed as Kitty-chan. Their destination could lead them to an escapade in one of her vibrant theme parks. However, don't stare too long at Hello Kitty or you will realize she has no mouth.
Who Is Doraemon?
Then there's Doraemon, a big blue-and-white kitty with a goofy personality. This robotic kitty earned his stripes as the star of a series of manga comic books, first appearing in 1969.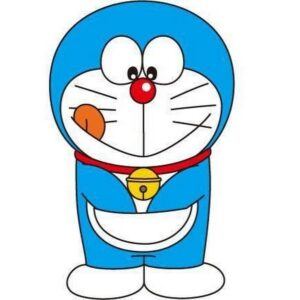 Doraemon has a special 4D pocket, from which he can produce magical gadgets such as a headgear helicopter, a dress-up camera, or a slice of bread that contains memory-boosting powers.
There is one specific kind of cat in Japan that deserves mention.  Scientists believe that mutations in cats occurred because of inbreeding. Thus, cats with short tails became common.
Japanese Bobtail Established As A Breed
After World War II, Elizabeth Freret, an American, imported three Japanese short-tailed cats to the United States, bred them, and registered them as the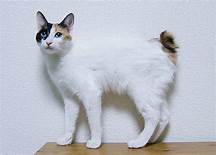 Japanese Bobtail breed. These cats have become precious to the Japanese.
The bobtail in Japan dates back to the 16th century. Sometime during Japan's Asuka period (538-
710), people set these bobtails free in the streets to hunt for rodents threatening Japan's silkworm population.
Cat Cafes First Appeared In Japan
The cat cafe also developed in Japan. The first one, named Neko No Jikan (Cat's Time), opened in 2004. Now, you will find many cat cafes in Japan, where you can buy food, drink, and snacks for
yourself or for the cats. Patrons can play with the cats that roam freely around the room.
In Japan, Visit A Cat Island
You can visit one of several cat islands, such as Aoshima, where the cats outnumber the people. These places might seem a paradise for cat lovers.
This post presents an overview of cats in Japan, and barely scratches the surface of stories, art, and cat history you can discover. The Japanese reverence for felines supplies a common thread within the art culture of the country. Whether their allure comes from their mystical properties, their mysterious and elegant nature, or something less natural, the Japanese fascination for all things cat exerts a strong presence in their art and society.
For one of my references, I used the book, "Land of the Rising Cat, by Manami Okazaki. If you would like a copy of this fascinating book, you may order it here from Amazon. Remember that, as an Amazon associate, I will receive a small commission from your purchase.
Land of the Rising Cat: Japan's Feline Fascination
Published by Prestel
Price: $19.95
Prime
Here are the other references I used for this post:
https://smithsonianmag.com/arts-culture/japans-love-hate-relationship-with-cats-180975764/
https://jasper52.com/blog/6-fascinating-facts-about-cats-in-japanese-art/
https://catster.com/the-scoop/inside-japans-obsession-with-cats
https://fredasavahl16medium.com/the-cat-in-japan-i-love-japanese-culture-and-their-love-of-cats-1c75833de326
https://bookbrowse.com/mag/btb/index.cfm/book_number/3838/the-travelling-cat-chronicles