Hello, two-legged readers. I hope you are ready for the next installment of my online shopping bazaar. I've selected six new items for you to consider, plus your bonus of kitty treats that all cats enjoy. So, let's get going!
Gift Number 1: Cat Jigsaw Puzzle For Holiday Fun
Since she just finished one, I know my CCL (Cantankerous Cat Lady) likes jigsaw puzzles about cats, so I think I will get her a new one from my Christmas earnings.
Here's a good one — It's called "Frederick the Literate" and is from a Charles Wysocki illustration. It's produced by Buffalo Games. I wonder if Frederick the Literate is related to me?
I find it amazing that you two-leggeds can search around among all those puzzle pieces and can actually find the ones that fit together. It's beyond me. I do know if I find a piece on the floor, I can have fun batting it around, until CCL takes it away from me.
However, you two-leggeds can occupy yourselves for hours with a puzzle. That is good, as it means we are free to amuse ourselves without being interrupted. While you are puzzling, we are doing whatever we please. Long live jigsaw puzzles!
Gift #1: Cat Jigsaw Puzzle for Holiday Fun
Frederick The Literate Jigsaw Puzzle
by Buffalo Games
Prime
As an Amazon associate, I earn from qualifying purchases.
Gift Number 2: Cat Yoga Pose Creates Great Paper Towel Holder
I hear there is a new craze among two-leggeds that is circling the country. Cats are being invited to join the two-legged yoga sessions.
I can understand why — after all, we are so agile and limber that we set a good example of what you can accomplish in a yoga class. You will learn to be more cat-like.
This particular gift item features a cat in a yoga pose. I guess we could call it "downward cat." That elongated cat shape supplies the perfect place to store your roll of paper towels.
What an attractive way to hold some paper towels, if I do say so myself. Your friends will ask you where you found it, so perhaps you can give them one of their own for Christmas.
Gift #2: Paper Towel Stand — Yoga cat cast iron holder
by What on Earth
Prime
As an Amazon associate, I earn from qualifying purchases.
Gift Number 3: Smarty Kat Hot Pursuit Toy
Now, I would have fun with one of these. A furry-looking "tail" is fastened to a wand that turns at varying speeds underneath a durable fabric cover.
Your cat might see the tail and try to grab it, but it keeps getting away. Let me at it! I'll make sure that furry thing doesn't escape me!
What a fun way to work on hunting skills as well as to get some good exercise. I'm an unusual cat, as I spend far more time reading than I should. A toy like this one would make my day much more exciting. Your cat might find it quite satisfying as well.
Gift #3: Smarty Kat Hot Pursuit Concealed Motion Toy
by Quaker Pet Group
Prime
As an Amazon associate, I earn from qualifying purchases.
Gift Number 4: "Cats In The Sun" Book Of Photography
Now, this is the kind of book I like. There are some words to read, but more important are the pictures.
The Greek villages shown in these beautiful photos make me want to go to Greece. It looks like a paradise for cats. What is especially nice for the cats is that there is lots of warm sun, and the felines can climb to the rooftops and survey their village and the ocean that surrounds their island.
A family might select a cat or cats to feed and care for, but the cats live outside. They have total freedom. When the fishing boats come in, every cat knows that free food is arriving, and they hang out at the dock to get their share.
What a glorious place for a cat! You two-leggeds will also enjoy looking at these wonderful photos. Maybe you will decide to visit. If you do, can I go with you?
If you cannot visit, get a copy of the book for yourself, and get one for other cat lovers this holiday.
Gift #4: "Cats in the Sun" book of photography
by Chronicle Books
Paperback
Prime
As an Amazon associate, I earn from qualifying purchases.
Gift Number 5: Luxe Teal Kitten Pajama Set
Here's one that is especially nice for the cat ladies who love us! Maybe you can't actually be a cat or grow fur like we do, but if you wear sleep clothes that have lots of cats on them, you are probably as close as you can get.
These pajamas are attractive and look like you would find them fun to wear. I think you would be as comfortable in them as we are in our fur.
If you have a loved one who needs a special Christmas gift, these pajamas might be just the thing. When you go to look at them in the catalog, look through the rest of this fine line of cat-themed garments.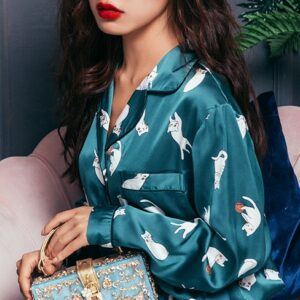 Gift #5: Luxe Teal Kitten Pajama Set
Polyester
Turn Down Collar
Price: $65.00 or 4 installments of $16.25
Gift Number 6: Outdoor Heated Cat House for Feral Cats
I am a lucky cat because I live in a warm home and have a comfy bed.  Sometimes when it is very cold, I think about all the cats who are living wild and I wonder where they sleep at night.
You two-leggeds would be performing an act of compassion if you supplied a heated outdoor house for a wild cat or two.  Imagine how you would feel if you had to sleep outside in the cold in wintertime.
This house comes with a removable, washable heating pad, so you can keep it clean and also remove it when the weather warms up. Some lucky cat would be quite grateful for such a bed.  If you already have an outside house for a cat, consider buying just the pad to use in winter.  It's also available on Amazon. Just click the link to the house and you will see pads for sale as well.
Do not leave this house under the stars, as rain will come in the flaps.  Put it under some kind of weather shelter, like a porch, a barn, or other covered area.
Do your good deed this Christmas and furnish a warm place for a cold cat to sleep.
Gift #6: Petyella Outdoor Cat House
Heated feral cat shelter
by FXswede AB
Prime
As an Amazon associate, I earn from qualifying purchases.
Bonus Gift: Temptations "Creepy Catnip" Cat Treats
As promised, here is this week's Chewy.com special offer for cat treats your kitty will love.  This week's cat treat is a bit different.  Here it is: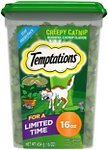 Blissful Catnip Flavor Cat Treats
16-ounce tub
Price: $8.24
Remember, as an affiliate of Amazon and other companies, theliteratecat  will receive a small commission on anything you purchase from this bazaar.  Your shopping choices will be much appreciated, both by the company, my CCL, and me.