In her recent review of Dr. Paul Koudounaris's book, "A Cat's Tale," Lucinda asked many questions of Baba, Paul's talented cat. I decided I needed to do an interview with Paul to gain some answers to Lucinda's questions. He agreed, and sent his responses via email. You can read his responses here.
CCL (Cantankerous Cat Lady): Paul, can you tell us about your background. (Where are you from, education, etc.)
Paul K.: I was  born in Los Angeles and raised in Southern California. I stayed there through university, eventually gaining a PhD in art history from UCLA.
Of course, that's a bit of a stretch to feline history, but if you look at my other books, which are about the visual culture of death, an art  history background makes sense.
The cat book came about as a spin-off from another project related to the death books. As a fourth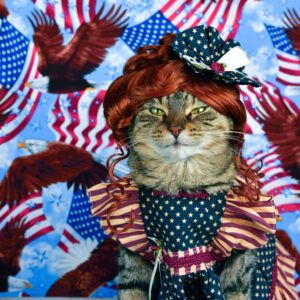 book I had intended to write a history of pet cemeteries. In the process, of course I collected all these wonderful stories about animal history, in particular cats who never got the credit they were due.
At the same time, I have a cat, Baba, who is a genuine super model and can cosplay all these different looks. (Cosplay is the practice of dressing up as a character from a movie, book, or video game.) Eventually, I put it all together as feline history told in her voice.
CCL: Well, you and Baba have certainly done an outstanding job with this book. What gave you the idea to enlist Baba, not just as an author, but as a model?
Paul K: I had already started creating the photos with her independent of a book project. At first it wasn't just historical characters, but more standard cosplay stuff — Princess Leia and so on — and it only moved into the historical costumes after I had the idea for the book.
It makes a certain amount of sense to have her narrate also since her picture appears so many times. I could have done it another way, though, just used the photos without her narrating, but there was an additional reason. Have you read feline histories before? They're very dry and choppy, because there's so much we don't know.
Using her as the narrator created a way to smooth that over because the narrator's voice becomes a subject as much as the historical material.
CCL: You seem to have a good understanding of cats. Does this interest go back a long way? How did you get interested/fall in love with cats?
Paul K: I had a cat as a child. Fritter was her name. Beautiful girl. Found by a neighbor in a dumpster. She couldn't keep it, but gave it to me. That cat really loved me; thought I was her kitten.
CCL: Well, you and Baba seem to be closely bonded as well. How did you and Baba meet?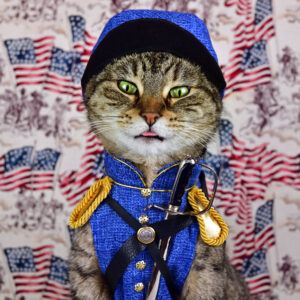 Paul K: I'd gone to the North Central Animal Shelter on Lacy Street in Los Angeles. I had intended to take home a long-haired silver tabby that had become the apple of my eye — or so I thought. When I arrived to claim my cat, I was met with heartbreak. Though I'd visited that cat daily since he'd been incarcerated, he'd suddenly been given over to another person.
Depressed, I walked toward the exit, passing a row of caged cats who had been recently brought in. A paw reached out to stop me. It was attached to a brown tabby, maybe six months old, and the claws gripped my shirt and pulled me close. 
As I looked for the first time in her eyes, she explained to me, without a word being said, that the cats themselves had things all planned out. It was she, not the silver tabby, who had been designated to go home with me.
As always, the cats knew best. Baba, a precocious learner, also had an interest in history. When we perused old documents together, she stared at the pages with remarkable intensity. One day, out of curiosity, I turned the page upside down.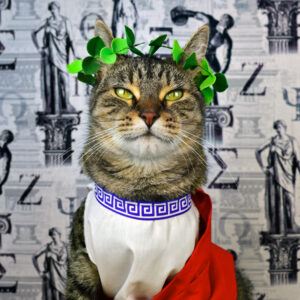 A paw quickly reached out to nudge my hand to turn the page back upright. She would not condone such foolishness.
CCL: How did you get Baba to agree to pose for you?
Paul K: She's a cat. I don't get her to do anything. She has to agree on her own.
If she didn't enjoy modeling, she wouldn't do it. For her, to be honest, it's really a bonding exercise between us, like a special game only the two of us can play.
CCL: Do you give her treat rewards?
Paul K: Honestly, she doesn't need them. She's a pro.
CCL: Well, doing her poses just because she wants to seems in itself pretty remarkable. How long do your photo sessions last?
Paul K: That really depends. In some cases, she nails the pose on the very first try. She's real good. If she gets it the first time, that's it, wrap it. Usually it takes a bit of work, though. We'll sometimes do a set of sessions, maybe a half hour at a time.
CCL: She is a remarkable cat. What can you tell us about her personality?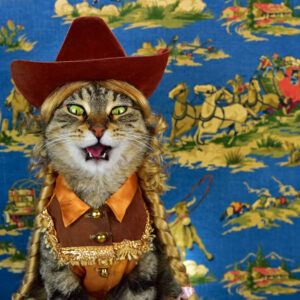 Paul K: She's an alpha and a cat who needs a real strong bond with a person. She's highly intelligent in an intuitive way, which is what makes the photos work. She can read me; she knows what I want when we shoot.
CCL: I believe your use of the word "intuitive" is very relevant. We super-educated humans tend to look down on other animals as lesser beings. Yet, for all our education, cats, without any formal training, can sense things about us such as illness and mood, or they can pick up on our thoughts.
I believe we could call this ability to pick up thoughts "telepathy" — a skill we might have had once, but have no longer. What new things could a small cat teach us if we paid attention? Baba, you are a good example of the potential that can be found in a little kitty.
Now, tell us, Paul, who did the photography? Did you do them all?
Paul K: Yes, I did all the photos.
CCL: What about costumes? How many people became involved in the process? Which costumes did you make? Was it a challenge making garments that would fit a cat?
Paul K: Some costumes were very simple to make and some not so simple. There are three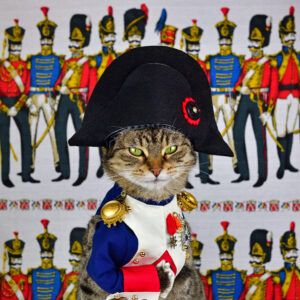 categories of costumes. One is repurposed doll and teddy bear clothes. Those are simple enough, and those are the majority. All I had to do was recut and tailor them. They don't even need to be finished in the back since no one sees them from behind.
Second are the ones I created from scratch. A lot of those are simple looks — like the Roman look and Warhol, for instance.
Third category is outfits I commissioned, hard stuff like Napoleon. A costumer friend made those to
spec.
CCL: How did Baba manage some of the expressions she has in the pictures?
Paul K: I don't know that I can properly answer that question. The expressions are on her end, but she's certainly got an impressive repertoire of them.
CCL: Baba the cat is certainly an extraordinary cat, and undoubtedly became that way because you encouraged her and interacted with her, helping her to reach her full potential. I firmly believe that when we accept animals as part of our family, our involvement with them can help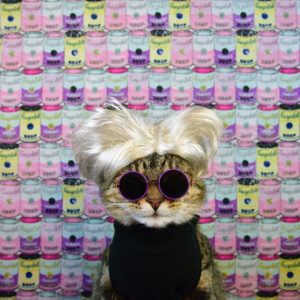 amplify their intelligence. It's so important to accept them for who they are and at the same time
invite them into our world.
You and Baba have become an incredible team, and I've so enjoyed learning about you and your four-legged companion. It's my hope that your book will continue to entrance, entertain, and instruct its readers. Thank you so much for agreeing to this interview.
Though I've included a link to Amazon at the end of Lucinda's review, where you can purchase the book, I will add another link right here, so you don't have to go look for it. Here goes:
A Cat's Tale: A Journey Through Feline History
by
Henry Holt and Co.
Authors: Dr. Paul Koudounaris and Baba the Cat
Prime                                                                                                    
Price: $18.69
If you purchase this book, I will receive a small commission from your sale. Your price will be the same, regardless.