If your family includes a four-legged furry feline, it is important to be aware of the nutritional needs of the cat. After all, being a different species, he does not have the same dietary requirements as you, and you need to make sure he gets all he needs in his diet.
Your Cat: An Obligate Carnivore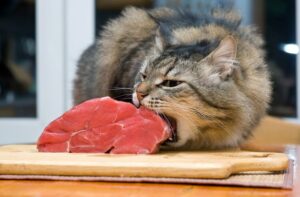 A cat is an obligate carnivore. That means that he must eat meat. In fact, he fills many of his nutritional requirements by eating meat. When your kitty eats protein, his digestive tract will break it down into body building blocks called amino acids. These then become reassembled into the type of protein needed by your cat.
Though a cat's body can make many of the nonessential amino acids they need from other amino acids, the protein in his diet must supply eleven of these. The amino acid list includes the following:
Arginine
Histidine
Isoleucine
Leucine
Lysine
Methionine
Phenylalanine
Taurine
Threonine
Tryptophan
Valine
In the wild, these amino acids come from the meat and other animal tissues the cat eats when he kills prey for a meal. In cat foods, manufacturers often include only a minimum amount of protein a cat requires to survive, so be sure to read labels.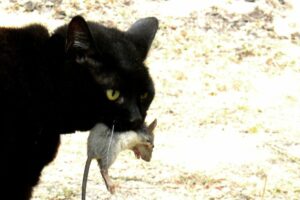 One way to ensure that you give the cat all the necessary nutrients: Purchase foods that have an AAFCO (Association of American Food Control Officials) statement on the label. It will tell you that you have a nutritionally adequate food.
Nutrients fall into one of six categories, listed below:
Protein
Fat
Carbohydrate
Vitamin
Mineral
Water
Protein
The protein in your cat's food, essential for his health and well-being, has the purpose of developing and maintaining muscles, skin, fur, nails, tendons, ligaments, cartilage, enzymes, hormones, and antibodies. Protein also supplies an important source of energy.
Plants vs. Animal Protein
Your cat needs animal protein because his body needs the nutrients provided. Plant proteins do not fill the requirement because the amino acids from plants do not become well utilized by the cat's body. The complete proteins in meats will do the job, whereas vegetable proteins, considered incomplete proteins, do not provide all the amino acids. For example, taurine, an essential acid for cats, cannot be found in plants.
Fat
The saturated fats from animal sources such as meat helps with cell integrity as well as metabolic regulation. These two, linoleic and arachidonic acids, have made the list of essential fatty acids. Though humans can convert plant sources of essential fatty acids (EFAs) to the needed components, cats cannot convert plant sources efficiently.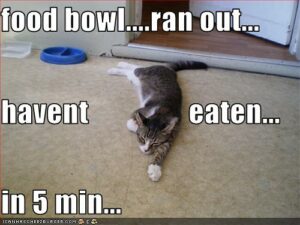 For example, in order to obtain arachidonic acid, the cat must eat meat.
Minerals
Essential to a cat, minerals become involved in almost all physiological reactions. These contribute to enzyme formation, pH balance, nutrient utilization, and oxygen transportation. Like vitamins, minerals work synergistically, acting in cooperation with each other.
Major minerals cats utilize in their bodies include calcium, chloride, chromium, cobalt, copper, fluorine, iodine, iron, magnesium, manganese, molybdenum, phosphorous, potassium, selenium, silicon, sodium, sulfur, and zinc.
Vitamins
Vitamins regulate metabolism and take care of normal growth and function. These are usually found in food, though some can be synthesized within kitty's body. These vitamins fall into two classes, either fat or water-soluble.
The fat-soluble vitamins include A, D, E, and K. The water-soluble ones include C and B complex. Here again, in obtaining basic vitamin needs, the cat's body better utilizes animal sources rather than plant sources
Water
Cats do not have much of a thirst drive because they get most of their water requirements from fresh, raw food. Because they don't crave water, it can lead to a health issue. Eating dry food and treats does not fill their water requirement. Their urine can become too concentrated, leading to urinary tract problems.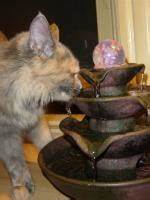 Always make sure kitty has clean, fresh, good-quality water. If your water contains fluoride, you'd better find a separate water source for your cat.
Other Substances That Contribute To Good Health
Antioxidants, coming from vitamins, minerals, and enzymes help protect the body from damage from free radicals. (These are cell-damaging atoms.)
Another essential: enzymes, defined as protein molecules essential to most bodily functions. These play a part in energy and in tissue, organ and cellular repair. Essential for digestion, they become used to break down the foods found in the natural diet.
Not A Nutritional Requirement
Perhaps you noticed that carbohydrates did not make the list of necessary nutrients. The National Research Council's Subcommittee on Cat Nutrition tells us that "no known dietary carbohydrate requirement exists for the cat."
That's why grains should not be part of a cat's diet, and if the cat food label lists some kind of grain as an ingredient, find a different brand. Besides, grain breaks down into sugar within the body, and a cat does not need sugar. Many studies link sugar consumption to illness. This includes the dreaded cancer.
Though we think of carbohydrates as energy foods, the cat utilizes protein and fat quite efficiently to meet those needs. This use of meat and fat to promote energy gives us another reason why cats must have lots of protein.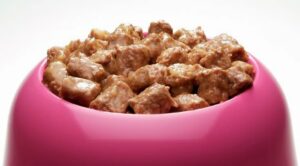 Sometimes you might have a cat with a health problem that requires a special food. For example, my old cat, Pogo, had renal disease and could not eat certain proteins. He had to eat a high-quality protein, and his food had special ingredients to help medicate his health problem.
In such a case, follow the guidelines set by your vet. Proteins can also trigger food allergies, so that must also come under discussion with the vet.
Have You Tried Making Your Own Cat Food?
You can also make your own cat food, but you must make sure the food contains the necessary nutrients. If you have a recipe you wish to try, you might consult your vet first — or make the recipe as an occasional treat.
In the next post, I will list some recipes for home-made cat food that you can try if you wish.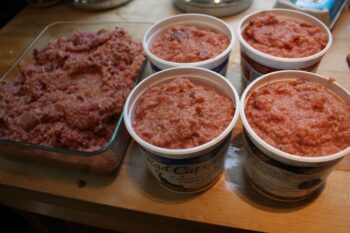 If you spend a lot of time at home, you might consider the following: In the wild, a cat will eat four to five meals per day, depending on his hunting success. You might try giving your cat smaller meals and more of them.
With my old man cat, Pogo, I sometimes had trouble getting him to eat. His appetite decreased, and he wouldn't eat much at a meal. So, I started feeding him small meals four to five times a day, and it definitely helped ensure that he got enough food to fill his needs.
Toxic Foods
Be aware that some foods should not be fed to a cat at any time. Here is a partial list:
Alcohol
Onions, onion powder, or garlic
Chocolate
Coffee or caffeine products
Mouldy or spoiled foods
Avocados
Bread dough or yeast dough
Grapes, raisins, currants, nuts
Stones from fruits or vegetables
Cooked bones
Small pieces of raw bone
Salt
Rough-cut vegetables
Obesity
Just like with us, if the cat eats more than his energy requirement, the extra food is stored as fat. Once he begins to gain, it's hard to get the weight back off. Basically, he needs to eat less and get more exercise.
To tell if your cat is overweight, you should be able to feel the backbone, and feel his ribs without pressing. You should see a noticeable "waist" between back of rib cage and his hips, when you look down at your pet from above.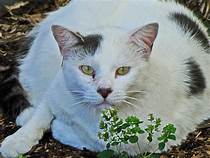 Develop a diet after consulting with your vet, to avoid health problems. Change the behaviors that caused the weight gain, and make sure he gets exercise.
Your cat, as part of your family, becomes dependent on you to ensure he gets the proper diet and sufficient exercise. Take this job seriously and provide the best care you can for your sweet cat.
References I used for this post:
https://kb.rspca.org.au/what-should-I-feed-my-cat/
http://petmd.com/cat/nutrition/cat-nutrition-what-makes-nutritional-cat-food
aspca.org/pet-care/cat-care/cat-nutrition-tips
feline-nutrition.org/nutrition/your-cats-nutritional-needs-the-basics