Season's greetings from Lucinda the literate cat. This is our last shopping bazaar before Christmas. Look for a new one before Valentine's Day.
CCL (Cantankerous Cat Lady) explained to me that she has done the cat gifts last, because the cat will not know that they will arrive after Christmas. Just tell your cat it's now Kitty Christmas, and your feline will be glad to accept your gifts.
Meanwhile, enjoy your holidays and stay safe and healthy. Go ahead, eat too much — this holiday only comes once a year.
Merry Christmas!
Gift Idea #1:Thermo-Kitty Fashion Splash Heated Cat Bed, Large
Now, this bed is an example of how a cat can sleep in luxury.
This bed plugs in to that magic electricity, and warms to your cat's standard body temperature when in use. It runs on an extremely effective heater that only consumes four watts of energy.
It has an orthopedic foam base that helps cradle, support, and soothe. I have no idea what orthopedic means, but my CCL tells me it means it's designed to allow my body to relax and sleep in the most restful way.
The border of the bed functions as a built-in pillow. This bed measures 22 x 16 inches, and is large enough for two small cats. The bed is machine washable.
CCL got an electric throw for one side of her bed and a heated pad for a separate cat bed. I love the warmth! Of course, Pogo finds it soothes his body to sleep on a heated pad. Be warned: It's apt to be your cat's favorite gift.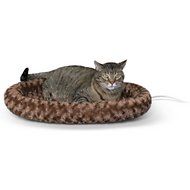 Gift Idea #1: Thermo-Kitty Fashion Splash Heated Cat Bed, Large
by K & H Pet Products
Price: $49.00
Free one to three-day shipping                                                                             
Gift Idea #2: Lay'n Play Track Cat Toy With Catnip
In the center of this round track is a removable pillow pad, which is burlap on one side and Sherpa fleece on the other. It's designed with an interesting crinkly material and has catnip inside.
There's a track around the base, and a ball, so your cat can chase and roll the ball around, even while she lies on her resting pad. How kind! You can play while lying on the soft cushion. I like that idea!
This track toy has a non-skid base, so it will stay in place while your cat plays.
Rest, catnip, and play all at the same time…What's not to like?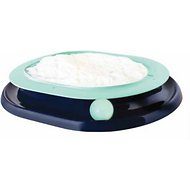 Gift Idea #2: Lay'n Play Track Cat Toy With Catnip
by Petstages
Price: 49.00
Free 1 – 3 day shipping over $49
Gift Idea #3: Kitty Compound Cat Playpen Tent And Tunnel
This little outdoor compound offers over 30 feet of fun, and the attached tunnel adds an extra exploring treat. The tunnel run is 62 inches long.
No tools are needed. Zippered doors allow you to attach the tunnel to the tent but still keep your kitty safely inside.
Now, wouldn't that be a fun place to play on a summer day? In the winter, it could be opened in a large basement area or in a recreation room, but the real fun can begin when days get warmer again.
This item comes with the tent, tunnel, pegs, and shoulder-style carry bag.
If you have an indoor cat who would like a little outdoor time, this gift might be the perfect solution.
Gift Idea #3: Kitty Compound Cat Playpen Tent And Tunnel
Price: 69.95
Free one to three day shipping with this item
Gift Idea #4: Raised Pet Bowls For Cats And Dogs
Created by Romantic Bear, this adjustable food and water bowl stand has a 15 degree tilted platform designed to meet the scientific perspective of the cat. (Well, we cats don't talk about scientific perspective, but we do find that eating is much more comfortable at this slight angle.)
The raised stand is also a nice feature, and the height is adjustable, so you can set it where your cat is most comfortable eating.
This raised stand lowers stress and pressure to our kitty joints and stomach. Adjust the height so that it is perfect for your cat. This feature also reduces bloating and neck strain.
A mat is provided for underneath the feeder to help protect the floor from spills.
The stainless steel bowls are wide enough so our whiskers have plenty of room.
When CCL feeds my cousin, Pogo, she has found that if she holds Pogo's bowl five or six inches off the floor, he is often more willing to eat. He eats in small amounts and then comes back for more. CCL says feeding him is an exercise in patience. Maybe this feeder would make things easier, because it would elevate the bowl for her.
Gift Idea #4: Raised Pet Bowls For Cats And Dogs
by Romantic Bear
Price: $22.99
Prime
A catnip pouch in the fish can be filled with catnip. Yes, some catnip is included. With the fish smelling like catnip and moving like a real fish, what cat wouldn't get excited?
Gift Idea #5: Green Wellness Treatibles Cat Soft Chewables 
Each of these chews for your cat contain 1.5 mg of CBD; there are 100 in the pack. Pogo, my cousin, would love these, as he is a great fan of the chicken liver flavor and laps up his drops of CBD oil each day with great relish.
Green Wellness tells us that those chews can be used for many things, such as pet pain, pet allergies, pet dry skin, pet seizures, and pet anxieties. That's a lot of uses!
If you think your pet would benefit from this product, order one and try it out. It might be the easiest way to get the CBD into your kitty.
CCL says she might order one for us — Oh, boy! I want to try them.
Gift Idea #5: Green Wellness Treatibles Cat Soft Chewables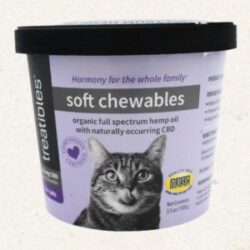 150 mg CBD per each chew
Price: $31.99
Bonus Gift: Petstages Fresh Breath Mint Sticks (Set Of 3)
Here is a very useful item — three mint-filled dental toys for cats.
These toys are filled with 100% pure mint. No flavors have been added. If you want a stronger smell, just press and roll the toys' centers. This will release more of the minty scent.
With these sticks, your cat will be enticed to play while freshening his breath. According to the information on the product, these will help clean kitty's teeth, removing soft tartar, soothing tender gums and strengthening jaws.
CCL likes these, and says she may order some of them for us as well.
Please note: If an image has a blue highlighted title underneath, you can click on it to go to the seller. If there is no blue highlighted title under the image, you can click on the image itself. Or, in all cases, you can click on the blue highlighted title of the product itself.
I hope you like our selection. Even though they arrive after Christmas, your cat won't know the difference. He will enjoy them whenever you receive them.