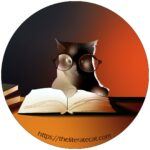 Hello, two-legged readers. Lucinda the literate cat here. This post will be short, simply to update you on current events.
My CCL (Cantankerous Cat Lady) has given me a new assignment. I'm to answer questions for CCL's new cat group on Facebook, called "A Clowder Of Cat Ladies." I will need question requests on a regular basis, and will answer them on the group page. I've already answered two questions. It was fun! If enough questions come in, I'll be a regular feature in the group.
If you are not already a member of the group, you are invited to go on over to Facebook and join. It's a private group for ladies, but it is free. CCL says she'd like to see the group grow and grow. She hopes to see you join the clowder.
In it, you are welcome to post pictures, cartoons, questions and answers, or any cat-pertinent information you would like to submit. I do hope to see you there.