Have you ever tried to find cat-themed women's clothing? In my experience, such items are rather hard to find. I'm about to solve this problem for you. I've just discovered a line called "Cat Fashionista."
With this post, I'll show you a few of the items they carry. If you want to see the whole line, click on one of the selections in this post and you will be taken to their catalog, where you can view everything they offer.
This online boutique calls itself "a curator of cat couture for the modern cat lady who isn't ashamed to wear her love of cats on her sleeve."
The company is located in Englewood, New Jersey. Having already started a fine cat furniture business called "The Refined Feline," they decided a new line of apparel would go well with their existing company.
Therefore, Cat Fashionista has come out with modern cat lady apparel and accessories for the "chic and fiercely fashionable."
Look through the collection and see if you can find the perfect outfit that will make you look smart, refined, and "feline fierce."
You will receive free shipping on orders of $75.00 or over, within the continental United States. Outside the continental United States, there will be an extra fee. If this policy applies to you, contact customer service with your postal code to learn the applicable shipping costs.
Orders ship the same day if placed before 3:00 p.m. EST, so long as they are for items that are in stock. If you are within the continental United States, you can also take advantage of free returns.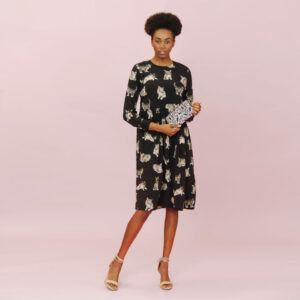 Polyester; O-neck with cat print
Gathered waist; button up cuff sleeve
Price: $42.00 or 4 installments of $10.50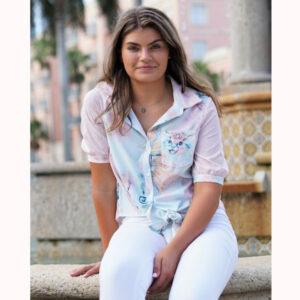 Watercolor Cat Button Down Tie Front Top
Lightweight Polyester
Turn-Down Collar
Price: $49.00 or 4 installments of $12.25
Miss Patina Kitty Anthem Shirt
Cotton, polyester
Kitten Paw collar; Machine wash
Price: $83.00 or 4 installments of $20.75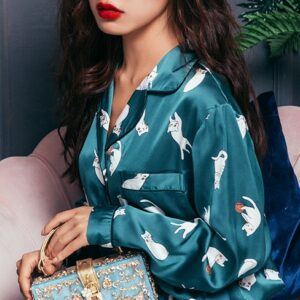 Polyester
Turn Down Collar
Price: $65.00 or 4 installments of $16.25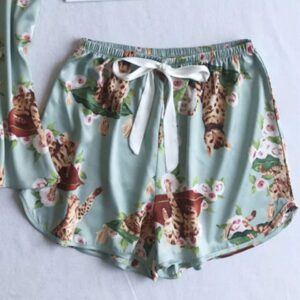 Silk-feel polyester
V-Neck collar, front and back
Adjustable straps, elastic waist
Price: $45.00 or 4 installments of $11.25
This set also comes in pink.  Here's what the top looks like.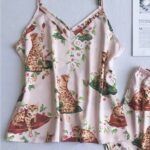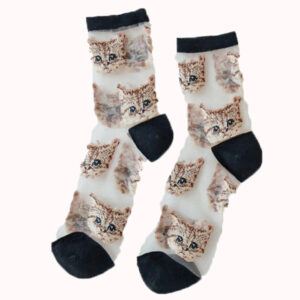 Crew Socks
Cotton, mesh
Price: $15.00 or 4 installments of $3.75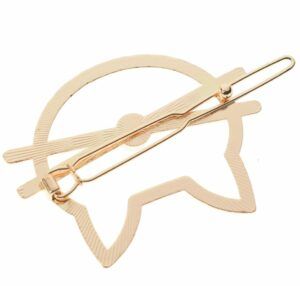 Gold-colored metal cat face
Barrette
Price: $10.00 or 4 installments of $2.50