Have you observed your cat's reactions to his day and asked yourself, "What colors can cats see? To find the answer to this question, one must first understand the anatomy of the feline eye.
How Is An Image Formed?
A visual image is formed when light rays enter the transparent cornea located at the front of the eye. Then the light travels through the eyeball, filled with a gel-like liquid. When the light rays hit the retina lining at the back of the eye, the rods and cones, which are the receptors for vision, come into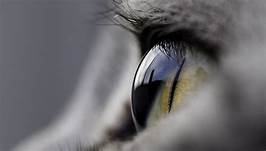 play.
These rods and cones are within the retina. When they are stimulated by light rays, they send an impulse to the brain that then becomes a visual image. Then the cat "sees" what he is looking at.
Rods and cones are both light receptors, but they are responsible for different types of light. The rods, being particularly sensitive to light, allow for vision in a low light.
Cones are sensitive to both color and detail. The image they produce is sharp, detailed, and contains vibrant colors. These show as various hues of the color spectrum.
What Is The Difference Between A Cat's Eyes And Your Own?
As the cat was originally a creature of the wild, the eyes developed to accommodate their wild lifestyle. Wild cats depended on hunting for survival. A cat dependent on his hunting skills prefers to hunt in early morning and in the evening, when the light level is low.
Therefore, it was more beneficial for the cat to be able to see in the dark. Night vision is more important for them than seeing the full color spectrum. Therefore, the cat's retina contains a greater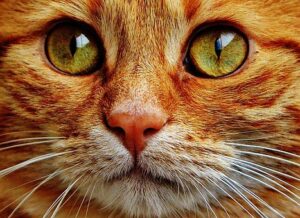 proportion of rods than cones. To emphasize the difference, cats' eyes have eight times as many rods as human eyes.
With this heightened ability to see in the dark, the cat can see prey that is close at hand in the dim light.
We humans, on the other hand, have ten times as many cones as a cat. This large number of comes allows us to see colors in vibrant shades and images with sharp details, but our night vision is not very good.
Which Colors Does A Cat See?
Because the cat eye has fewer cones, it is most sensitive to light rays in the blue-violet and the yellow-green range. Thus he can see blue, yellow, and green fairly well. The image he sees contains these colors, but they are not as vibrant as the colors we would see when looking at the same image.
The way cats see colors is very similar to the way a human sees colors if he is color-blind. The most common type of color blindness, according to the National Eye Institute, affects people's ability to distinguish green from red, while another type doesn't allow the person to distinguish blue from yellow.
Now, the cat's cones are most sensitive to blue and yellow color wavelengths. Colors like red, orange, or brown are not seen. The colors cats see are very similar to those of a person with red-green color blindness. The cat most likely sees red hues as green.
Their color vision most likely includes muted shades of blue and yellow, and various shades of grey.
An Advantage Of Cat Vision
Cats' vision does have one advantage over ours. Though they are nearsighted and can't see the color range that we can see, they do have greater peripheral vision. Their visual field is slightly wider — 200 degrees — as compared to the average human visual field, which is 180 degrees.
This wider peripheral vision is the result of their eyes being set more to the sides of the head. In contrast, they do not have the depth perception that we do.
What Is The Tapetum?
The cat's elliptical pupils can dilate to the max, which allows them to capture as much light as possible. They also have reflective cells under the retina, forming what is called the "tapetum." This tapetum is what causes their eyes to glow at night. It improves their ability to see in dim light.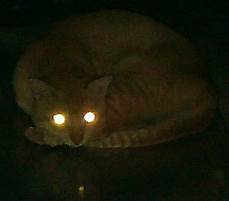 The larger number of rods in the cat's eye gives another important advantage when they are hunting, because these rods detect motion, and can help the cat locate his prey.
This same ability to be able to pick up slight movements at a great distance helped the wild cat to survive. If he became the prey, instead of the predator, he might see movement that would tell him he'd better flee.
Remember, Your Cat Is Nearsighted
Yes, all cats are very nearsighted. We can see things with great clarity from 100 to 200 feet away. Cats can see clearly for about 20 feet. The need this close-up visual acuity because again, it helps them when they hunt.
The Difference In How We See The Same Scene
I found an article from businessinsider.com that shows comparison photos of what a cat sees as compared to what a human sees. These are very interesting, and you might want to check them out. You will get a much better idea of the difference between a cat's vision and our own. Here is one sample that shows you how we see a night scene and how a cat might see it.
Though the cat has limitations to the colors he can see as compared to our color vision, it is possible that he may be able to see some colors that we can't.
Researchers in London found that cats and some other mammals can see colors that humans can only see under a black light. Thus, on the ultraviolet end of the color spectrum, the cat can see many things that possess this ultraviolet coloration. Perhaps he sees birds or flowers that possess these colors, giving him a really vivid view of the world.
What Do We Look Like To The Cat?
So, how does the cat see us? Does he see us as a different species, or perhaps as some form of large, bumbling cat? It partly depends on how far away from the cat you are standing. He might see us as a big blur, until he gets really close to us.
It is interesting that a cat often greets us by rubbing against us and lifting his tail. This is the same type of greeting he would give another cat friend. The cat would not greet us in such a way if he thought of us as a social inferior.
On the other hand, if you have observed dogs, you know that they play with and greet another dog differently than they do humans. Perhaps the cat recognizes us as family, and treats us accordingly.
Studies have shown that a cat can't always tell human faces apart. He can recognize the difference between the image of a strange cat or a familiar one 90% of the time, but when shown images of his owner or a stranger, he only recognizes his owner's face about half the time.
Other Ways Cats Can Identify Their Humans
With their extraordinary noses, I am sure they could tell if it were us and not a stranger. They also would recognize the sound of our voice.
However, though they can recognize our voice, if we call them and they can't see us, they make a decision whether to respond or not. If they are involved in an important hunt, they may take a message and get back to us later.
Often, if they cannot see us, they don't feel it necessary to respond. I had a dog that was the same way. If he saw you when you called, he would come, but if you were not in his line of sight, he felt no need to obey.
Cats Contracted With Us To Provide Service
When cats first became domesticated, it was on their terms. If we fed them and housed them, they would eliminate the vermin from our property. They established the rules, early on, and they still let us know that they think they are in change.
The way your cat sees color may have some effect on how they see us. For example, since a cat does not see the color red, and you have red hair, the cat will think that it is some other color. Perhaps to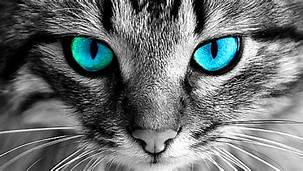 them it will look blue!
The way each of us creatures sees is widely different. But does it really make much difference in our lives together? Not really — we love them and they love us, if we are proper compadres, and how we look is just part of who we are.
It's rather nice to be accepted for reasons other than our looks. The cat looks at who we are more than at how we look.
Maybe that's something else we could learn from cats.
I used several references for this post.  Here they are:
businessinsider.com/pictures-of-how-cats-see-the-world-2013-10
trupanion.com/pet-care/are-cats-color-blind
petfinder.com/cats/cat-behavior-and-training/how-cats-see-human-faces/
vcahospitals.com/know-your-pet/do-cats-see-color
1800petmeds.com/education/what-colors-can-cats-see.htm