I was fortunate — I did find my purrfect pet companion. In my 80 years on Planet Earth, I've almost always had a cat in the family. My last cat, Carlos, was with me for 12 of his 14 years. For the last six years, we were together most of the time, as I had retired and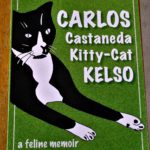 did not have to go to work each day.
Spending so much time with him, I got to know him well. Carlos was an exceptional cat. When he died, I wrote his life story, partly to help me through my grieving and partly so I could share my memories with others.
We think we select a cat for a companion, but often the cat chooses us. I found Carlos in the Kodiak, Alaska animal shelter. He was a "trusty" and was allowed free run of the place.
On my first visit, he met me at the door. By the third trip, I'd decided I should take him home with me. That day, I stood at the tall counter separating the shelter's office from the hallway. I laid my arms across the top. Carlos jumped on the counter, stepped between my outstretched arms, laid down, and started purring. If I hadn't already made up my mind to take him, that action would have clinched the deal.
HOW WOULD YOU DEFINE A "CAT'S CAT?"
I called Carlos a "cat's cat" because I saw him as the epitome of catness. If a cat aspires to being the ideal, perfect animal, he would embody the traits that Carlos possessed. A black and white "tuxedo" cat, he strolled through life with poise, confidence, and self-assurance. He was a leader among his own kind. He also knew the animal secret of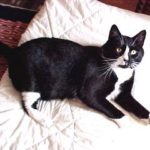 bestowing unconditional love upon the humans with whom he bonded.
Step inside Carlos's life and learn how he became a big game hunter, killing and bringing home rabbits nearly as big as he. Observe his methods of dealing with intruders, from moose to small dogs. Marvel at his ability to problem-solve, and his way of dealing with his "First Mate" (me). Gain understanding of his talents and attitudes when he compares cats with "two-leggeds." Lastly, learn what Carlos taught me.
ARE YOU READY FOR A BIT OF LAUGHTER?
Scattered liberally throughout the 12 chapters of this book are amusing and sometimes downright hilarious stories of Carlos's escapades. The trials of his life are there, too.
My favorite part of the book, and the longest chapter, is Chapter 10, "The Gospel According to Carlos." In it, the cat presents his life story from his point of view. One of the sweet things Carlos does in this chapter is to identify me as "Cat-Kin," a cat's idea made into a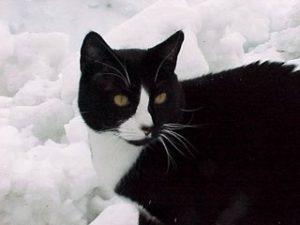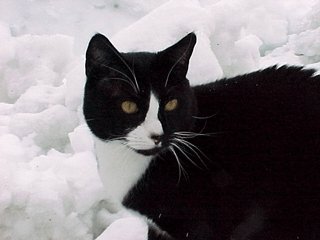 word that signifies a two-legged who loves cats. I rather like the name.
I believe you will gain some insights into total kitty makeup from this chapter.
There are a few of my photographs in this book. There are also six very special drawings done by Katherine M. Hocker, who also resides here in Gustavus. The illustration on the front of the book was from original artwork by my Anchorage friend, Rene LeGrue.
WHO MIGHT LIKE THIS BOOK?
This book has a universal appeal to young and old if they are cat lovers, or to animal lovers in general. By enjoying Carlos's story, you may be inspired to write down the story of your favorite animal. You will find it a worthwhile project.
If you would like to purchase a copy of this book, you can order it directly from me. The book sells for $9.00.  Just click on the PayPal button located below this post and you will be taken to  PayPal, where you can purchase the book with a credit card.
You do not have to have a PayPal account to buy here with a credit card.  Shipping within the United States is $4.00; that fee will have to be calculated if you are from another country.