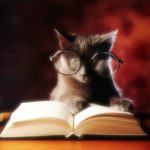 I thought I might explain the significance of the name of this website,  "The Literate Cat." I may be cantankerous, but I pay close attention to my cat friends and learn what kind of cats they are. When I meet a new feline, I can tell after getting acquainted a bit if he is a literate cat or not. If he is at ease around us two-leggeds and he seems alert and attuned to our human world, he is more than he seems.
A cat who has lived in a family for a long time learns from them. His intelligence is enhanced by the give and take between him and those whose house he shares. He has become a literate cat. Though he is focused on "catness," he is interested in our world as well.
In this post, I want to introduce you to some great cat books that you and your kitty friend might enjoy. Perhaps they are already a part of your book collection. If not, read on — if you are a cat fan and have not read these books, you might consider adding them to your collection.
You will find these books on Amazon. As an Amazon associate, I earn from qualifying purchases.
1. OLD POSSUM'S BOOK OF PRACTICAL CATS, by T.S. ELIOT
It is only fitting to start this review with a classic. Did you know that Andrew Lloyd Webber's musical, "Cats," was inspired by this book? This little gem by T.S. Eliot is a
collection of nonsense verses, originally composed for his friends. He sent them anonymously to amuse them. Fortunately for us, the verses were collected and printed, giving all of us a chance to enjoy them.
The book offers a delightful look at the behavior of cats, and will give you a good many chuckles as you read. And, if you are trying to find a unique name for your cat, check out "Old Possum." This very amusing book will give you many good suggestions.
2. A STREET CAT NAMED BOB, AND HOW HE CHANGED MY LIFE, by James Bowen
James, a street musician struggling to earn enough
to support himself, meets a stray cat looking for a warm bed. The cat ends up moving in with James, who names him Bob.
The author, James Bowen, tells his own story. His narrative will draw you in immediately. James and Bob become a team, and as James cares for the cat, his own desperate existence begins to change. A recovering drug addict, he begins to regain his own identity as he gains a companion who needs his care.
Bob follows James to "work," busking on the street, and James discovers the cat is an asset. James says, "Seeing me with my cat softened me in their eyes. It humanized me." James says that the cat helped him become a person again.
This is a heart-warming, moving story that nicely illustrates the power of the cat to promote love and recovery.
3. ARCHY AND MEHITABEL, by Don Marquis
Don Marquis, the great American humorist, wrote these lines as satirical free-verse poems. These writings revolve around the character, Archy, who is a philosophical
cockroach, a poet in a previous lifetime. Archy's best friend and companion is Mehitabel, an alley cat who was once Cleopatra.
The pair prowled the streets of New York at the time between the world wars. Archy's nights are devoted to recording their experiences and insights on the world. He types his lines on his reporter friend's typewriter, jumping from one letter to the next. Because he can't hit the shift key, the verse is all in lower case with no punctuation.
The two unlikely friends have their views about the political and social scene, and Archy records it all on the typewriter. Archy and Mehitabel make some astute comments about the world which still make sense today.
An enjoyable read — I've been tempted to name one of my cats Mehitabel, in honor of Archy's companion.
4. THE FUR PERSON, by Mary Sarton
This tale was drawn from a true story, that of the author's cat, Tom Jones. Part of the charm of the book comes from the fact that it is written as if the cat were doing the telling.
After a life on the streets, the cat decides to select a home and change from being a Cat About Town to a Gentleman Cat. He finally selects a home where he decides the "housekeepers" are acceptable. If you are a cat person, you know that a cat is never owned by anyone. As the Fur Person says, "A Gentleman Cat is never hasty when choosing a housekeeper."
As Tom is a very bright cat (certainly a literate one), he composes songs and does yoga. His clever songs show his metamorphosis from adolescence to middle age.
This book is one that can be enjoyed by young and old. Ideally, read it aloud to a child while your cat sits in your lap, purring an accompaniment.
5. HOW TO SPEAK CAT: A GUIDE TO DECODING CAT LANGUAGE
by Aline Alexander Newman
Guided by veterinarian expert Dr. Gary Weitzman, the author has explained what cats try to communicate by their body language and behavior. Ms. Newman's work has been enhanced by the assistance of Dr. Weitzman, who has been a veterinarian for more than 20 years. At this time, he is the president of the San Diego Humane Society and SPCA of California.
This book is a National Geographic publication, which explains the colorful pages, often consisting of a large picture with bullets of information around the illustration. Even the text is broken up with clear, relevant, very attractive pictures. I don't currently own this book, but have convinced myself to buy it after looking at some sample pages on Amazon. It includes great information in a very attractive package.
More incredible cat stories especially collected for you will appear later on this website.  Start with these if you don't have them, and find them all on Amazon.
Please note:  As an Amazon associate, I earn from qualifying purchases.