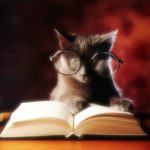 Have you looked into your kitty's round, beautiful eyes and wondered what the cat was trying to tell you? Have you observed the changes in his expressions, which are definitely enhanced by those luminous eyes? Read on, and learn all about cats' eyes and how they can talk to you.
Cats Communicate With Their Whole Body
Cats may not have a spoken language, but they use many parts of their body to try to communicate their messages to you. To learn to decode all the messages being given by the cat's various body parts, we have to understand how each message is conveyed.
Note the tail, whiskers, fur, voices, and of course, the eyes. Have you witnessed your cat trying to talk to you with his eyes? Look in the direction of his gaze and you can see what has his attention.
Various Meanings of the Cat's Gaze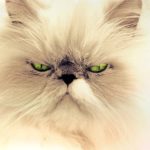 The cat's gaze will have different meanings. When he stares at you without blinking, does he want something or is he angry? It could be either. Sometimes, if the cat has a fixed gaze and a rigid posture, it could mean hostility. At other times, it could be a request for petting or for some other kind of attention.
Look at the position of the eyelids and dilation of the pupil. A slit pupil could mean fear, anger, pleasure, or excitement. Wide open eyes signify trust. An unblinking stare at another cat could signify control, dominance, or aggression. Droopy eyelids mean that you have just received a kitty kiss.
Eye talk can be reinforced by what the rest of the cat's body is telling you. Observe ear and whisker position, the tail movement, or fluffed fur.
Any strong emotion on the part of your cat can cause the eye to contract into a slit. It could be happiness or aggression. Watch your cat next time you give him his favorite food, or a catnip mouse. Look at the shape of the eyes and how far they are open. Are those pupils dilated?
If your cat suddenly has a surprise meeting with a new cat, this contracting of the pupils may occur.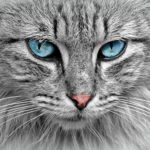 When your cat is alert, his eyes will open wide. Because wide eyes expose the eyes to injury, this opening can be a sign of great trust.
Do you have more than one cat in your family? One may stare at the others without blinking from a distance. This stare can be a sign of control, dominance, or even aggression. By using this unblinking stare at another cat, your cat keeps other felines from his territory. This applies to food bowls, litter box, or other territory that is important to the cat.
The slit-eyed look can be an indication of fear or aggression. If the cat squints, he may do so as a protective measure. In case of a disagreement, he doesn't want to get his eyes scratched. Don't lock eyes with a cat you do not know. You might cause him to attack.
Receiving a "Kitty Kiss"
When your cat is relaxed and trusting, look at those eyes. He will have droopy, sleepy-looking eyelids. Try this: Meet the kitty's gaze with one of your own that is also relaxed. Then slowly blink. If your cat blinks back, you have been sent a sign of the deepest affection.
When you are trying to make friends with a new cat you met outdoors, don't stare at him. You will either intimidate him and he will leave, or he may react with some aggressive behavior. You will not make friends with him that way.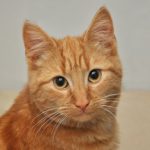 Wide-open kitty eyes don't just indicate trust. They also mean friendliness, curiosity, or even playfulness. Watch kittens who have not yet learned to fear. They show innocent pleasure when meeting one another — a charming thing to watch.
Cats use the slow eye-blink "kitty kiss" with other cats as well as humans. Kitty psychology is at work here. Cats who use that non-
threatening signal are better able to enjoy smooth relationships with other cats. Thus, they maintain good social interaction.
Jackson Galaxy, in his book, Cat Daddy, describes his use of this technique at his new job as the front desk supervisor at the Humane Society of Boulder Valley.
One morning during a thunder and lightening storm, he was faced with 45 cats in cages screaming in terror. Jackson went to each cat and gave each one a slow blink. After several hours, all the cats had stopped screaming and were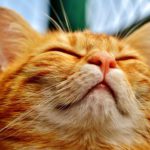 back to a state of confidence and stillness.
Try it on your cat. Next time you are sitting in the room and your cat is across the room gazing at you, look back, and with great exaggeration, slowly shut and then open your eyes. Chances are, your cat will send a kitty-kiss eye blink back to you.
Cats Have a Nictating Membrane
Did you know that cats have an inner, third eyelid This is called a "nictating membrane." This third eyelid helps protect the eye from dryness and/or damage.
Your cat's moods are reflected by his eyes. You can look at the pupil size for a clue. If angry, the cat will have narrowed pupils. An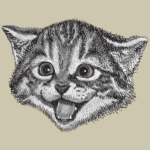 excited or frightened cat will have his eyes wide open, with large pupils. If your cat is mellow and happy, the eye shade may appear to be a bit darker than normal.
A cat's night vision is much superior to ours. They can see with only 1/6 of the light that we need to see. The muscles in the iris are constricted to allow the eyes to narrow to a vertical slit in bright light, or to open fully in dim light, allowing maximum illumination.
What Causes a Cat's Eyes to Glow At Night?
Do you recall the shiny green orbs you see in the cat's eyes at night when a small amount of light hits them? This phenomenon is caused by a reflective layer behind the cat's retina. This layer is known as the tapetum lucidum. This reflective layer reflects incoming light, then bounces it back off the cones, thus using more of the existing light.
The tapetum causes the eyes to glow at night when a small amount of light hits them. Since cats are nocturnal in the wild, these special features have probably developed for survival purposes.
Now you can be more aware of the messages your kitty is giving you with those wonderful eyes. Your kitty conversations should be enhanced by this new knowledge.
If you would like to read the article that was the source of this information, go to https://www.thesprucepets.com. Here is the link.  https://www.thesprucepets.com/cat-talk-eyes-553942The pictures in this story will show you the various ways in which kitty's eyes can reflect his mood.