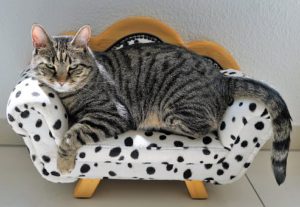 Your cantankerous cat lady has some things to show you today.  We are going to look at some contemporary cat trees, items that will prove very useful for those of you who insist on keeping your cats inside.  These innovative items are ideal for city cats, where outside safety is far from guaranteed.  They are also especially useful for any cat who is inside for long periods of time.
If you share your home with a cat, you can create a tree of your own design.  Perhaps you are a little short of funds, but you have good carpentry skills.  If you are a clever carpenter, or even a relative beginner, you can build a tree yourself.  There are several sites online offering complete building instructions for the do-it-yourselfers.  Go to your favorite search engine and check them out.
WHY BUY A READY-MADE CAT TREE?
If you are like me, and don't have the time, tools, or know-how to build your own, you can purchase a fine one, ready-made.  In this review, you will get a look at several styles, and may find one that fits your needs exactly.
WHAT ARE THE ADVANTAGES OF A CAT TREE?
Cat trees give a place for cats to climb, play, and take his many cat naps. The tree gives the cat more chances to scratch.  The animal needs to scratch to remove dead outer layers from his claws.  He also scratches to mark his territory, an instinctual action.
Your cat enjoys observing the house activity from a high perch.  Again, instinct is at work here.  This behavior helps the cat to protect himself, as potential dangers can be spotted and avoided.  The hunter cats who were your pet's ancestors used such high places to stay safe from predators.
In a multi-cat household, the cat tree allows the cat to increase territory.  A social hierarchy is established by occupying spaces at different levels.  The tree can also provide a sense of security in timid cats.
The tree will encourage your cat to climb and play, thus giving him necessary exercise.  Such activity is especially important for the cat who is always inside.As you might recall, the name of this website is "The Literate Cat."   Climbing on the tree helps the cat to stay sharp mentally, a necessity for a literate cat.  This activity also enhances his health. While the cat enjoys his tree, he provides entertainment for himself and for you, as you watch his antics.
COORDINATE CAT FURNITURE WITH YOUR DECOR
Cat furniture can be selected to complement or coordinate your home's decor, as there are a wide variety of styles and materials available to choose from.  Also, your tree can be expandable.  Start with one small piece, and then build your system over time as you can afford to add on.  You can order additional components to expand the cat tree structure.
Now let's look at some cat trees that might strike your fancy.  I have selected five to show you here, with a variety of prices and styles.  Perhaps you will find just the one you are looking for.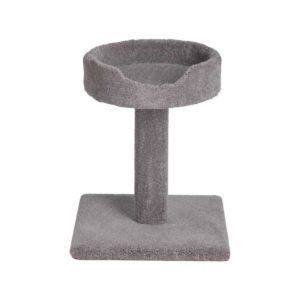 Price:  $76.49 plus free shipping
Custom-made in 10 to 15 business days
Many color options; can include catnip mice
Leg covering is carpet or sisal (add $17.50 for sisal)
Measurements:  24″ tall with a 16″ sleep tub
The large 20″ x 20″ base is overbuilt to withstand direct jumping off and on; it is wobble-free
No tools needed
This tub is made of solid wood, not paper tubing.  The plush carpeting comes in a variety of colors.  There are ten to choose from.  No tools are required, as it is very simple to assemble.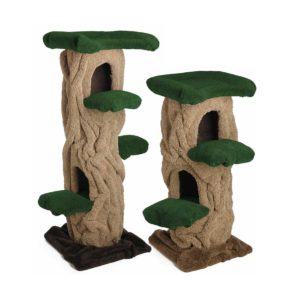 Kitty Hollow Cat Tree Price depends on size.  A 33″ tree is $331.49  For a 48″ tree, add $180.  For a 63″ tree, add $360
Free shipping
    Custom-made in 10 to 15 business days
Twelve-inch diameter log.  The 63″ comes with base and top that are 24″ x 24
The 48″ and 33″ logs have a base and top area that are 20″ x 20″
Colors are factory selected:  brown base, beige trunk, and green leaf and top
Has a secret entrance located in the back of the tree, at the base.
Small portion of outside shelf is inside the trunk, for easy climbing
Top has rolled edge on three sides to snuggle against.  There is no exit hole on the top.
Assembly is required
     Price:  $119.99; free shipping
Custom-made in 3 to 5 business days
Comes in beige or brown and has a four to five-minute easy assembly; made in the USA
Crafted from solid wood, plush household grade carpet and sonic tubes
Floor to bottom of lowest step — 8.5″ high
Floor to bottom of second lowest step — 16.5″ high
Floor to bottom of top shelf — 25″ high
Floor to bottom of top circular perch — 33″ high
Top perch is 17″ wide by 4″ deep; steps are 20″ wide x 9″ deep
Carpet color and shades vary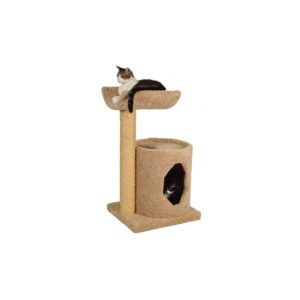 Price:  $134.99 plus 59.00 shipping
Custom-made in 7 to 14 business days
37″ tall with a cradle and a lounging tunnel
21″ x 21″ base ensures stability
Staggered tiers and platforms for easy climbing
Four inch solid untreated heart of pine core posts
Six inch zinc lag bolts for secure anchoring
Several colors available.  When ordering, select first and second choice
If you want a solid color unit, please choose the same color for all selections
You may also choose two feet of sisal rope wound around one of the pads on your unit
Minor assembly required 
I do hope you will consider getting a tree for your cat, if you do not have one already.  It is a lot of fun watching a cat or two playing on one of these trees.  You will enjoy it, and the cat will love it.  You will provide such a fine place for the cat to scratch that you may have no further problem with furniture-scratching. You will be giving him a place inside the house to get the exercise he needs.  Take it from your cantankerous cat lady — a cat tree is a force for good.
Disclosure:  I am grateful to be of service and to bring you content FREE of charge.  To compensate me for my time, when you click links and purchase items, I usually receive a referral commission.