Do you have a new cat who lacks some necessary social skills? Perhaps he never received proper training when he was a kitten, and has a few bad habits. So, you can help him break those habits by learning about socializing your new pet cat.
Mocha has now lived with me for a little over three months. He was three years old in May, and his previous owners did not train him in socially acceptable ways. Perhaps they just threw him out, rather than teaching him manners, as the shelter picked him up as a stray. He loves to attack feet and hands, and is a biter.
We continue to work on that problem, and have made progress. A side note: It's interesting that at first Mocha rarely purred. Now the purring comes more frequently. I think that's a good sign.
In thinking about Mocha and his problems, I wondered if there was such a thing as a charm school for cats, so I looked it up online. I learned there are more than one. A very important one exists in Los Angeles. I'll tell you all about it.
You will also find what is called the "ABC College," or Animal Behavior College. At this institute, you can learn to become a certified cat trainer. Then, you can not only fix your own fur baby's problems, but you can help find solutions to others' difficulties as well.
The Kitty Bungalow Charm School For Wayward Cats
Let's take an up-close look at the "Kitty Bungalow Charm School for Wayward Cats." This organization is non-profit, based in downtown Los Angeles. The facility socializes feral kittens to ready them for adoption, and also works to limit cat overpopulation. They have a trap, neuter, and return program as well as a socialization school.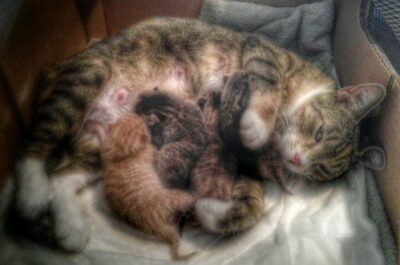 Shawn Simons, Kitty Bungalow's headmistress, says that most people don't realize that 76% of all the animals killed at the cat shelter are kittens eight weeks old and younger. The TNR program hopes to reduce the number of cats ending up on the streets, or euthanized.
The post I found advertised up-coming cat-themed events over the weekend. These include a gallery show, book reading, cat poetry, and a bazaar featuring hand-crafted gifts for cats and for their people. The purpose of the event serves as a way to raise funds for the Kitty Bungalow Charm School. This organization proudly claims the position of being the only 100% feral cat socialization facility in California.
For this event, all art work is donated by the artists, and all funds go to support the school.
Would You Consider Adopting A Feral Kitten?
If you find the idea of adopting a feral kitten from this organization as something you'd like to do, go to www.kittybungalow.org/adopt. Here, you can get an application to fill out and submit.
Next, the organization gives you a brief interview to help you choose your best kitten option. If you'd like, you can take kitty home the same day.
The school says they specialize in taking feral kittens from hiss to home. They provide life-saving services for the cat community in Los Angeles.
The organization places a thousand feral cats in homes each year. They also take in hundreds of kittens. For support, they rely on community donations. You can donate, volunteer, or adopt, to help support the enterprise.
To give you a closer look at the Kitty Bungalow Charm School for Cats, here is a YouTube video that will show you much better than anything I can write.
This kitty charm school is not the only organization in California devoted to socializing kittens. In Burbank, California, comes the Kitten Charm School, launched in 2020.
Their aim has been to socialize kittens so that they will then become great house pets. They make a statement that points to the importance of their mission. They tell us that the only difference between a feral cat and a friendly, affectionate house cat stems from the fact that the friendly house cat has been around people since he was a kitten.
Socialization of young cats is vital to prepare them for life with humans. If they grow up and go to a home where they then exhibit aggressive or troublesome behavior, they offer a challenge for someone not prepared to go through the process of training them out of their bad habits. It's harder to do when they become adult cats.
Here's Another Kitten Charm School
Then, in Mill Valley, California, just outside of San Francisco, you will find another kitten charm school. This "school" is just a bit different.
For starters, the cats get real rooms, not cages — and a human can walk into the room. Each cat has his own private room, and each have equal amounts of love and care.
Cats can visit a private playroom at no extra cost. Playrooms only get shared with siblings, never with strangers.
In this facility, no dogs are allowed, so the atmosphere becomes much easier for a cat to handle — no yapping canines to scare them.
The kitty bedrooms come in four sizes, to fit a variety of budgets. As the rooms reach a height of over eight feet, they have many levels, with places to play, eat, hide, sleep or spy. What else would kitty need?
Here's a video of this remarkable facility.
Perhaps you would enjoy becoming a cat trainer. Here's a web address you can check out that will assure you that yes, you can train cats. Go to https://www.animalbehaviorcollege.com/blog/pet-training/can-cats-be-trained/
You can take this course without ever leaving home, as it is offered online. Your course will cover a wide range of topics. These include learning how to read cat body language like a pro. You'll learn how to apply your understanding of cat behavior in order to train them. You'll study different cat breeds and coat types and behavior management, among other topics.
Online Course You Can Take At Home
You will also spend time in a shelter where you can apply what you have learned in a real situation. You'll have the opportunity to observe cat behaviors, interactions, and body postures.
Because of the course structure, all written curriculum and exams appear online, and you can finish the course in approximately eight months.
When you have completed the course, you'll receive a cat trainer certification and a new title: Animal Behavior College Cat Trainer. With this experience, you will find it easier to apply for cat training jobs or even start your own cat trainer business.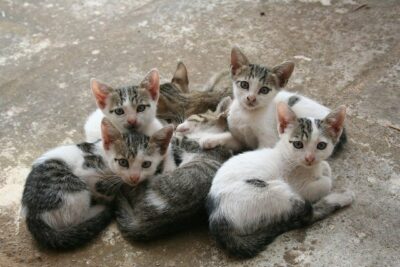 The training program curriculum looks quite complete. If you would like to read the full-meal deal, go to the reference listed below this post for Animal Behavior College.
Now, after reading this post, you have two new options to choose from — adopting a once-feral kitten or becoming a cat behavior trainer. Will you choose either of these? If so, let me know.
Meanwhile, I will continue to teach Mocha the socialization skills he should have learned as a kitten. He rewards me with affection as he learns how to behave nicely. We sure could have used kitty charm school!
References I used for this post:

https://www.animalbehaviorcollege.com/cat-training/
thevbas.org/2022/kitten-charm-school-2/
lamag.com/culturefiles/charm-school-for-cats/
kittycharmschool.com/KCS