Hello, wonderful readers! It seems that I've fallen down a bit on the job lately. I so enjoy writing posts for my site that I forget that I am creating an affiliate website. That means I am supposed to offer products for sale. Therefore, will try a new tactic. In this post you will be offered choices for a cat vest harness leash set.
Though I will continue to write as always, it behooves me to include some products for you to peruse and perhaps purchase. Now and then I will create a post that simply provides reviews of products and then offers them for sale. I will choose products that add value to information I have already written. Then I'll link it to the applicable post.
Thus, this post offers information about the vest-type harness for cats. These will add a valuable component to the article about leash training your kitty, as you will have a chance to select one of these handsome vests for the cat to wear on his outings. I feel these harnesses are the best choices for kitty, so will present seven of them with a link to Amazon, where you can purchase them.
Please note: If you select one of these harnesses, as an Amazon associae, I earn from qualifying purchases. The price you pay will not be affected. That being said, here goes.
These vests all have some common features. They all come with a leash that is 5 feet in length, so you don't have to buy a separate one. The descriptions on all of them say that the cat cannot escape from them, if fitted properly. They also talk about wearing comfort and breathability. You will have to look them over and decide which you think would work best for your cat.
I recommend you go to Amazon and check their size guide. Then you will have to measure your cat very carefully to decide which size would work best. Here are the selections:
1) Rabbitgoo Cat Harness and Leash
This escape-proof soft adjustable vest harness for your cat allows easy control of kitty when on an outing, and has a breathable jacket.
Prime
Color: Black
Material: Polyester, nylon
Fits an average-sized cat. Neck girth: 8.5 inches; chest girth: 13.5 – 16 inches. Measure your cat carefully. The cat's head circumference should be at least 10 inches, or the cat may slip out.
This one fits snugly but will keep the cat cool with its breathable outer mesh, soft and lightweight.
The package contains one vest and one nylon walking leash (5 feet). Style design can evenly distribute pressure across chest and shoulders. A correct fit should allow you to put one finger between the straps and any part of the cat's body. The nylon leash attaches to a metal leash clip at the back.
This one is escape-proof and ultra light. The weight of this vest is less than 50 grams. It has a 360 degree wrap-around chest buckle, keeping pressure on chest even and safe, to avoid pulling and suffocating.
Prime
Color: Pink
Weight: 50 grams
The vest features soft edges and elastic cushioning.
The light filling material absorbs moisture and dries quickly. This vest comes in S, M, and L. Check your cat's measurements at the Amazon size guide to decide what size you need.
Dooradar Cat Harness and Leash
Escape-proof; safe and breathable
Prime
Color: Pink
Material: Nylon
Closure type: buckle
Gives you easy control, with soft, adjustable reflective straps. This one features super soft, breathable air-mesh fabric with soft edges and sponge cushioning to provide perfect comfort. The non-stick hair lining frees you from worry about cat skin problems.
Reflective strips make the cat visible at night, and improves safety when night walking.
4) Pangdi Cat Harness and Leash Set
An escape-proof, soft and adjustable jacket for cats
Prime
Color: Blue
Available Sizes: S. M, L
This jacket also has reflective strips. Consider it really escape-proof, as it has both a Velcro fastener and a buckle at neck and chest.
It's easy to put on and take off. This jacket-style design cat harness does not rub against the cat's front legs. The soft lining and edges are gentle on your cat's hair and skin, so the cat will find it comfortable to wear. It is fully adjustable to fit your cat.
5) Yonekiera Cat Harness and Leash Set
Escape-proof and safe; you will find this vest harness soft and light-weight; breathable material.
Prime
Color: Blue
Material: Suede
The step-in design can be adjusted to fit well. To remove, just unfasten the buckle and magic tape.
This vest design protects kitty's neck against the pull and strain that a collar might give. It has super-bright reflective tape. 
Though I do like this design, I have a question: Is suede really a breathable fabric?
Be sure to measure your cat carefully and refer to Amazon's size guide to get the best fit.
6) Hipet Cat Harness and Leash
Escape-proof; air mesh to keep kitty comfortable.
Prime
Multiple sizes and patterns
Four colors available
This breathable, skin-friendly fabric keeps your cat comfy but will not prove stuffy. The soft-handled leash has a Velcro fastener, and length can be adjusted.
Available from small to extra large. Vest includes reflective ribbons.
7) DMISOCHR Cat Harness and Leash Set
Escape-proof; features soft mesh and reflective tape.
Prime
Color: Red or light turquoise
Material: Polyester
Size: S, M, or L
The five-foot leash attaches to a metal D ring on the harness, with a 360 degree rotatable swivel hook.
Easy to put on and take off; adjustable strap allows you to adjust to the size most suitable for your cat.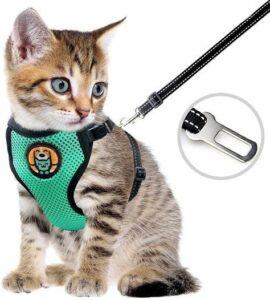 These vest harness choices give you some nice ones to choose from. Prepare for outdoor adventures with one of these vests, and you and kitty can enjoy the experience together.
If you purchase one, I would love to know your experience with it, as well as that of your cat. Report back, please, to let us know what you think of your purchase.