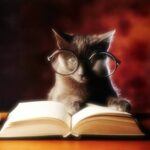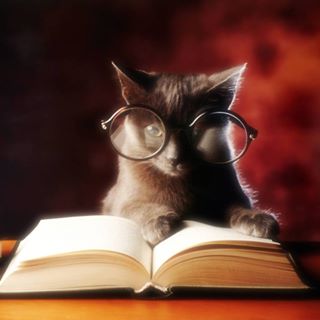 Greetings, all. It's Lucinda the literate cat. I've received a question from a reader. After we published "Cat Behavior Solutions #8," Abigail Calkin asked, "Why did Egyptians worship cats?"
She said, "Surely it wasn't just because they killed vermin destroying the food supply. There must have been some other reason." So I researched.
Let me tell you, it is not easy for me to do research. As I have told you before, when I run my paw under the words on a page, I don't actually read them, but images of their meaning pass through my head. When it is a fiction story, it is easy for me to follow the action of the images. I can relax as I "watch" the words.
But research of a specific topic is much harder. I have to really concentrate. Wikipedia is especially hard. Many images are crowded in the lines, and if I don't pay attention, I can get lost. Research is very tiring for a cat. Believe me, I'd rather be outside playing, but it is too cold now, so might as well get this research done.
Anyway, I have an answer for this reader.
Part of the answer has to do with the fact that the ancient Egyptians worshiped many animals for thousands of years. They were revered for different reasons. For example, dogs were valued for their ability to protect and hunt. However, cats were believed to be the most important animal.
Egyptians understood the cat better than many modern people. They realized that we could be considered magical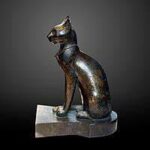 creatures. We brought good luck to our two-legged families. They honored us, and we have not forgotten.
We were dressed in jewels and fed the most exquisite treats. When we died, we were mummified. To show signs of their mourning, the two-leggeds would shave off their eyebrows and then would mourn until the brows grew back. Even if a cat was killed by accident, the person who killed the cat was put to death.
Though gods and goddesses were believed to be able to transform into different animals, only one goddess, Bastet, or Bast, as she was sometimes called, could become a cat. Egyptians built a beautiful temple to this cat in the city of Per-Bast.
My reader wants to know why they were so revered. If you lived in that ancient time without a cat, you would soon want one. Homes were filled with tiny, dangerous creatures. Can you imagine an asp hiding in a clay pot? Or rats and mice spoiling massive amounts of stored grain? Or what about a scorpion stealthily scuttling into a cradle, ready to give the child a deadly sting?
The Egyptians found only one creature who could keep them safe from these threats. We know the cat became the hero that made the home secure and saved lives by defending the family. Perhaps without Egyptian cats, civilization may not have survived. No wonder they were worshiped!
Before Bastet, there was an earlier deity called Mafdet. She was revered because she offered protection against such poisonous creatures as snakes and scorpions. This goddess could adapt a variety of fierce feline forms. She was most often shown as a woman with the head of a lion or cheetah.
She could also be depicted as a woman with the head of a house-cat, or sometimes as a house-cat with the head of a woman. Such an idea!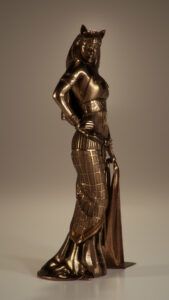 When this goddess later became known as Bastet, or Bast, she was thought to be fiercely protective of the home, and especially of children or royalty. Her followers called her the "Eye of Ra," the sun god.
Because of her excellent ability to kill snakes, scorpions, and other vermin, it was believed that she watched the world and guarded Egypt against invasion.
As cats became domesticated, they became valued family members, and because of the protective service they gave, they enjoyed the same respect and dignity as the two-legged children. Then Bastet's image softened a bit and she became the goddess of family, fertility, and love.
The pharaohs themselves advanced this cat worship, as she protected the rulers just as she did other members of society. Many statues, paintings, seals, and stone vessels had a cat illustration or carving.
From the First Dynasty (2920 to 2770 BC) all the way to the time when Egypt became a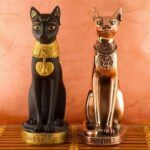 Roman province in 30 BC, cats had been worshiped. Then, in the 4th and 5th centuries, edicts from the Roman Empire gradually curtailed the practice of pagan rites in Egypt.
Too bad. I don't think there is anything pagan about cat worship. But, then, I'm a cat. Just remember that we performed a service that in essence saved the civilized world. How soon they forget!
Perhaps they have forgotten partly because of the way the two-leggeds write history. In my research, I find that the folks who recorded past events placed a great deal of emphasis on the male hero, and not so much on the female. Bastet happened to be a female goddess.
Have you realized that many historians are male? Maybe the word "history" actually should be "his story." I think it's high time the two-leggeds added a new word to their language: "herstory." Then perhaps we females could get equal time to show off our virtues.
Imagine that — me, a cat, suggesting a new word for the English language…Wonders do never cease.
So, in answer to your question, dear reader, though cats were considered magical creatures and were part of the pagan worship so prevalent in those ancient times, there really wasn't a deeper meaning why they became deities. After all, isn't saving civilization enough?
Thank you so much for your question. If anyone else reading this post has a question that you would like me to answer, you know the process by now — ask it in the comments at the end of this post, and I will try to answer.
The references I used for this story can be found below, if you would like to look them up and read them in full.
petfinder.com/pet-adoption/cat-adoption/why-did-egyptians-worship-cats
kids.nationalgeographic.com/explore/cats-rule-in-ancient-egypt/
en.wikipedia.org/wiki/Cats-in-ancient-Egypt