Do you have a cat that you love, and you need indoor diversions for him, such as a cat tree? Perhaps you need a special bed or scratching post. Visit Tuft and Paw to find the most amazing choices in cat furniture.
Name: Tuft and Paw
Website: www.tuftandpaw.com
Owners: Jackson Cunningham and Vanessa Koo
Product Name: Cat furniture and essentials
Date Founded: 2016
Price: Varies from item to item
Rating: 4.8 out of 5
Note: Links to these pieces are the blue captions underneath the picture.  Click on the caption and  you will be taken to the product in the company catalog.
Tuft and Paw furniture could be called the "West End of Cat Furniture" because it is so stylish and contemporary. Now your cat can have the type of products he deserves, and your living quarters will

be enhanced by the attractive, well-made piece you have purchased.
The idea for creating designer cat furniture grew after Jackson and Vanessa took a trip to Colombia, and were appalled at the cruelty with which homeless stray cats were treated — like common pests. They decided to start business that could help homeless cats.
Jackson explains, "Now that we have our business going, we donate product to hundreds of shelters across the United States, and usually redirect returns to another shelter instead of back to our warehouse.
Find New And Unusual Selections At Tuft And Paw
Have you ever shopped for cat furniture, only to find that most of the products you saw were second-rate or downright ugly? Have you resisted getting an item such as a cat tree, for example, because it looked so tacky? Would you like something that enhances your home instead of distracting?
Go to Tuft and Paw and look at their selection, and you might be very surprised. The pieces are very attractive — in fact, many are downright beautiful.
Both you and your cat would enjoy having these creations in your house.
Rethinking The Way Cat Furniture Is Made
Jackson Cunningham has rethought the way cat furniture has been made for the last 100 years, and works to create beautiful new products. He's been assisted in this enterprise by designers, engineers, and cat behaviorists.
Tuft and Paw doesn't limit their offerings to just large cat furniture pieces, but also a wide range of other products.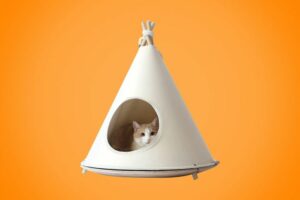 Cat Beds: You can find such things as cat beds that look like they would be fun for the cat to sleep on. Heck, if they were big enough, I wouldn't mind trying one of these my own self. Some are enclosed, so your cat essentially has his own bedroom.
Cat Trees: Cat trees are not the only items offering cats a chance to climb or to be up high. The trees are wonderful, but there are wall-mounted sleeping shelves as well.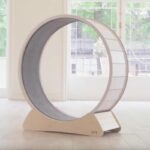 Cat Wheel: There's a cat wheel, promising fun and exercise for your cat.
Scratching Posts: A novel selection of cat scratching posts are designed to take care of a cat's scratching needs. There are a variety of designs to fit your particular living space.
These use high-quality materials and extra-coarse surfaces, giving your cat a satisfactory scratching experience.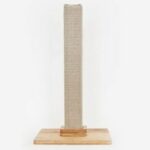 Toys: Cat toys are designed to stimulate your cats to play. They are intended to help improve your cat's well-being and fitness. These show some very original designs at moderate prices.
Litter Boxes: Litter boxes look like attractive cabinets. For cats like mine, who will not use a covered litter box, I'm happy to see a very large open box called a "Cove Litter Box." I am sure my cat would find it quite to his liking.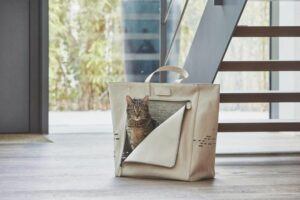 Accessories: Tuft and Paw also carries cat accessories, including blankets, carriers, collars and bowls.
The cat collars are made to be comfortable and safe, and have a break-away clasp in case the collar gets caught on something. Kitty will escape unharmed.
Bowls are designed large enough to allow room for the whiskers, and to allow the cat to eat comfortably. Most are elevated, so the cat can eat or drink without having to bend a great deal to reach the food and water.
The Inspiration For An Entrepreneur
Jackson Cunningham is a natural for developing the Tuft and Paw business. His background is in ecommerce, and he wanted to help his girlfriend start her own store, naturally about cats, as she loves them.
The couple started searching the world for the most beautiful cat furniture. Now, they are growing rapidly, employing two full-time industrial designers and engineers. These folks are conceptualizing cat products from scratch. They expect some big things to be coming along very soon.
How The Company Figures Out New Products To Design
Tuft and Paw works with cat behaviorists to help figure out what kind of designs cats will go for most. At the start of their design process, they ask questions about a basic cat problem. For example, why do cats scratch? What makes them happy? They ask questions of experts, including SPCAs and shelters.
Then they make a prototype and test it with cats. When they find an item that the cats seem to really like, then they start production.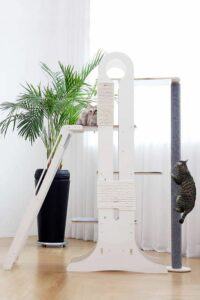 Tuft And Paw Has A Wonderful Goal
Jackson says, "Our goal is to reduce the number of cats that become homeless. He goes on to say that in the United States alone, 1.4 million homeless cats are euthanized every year. We support no-kill cat shelters whenever we can."
On their website, they say, "Cats deserve to feel as safe in their environment as we do. We as humans have the power to make it happen." The company would like their products to be a benchmark for the proper care and treatment of cats worldwide.
An interesting fact: Tuft and Paw says that roughly five times as many animals as humans are homeless. A round of applause for Tuft and Paw, please, for trying to do something to ease that situation.
I like what Jackson says about how they choose products to promote. He says, "We choose brands whose responsible designs will support cats." He goes on to say that they recognize companies who take the same pride in details of their craft as they do in the ethics of their materials and operations.
That's great, Tuft and Paw! Too bad more companies don't do the same.
If you order from Tuft and Paw, all products are shipped in under seven business days on all United States sales. Within 30 nights, if the cat is not completely satisfied, for any reason, you can return the product for a full refund (excluding shipping.)
PROS
Designed with the cat in mind
Attractive pieces that will look good in your home, and at the same time, make your cat happy
Quality of products is excellent
Wide range of product choices, with innovative design
When you buy from Tuft and Paw, you are also helping homeless cats
CONS
On bigger pieces, shipping could get a bit steep
Some pieces are high priced, but you get what you pay for
OPINION
If you need a piece of cat furniture, why not buy from someone who truly cares about cats, and who will do all they can to help homeless cats and shelters. These people deserve to be supported with our business. To see the whole catalog, click the blue link to Tuft and Paw in the first paragraph of this post.  To go to specific pieces shown on this page, click on the blue caption under the picture.  
I can see a couple of pieces in that catalog that my old cat would love. I might have to get him a birthday present, as he turns 16 very soon.
It's about time that someone came up with a line of cat furniture and accessories that fit the high-quality category. Thank you, Tuft and Paw — May you meet with outstanding success.