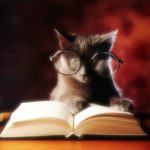 Cats are homebodies, for the most part. They do not like to leave their territory, which includes their home and their daily routine. If you must travel with your cat, here are some tips that could make traveling with them easier.
Get Them Used To The Idea
First of all, take them on short trips around town to get them used to being in a car.
Before you take them anywhere, just leave the carrier open on the floor for a few days, and let the cat get used to it. You might throw a couple of treats in there to coax the cat inside. Then just let him investigate.
If your cat is not in a carrier, do not let him go near the driver side floor. After all, the brake and gas pedals are there, and your cat might hamper the use of these…this is not a good thing
Other Factors To Consider
If you think it necessary, consult your vet about medication. If you have a very anxious cat, it might be wise to get something for him that will relax him. It will make the trip easier on both of you. You will have to give the medicine before you start.
Sometimes a cat can get carsick, so find out about medication for that as well.
For shorter trips, crate the cat, as it will make him calmer. For long trips, if you have room, let the cat roam free in the back of your vehicle. Keep a litter box and food back there.
Try before your trip to see if crating the cat or letting him run free works better.
If your cat has a favorite toy or blanket, be sure to bring it with you. It's familiar and it smells like home, which will bring comfort to your cat.
How To Make An Airplane Ride Easier
If you are taking your pet on an airplane, make sure to check the airline's regulations ahead of time. Make sure it is acceptable for the cat to ride in the cabin with you. Gone are the days when you must put your cat with cargo and luggage.
Get the dimensions of the space under the seat, so you can get a carrier that fits in the space. What paperwork must you take? Vaccination records and a health certificate will most likely be needed.
Ask your vet about medication or other calming techniques you can use so the trip will be less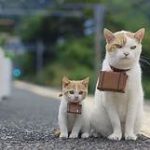 stressful for all concerned.
Tips For Long Car Trips
For a long car trip, be very careful when opening and closing the doors. The cat may try to escape and vacate the premises. Best to crate him before taking him into a house or hotel. If you are carrying the cat without his carrier and he gets frightened, you might drop him. Be sure he has an ID tag in case you lose him.
If you are staying in a hotel, be sure to check ahead and see if they are pet-friendly. Though you might take a chance and sneak your cat into the room, it's probably better to check with the hotel first and confirm ahead of time that you can take your cat.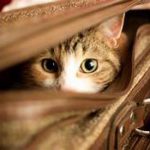 Never leave any pet in the car. It might not feel like it is that hot outside, but temperatures inside a closed car can mount fast. Best to pack up some food, put your cat in his carrier, and stay together in a park while you eat.
Even with lots of preparation, traveling with a cat can be stressful for the best of us. Maybe the kitty will cry all the time. Maybe he will vomit or have a potty accident. Be sure to bring paper towels and pet-safe supplies for cleaning kitty messes, should it be necessary.
When I moved from Kodiak to Gustavus, I got a carrier that would fit under the seat in front of me for Carlos. He was a pretty calm cat, so I got no medication. We'd done some car trips with the carrier, so he was used to it.
We had to change planes in Anchorage. I visited the ladies' room, and that was the only time the cat made a sound. I asked him how he was doing, and he meowed at me twice. I'm guessing he
said he was fine.
He was so good! He trusted me, so I think, since he could see me and could tell that I was calm, he had no reason to feel fear. The trip was an easy success.
I've researched carriers, and have found some at Amazon that I think are good choices. They are shown below. Click on the image or on the blue highlighted product name and you will be taken to Amazon to make your purchase. Please note, that as an Amazon affiliate, I receive a small commission from the item you purchase.
EliteField Soft-Sided Pet Carrier (3-year warranty, airline approved)
Muliple sizes and colors available; by EliteField
Price:  $25.99 Prime
Size:  17″ long by 9″ wide by 12″ high.  Airline approved carrier for small cats, dogs, and other small pets.  Measure your pet's height and width prior to selecting carrier.
Removable fleece bed cover with an insertable hard support board.This keeps the carrier in good shape and makes your pet more comfortable.  Durable, light-weight water-proof material.  Easy to clean.  Top and sides made of mesh netting for added sunlight and breathability,
Two storage pockets.  Hand carrying straps and an adjustable shoulder strap.  Three year warranty and 100% money-back guarantee.
 X-Zone Pet Airline Approved Pet Carrier.  Soft-sided; collapsible; for medium puppy and cats.
by X-Zone
Price:  $22.99 Prime
Dimensions 17″ long by 11″ wide by 11″ high,  Suitable for pet up to 15 pounds.  Please do not choose your carrier based on weight.  Please reference your pet's length and height when selecting a carrier size.
Easy to set up and fold down flat for storage.  Two entrances, easy to access.  Unzippable top entrance allows pet to poke its head out.  Airline approved.
Carrying handles and adjustable shoulder strap.  Fleece pad and mesh windows for ventilation.
Pet Yella Luxury Pet Carrier, fleece blanket and bowl; airline approved; light-weight, by Fxsuede AB
Price:  $39.05  Prime
Luxury travel for your pet, and more comfortable than a rigid crate; the sides expand, zipping out to give adult dogs and cats plenty of room.
Reinforced steel frame.  Lightweight, but it won't collapse on your pet.  Folds flat for easy storage.  Built for pets up to 11 pounds; it measures 11 x 11 x 18 before expansion.  After it expands, it measure 31 x 11 x 18.  Swivel clips prevent twisting of shoulder straps.  There is a leash clip inside the carrier to secure the animal.
Fleece blanket, collapsible bowl, shoulder strap and padded faux bottom add  comfort features.  This carrier has a one-year money back guarantee.
PetAmi Deluxe Pet Carrier Backpack for small cats and dogs.  Ventilated design, two-sided entry, safety features and cushion back support.  For travel, hiking, outdoor use.  Color:  Heather gray
by PetAmi
Price:  $39.99  Prime
Great for hiking, traveling, taking cat to vet, walking in the park.  Measures approximately 12.5″ long by 10.2″ wide by 16.3′ high.  
Well-ventilaed design; two-way entry; zip up mesh window for more headroom.  Thick, cozy Sherpa lined bedding.  Designed with safety in mind.  Equipped with a firmly reinforced structure so it will not collapse. It also comes with a safety strap and  buckle to secure your pet and prevent escape.
Superior comfort:  Back and shoulder straps equipped with extra-thick padding for more comfort.  Comes with both waist and chest buckles for extra support.  It also contains added side pockets and a front pocket, plus a collapsible water bowl.
Made with durable 600D high grade polyester so it will last a long time.
I noticed that the cute traveling cat I chose for my "featured image" is actually advertising coffee mugs.  So, I decided it was only right that I include a couple of cat coffee mugs for you to admire.  Choose one of these for a great gift, or you can choose one for yourself.  Remember that Valentine's Day is right around the corner.  Now, here they are:
Enesco 6000546 Our Name is Mud "Advice From The Cat"
 stonewear coffee mug, 16 oz white
by Enesco
Price:  $23.14
Prime
Cat Lovers Ceramic Mason Jar Mug Set
(Coffee or Tea)
by Bifrost
Price:  $34.99
Prime
 Decole "Concombre Cat Tail Mug Cup
(Black cat)
Price:  $21.69
Prime