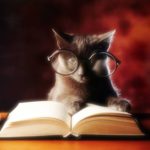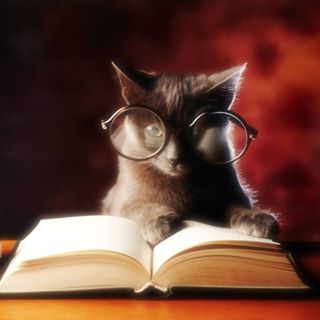 Greetings, two-legged readers. It's Lucinda, your literate cat. My CCL (Cantankerous Cat Lady) has asked me to review a chapter in a book called The Mythology of Cats, Feline Legend and Lore Through the Ages. Authors are Gerald and Loretta Housman.
The chapter I am reviewing is called The Household Cat. I must admit, this information challenged me, because the vocabulary contained many words I did not know. Bear with me. I will do my best.
How Can Cats Find Home From Incredible Distances?
In this chapter, the authors discuss the ability of the cat to find its way home from seemingly impossible distances. Give them time! Barring accidents, they will find their home again.
At the beginning, the authors talk about Sugar, a black and white cat, who travels from Anderson, California to her home in Gage, Oklahoma. This trip had a distance of 1500 miles, and it took Sugar 14 months to get home safely.
CCL says that is over 100 miles per month. Goodness! That cat must have been a good hunter, to find enough game to feed herself for that long time. Though I could undoubtedly make such a trip, I hope I never have to. For one thing, I'd have to stow away on a boat or plane for part of the trip.
The CCL reassures me that she has no intention of moving or of leaving me behind. That is a relief.
The chapter then discusses how the cat is able to accomplish such a feat. Both cats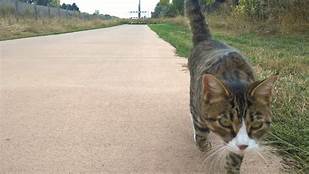 and dogs have something called "psi trailing." That stands for psychic tracking (whatever that means — it refers somehow to our navigation system.) The authors point out that cats have a more finely honed talent of navigation than do dogs.
Perhaps in the story, The Incredible Journey, which I reviewed, and, incidentally, enjoyed a great deal, the two dogs were fortunate to have had a cat with them, since the cat had a better navigation system. At least, those two dogs showed that they appreciated their cat friend.
A Sunny Day Is The Traveling Cat's Friend
The authors say that cats have the ability to "read" sunlight. To do so, they consider the time of day, the season of the year, and the passing of one second, with a subtle internal mechanism. My, my! I had no idea I had such equipment built in!
Through this internal knowledge, and possibly using both solar and lunar magnetism, the cat's mind provides it with a map for the journey.
Though you two-leggeds use these fancy words to describe what we do, we call it instinct. We don't know how it works; we just trust it. You are the ones who have to study us and figure out how we do such things.
It's all done by feel. It's how our instincts work. If we talked to ourselves, we would say, "This way feels wrong, so I will change direction. This way feels right, so I will continue on in this direction."
As the cat gets closer and closer to his goal, his internal stress is removed. Thus the cat becomes what you two-leggeds call a "sonar finder." The cat moves through inner space, and follows a trail established by his remarkable cat mind.
There are other ideas you two-leggeds have about how a cat performs this feat. One idea is that cats use their whiskers to set up what you call an echolocation device. In other words, behaviorists (those who study how and why we act) suggest that perhaps cats pick up magnetic impulses that affect those whiskers.
The chapter uses the word "occult" which refers to the supernatural. Neither of these words — occult or supernatural — have much meaning for me. Again, it is your way of describing something.
What Of The Cat's "Occult" Powers?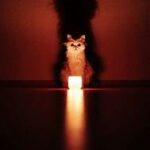 Some of these "occult" ideas consider cats' whiskers as objects of great power. The whisker is supposed to be good for helping you find lost objects.
Cats' entrails have been used in some parts of the world for the purpose of prophecy. I do not like this idea at all. When I researched, I discovered that entrails referred to a cat's insides. To use this method of prophecy, you would have to kill a cat. I definitely do not approve.
Our guts have been used as strings for musical instruments, and for fishing leaders. They are obviously very strong, but again, I do not approve at all of these uses.
Dr. Michael Fox, a scientist and a mystic, says "if an animal can perceive the time of day or the season, it should be able to find the square mile where it lives by 'reading' the sun and the angle of its rays."
Though there is some language in here I can't figure out, basically the chapter explains that this sun-reading allows the animal to find its square mile on the globe. However, you two-leggeds are still not sure exactly how we accomplish such amazing feats of travel.
This ability extends across all breeds of cats. It does not matter what kind of cat we are. All of us have this ability, built-in. To us, it does not matter how we do it — we just know we can. But you two-leggeds always need to have elaborate explanations.
The chapter goes on to say that "the clairvoyant cat is Everycat." Many times the cat reminds you two-leggeds of the supernatural, for whatever reason, so the cat often became associated with fortune-tellers, or deities that you have invented.
A long time ago, when you two-leggeds worshiped cats, you were able to share the power we have. The cat is associated with the moon and the supernatural. No other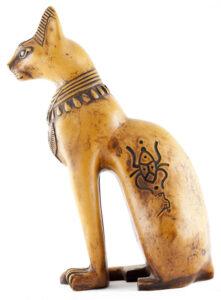 animal has been bowed to more times. In my opinion, that is as it should be. Our power needs to be recognized again.
Some of your sociologists (another term that is definitely of two-legged origin) believe that it is only through such animals as dogs and cats that you can experience the pleasure of the "wild outside." Since we have agreed to be domesticated, we are your doorway to the wild world you do not know or understand.
Cats Have Superior Psychic Skills
Once, in the ancient past, you accepted us as having psychic skills and power greater than yours. Most of you have lost this belief in our superior abilities, because you are so self-absorbed with your own abilities, many of which we do not possess.
However, I believe you would be wise to acknowledge our power. With our guidance, we hope that you can reclaim some of this power that you have lost. Our intuition can teach you, if you will allow it.
This book has many interesting discussions about cats in general and about specific breeds as well. I will probably use this book again to teach you more about cat mythology.
If you would like your own copy, you can order it from this post. Just click on the book image below or on the blue highlighted title, and you will be taken to Amazon to make your purchase.
Please be aware that, as an Amazon associate, my CCL will receive a small commission when you purchase this book. I would be very appreciative of your purchase, as this money helps pay for cat food and supplies for me and for my cousin, Pogo.
If you would like to make a comment about this review, both my CCL and I would love it. I really enjoy reading comments from readers and fans. Just scroll to the bottom of the page and write your message in the section provided. It makes me feel like my efforts in reading and writing these posts is worthwhile.
Thanks for reading!
The Mythology of Cats, Feline Legend and Lore Through the Ages
by St. Martins Press
Price:  Hardcover — $47.87; Paperback — $28.75
Plus lower prices for used books