Would you be interested in a guide to taking your cat into the wild? Have you ever visited the website, http://adventurecats.org? It's a wonderful site that will teach you everything you need to know about training a traveling outdoor cat.
Laura Moss, animal writer and active hiker, started the website when she couldn't find an online resource for training a cat to join her in outdoor adventures.
There is an incredible amount of information on this site, and you can learn many things about your pet that can help you and the cat, whether you adventure together or not. You will also read great stories about cats who join their owners for outdoor adventures.
One of the two top navigation bars features these categories: The Basics, Cat Tales, Gear and Safety, Pawsome Reads, and Indoor Adventures. Each category contains multiple posts: 12 to a page, and usually more than one page. Cat Tales, for example, has six pages.
To give you a taste, here a just a few of the post titles:
The Basics (two pages)
RVing with your cat: What you need to know

Camping cat

Three essential steps to making your cat an adventure cat

Train your cat to walk on a leash

Camping with cats: The ultimate guide

A guide to boating with cats

Hiking with cats: Tips for the trail
Cat Tales (six pages)
This category features a variety of stories of cats on outdoor adventures. Here are two sample titles:
Bengal's breathtaking photos will fill you with travel envy

All-terrain tabby is at home on sun, soil, or snow

Gear and Safety (three pages)
How to prepare your cat for an emergency

What to include in your cat's first-aid kit (This one includes a video from ASPCA on how to build a pet poison prevention kit.
Pawsome Reads (three pages)
What's it like to backpack with a cat?

How to read your cat's body language

National Park Service hosts its first cat hike
Indoor Adventures (one page with 12 posts)
Vet shares tips for enriching indoor cats' lives

Have an indoor adventure with your cat
These titles in each category are just a sample of the information provided. Whether you take your cat on an adventure or not, you can learn a great deal from these articles, and will read some amazing cat adventures tales as well.
Here are details from a small selection of these posts. As you can see, a great deal of valuable information is presented.
The first one is from the category, "The Basics." Here are some notes from the post, "Three essential steps to make your cat an adventure cat."
The article starts with "First, a simple question…"
Why do you want to adventure with your cat? Not all cats are cut out to be adventure cats. First, assess your kitty's personality. Would he enjoy adventuring, or is he more of a catio type?
Once you have decided your cat might enjoy adventures: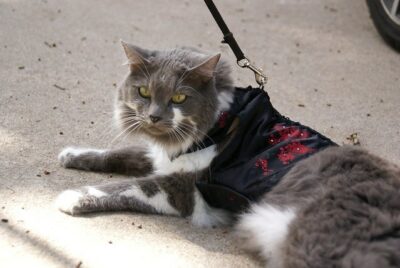 1) Find a purrfect harness
There are a variety of types of harnesses on the market. Research to find the best one, and realize that you may have to order online.
There are two basic styles of harnesses: either a few straps attached to a leash, or a vest, which is like a piece of cat clothing.
You need a harness. You can't just attach a leash to kitty's collar, because you might injure the cat or enable him to escape the leash easily. You should be able to fit a finger or two — no more than that — under the harness.
2) Start training
It may take days or even weeks to get your kitty used to harness and leash. Getting your cat to walk on that leash is a very important step in preparation. A kitten may take to the harness and leash easily, though it may try your patience more when working with an older cat. Just take it slow and have plenty of treats on hand for encouragement.
Just give him time to get used to it.
Clicker training is recommended, and teaching him to come when called should be accomplished before you venture too far into the wilderness.
3) Hit the trail
Before taking your cat outside, talk to your vet and make sure kitty is up-to-date on vaccinations and flea, tick, and heartworm treatments.
Follow these guidelines:
When you pack, you will need a few extras for the cat. One thing you need to include is a recent picture of your cat, in case you become separated.
Keep kitty on a leash, even though he always comes when called. Accidents can happen. Play it safe by keeping him leashed and the leash in your hand.
Expect the occasional time when you need to carry the cat. Perhaps a strange dog has frightened him, or perhaps he will get tired. Be ready to give kitty a lift.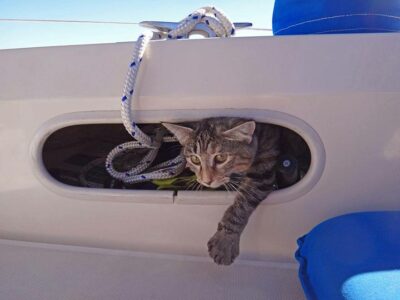 If you are going camping, read the guide on what to expect when camping.
There is a second top navigation bar, containing mostly information about the company. There's one topic from this navigation bar that is also an important one to read. It's called:
Before You Go.
This article is a good one to read when you first start researching adventure cats, because it contains a good list of do's and don'ts. Here is the list:
First, determine if your cat is right for this activity. Not all cats will take to the idea and not all cats have the desire to adventure.

Keep your cat indoors unless he or she is with you. This is especially true if you are taking your cat adventuring. To insure kitty is safe, never let him out of your sight.

Before you involve your cat in outdoor adventures, talk to your vet. Kitty should be in good health and up to date on any vaccines or flea, tick and heartworm treatments.

Buy a harness that fits properly and train the cat to use it.

Always keep your cat on a leash. You'll ensure that he doesn't wander off and get in trouble he can't handle, or that he won't chew a dangerous plant.

Make sure kitty's collar has an ID tag. It's also a good idea to get your kitty microchipped.

Make sure you pack all essentials and know how to keep your cat safe on the trail.

Make sure cats are allowed on the trail before you go.

Pay attention to your cat — Don't force him into a new situation that will stress him, and don't push kitty outside his comfort zone.

Use your best judgment and don't take your cat on a strenuous, long trip that he won't enjoy.

Remember, you are responsible for your cat's health, safety, and well-being, so don't put him in danger. You want your adventure together to improve the cat's quality of life — not to lessen it or shorten it.
This review of one of the articles onsite seems like a topic that many cat owners would find interesting. It's called, "What to include in your cat's first adventure kit."
First Aid Kit Important For Both You And Kitty
It is important that both you and your pet have a well-stocked first-aid kit. To put together this kit for your cat, first find a waterproof box or case and tape the following information inside:
Your veterinarian and contact information

Local 24-hour emergency vet

ASPCA Poison Control Center – 888-426-4435. You might also program these numbers into

Climbing cat

your cell phone.
The following are essentials for a cat first-aid kit:
Pet first-aid book. Get familiar with the organization of this book so you can find information you need quickly if there is an emergency. Suggested: Cat First Aid Book, by the American Red Cross.

Paperwork – such as proof of rabies-vaccination status and copies of other important medical records and a current photo of your cat.

Absorbent gauze pads

Adhesive tape

Antiseptic wipes, lotion or spray

Cotton balls or swabs

Hydrogen peroxide

Eyewash (Human version is okay)

Ice pack

Non-latex disposable gloves

Rectal thermometer and petroleum jell to lubricate

Gauze rolls

Sterile non-stick gauze pads

Scissors with blunt ends

Tweezers or tick key
Add anything your vet recommends. Also consider a towel and muzzle if kitty is sick or injured.
Ask your vet about including Benadryl for allergies or bee-stings. The vet can tell you the correct dosage.
You can also consider taking a pet first-aid course, and learn about cat CPR.
Learn From The Pros
Here are some tips from AdventureCat pros:
Go slow. Start with an area where you can monitor kitty's activity, and she can't bolt

Carry the cat outdoors, to reduce the tendency for door-dashing when the leash is not on

Be patient. Keep your expectations low and realize this activity may not be for your cat

Learn to read your cat's body language

Carry him if you want to go directly to a chosen spot. Otherwise, he may not be interested in hurrying.

Put a bell on your cat's collar. You can hear it and birds can hear it as well.

Keep your cat comfortable by making regular outings part of your routine.

If you do have a negative experience, do not punish the cat. Encourage its effort; perhaps even give treats. Always try to end the adventure on a positive note.
Training an adventure cat can be fun and rewarding for you and your pet. If you would like to be able to read the stories posted on AdventureCats at your leisure or to have the articles close at hand so you can refer to them if needed, you can order this book:

Living 9 lives to the fullest: Adventure Cats
by Laura J. Moss
Price: $11.89