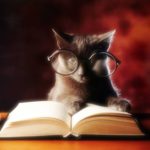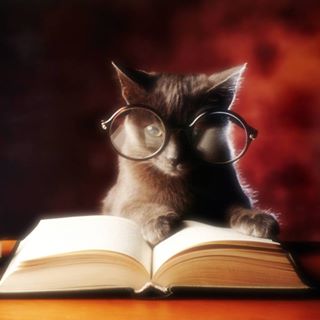 The Norwegian Forest cat is of Scandinavian descent.  In Norway, it is known as the "Skaukatt." It is believed that the breed is between 1000 to 2000 years old. Some stories say that Leif Erikson, the Viking explorer, had such a cat on his ship. In those early days, this cat was called the "Wegie," or the cat of the Vikings. He was a protector of both farm and ship, killing mice and rats that would eat any available food supplies.
The "Wegie" is a cat from which legends are made
Not only was he a fabulous hunter, but he also has his place in Norse mythology. From Norse legend, we learn that the Norwegian Forest cat has quite a background. The Finns say the cat is the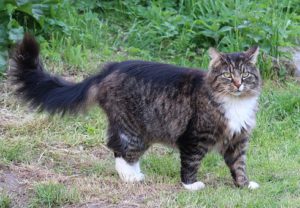 "mystic wildcat of the fairy tales." The cats were the favorites of Freyja, goddess of love, fertility, and the hearth. Freyja traveled in a chariot drawn by either two white or two grey
Because Freyja symbolized domesticity, she was often portrayed with Norwegian Forest cats playing around her. Lovers wishing to marry asked the blessing of Freyja and her cats. Because of this custom, superstitions regarding weddings and cats were born. Here are a few of them:
Girls who value cats will definitely marry.

Receiving a black cat as a wedding gift is considered good luck.

If a woman feeds her cat before going to her wedding, she will be happily married.

If a single person steps on a cat's tail, that person will not marry for a year.

Feed your cat well and you will be guaranteed sunshine on your wedding day.
Characteristics of the Norwegian Forest Cat
These Norwegian cats were thought of as fairy cats. Because they are so large, it was said that not even the gods could lift them.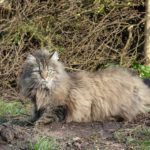 Indeed, this cat is a large, heavily boned and heavily coated cat. The animal is quite muscular, having the appearance of a hunter.
His triangular head is set on a thick, muscular neck. The ears are medium-sized. The chin, slightly rounded, is strong. The cat's hind legs are slightly longer than the front legs. These legs are heavily muscled. The large, rounded paws have fur between the toes.
This cat can be found with a solid color or patterned coat, and in a wide variety of colors. Patterns can include tortoiseshell, bicolor, calico, tabby, ticking, smoke, or shaded.
Prepared for cold Scandinavian winters
This cat withstands cold climates very well. Because the coat is so thick, the Norwegian Forest cat looks even bigger than he is. The coat is double. The dense undercoat sheds in summer. The outer coat is long and silky. This length can vary widely with the seasons. The fur on the tail is also long and quite bushy.
Because of the tendency to shed, the cat needs to be combed during the winter to spring season. The cat should be groomed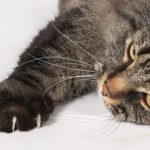 daily to keep its long coat free of tangles. He generally likes grooming, so this task can be incorporated into play-time. Be sure to give a hairball remedy during the regular shedding season.
What to Expect from This Northwoods Cat
This muscular, athletic cat loves to play. He is very curious, and will explore every corner of the house, especially high places where he can contemplate the rest of the world. Though he has a reputation as a hunter, at home he is a lover, as he displays more affection than aggression. He likes people, adjusts well to newcomers and is not easily upset. He is also a vocal cat, talking to his human family long and often.
The average weight of the Norwegian Forest cat is 12 pounds. The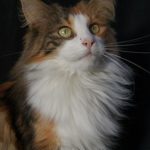 eye color can be blue, green, gold, or odd-eyed. The animal normally lives for 8 to 14 years.
This territorial cat is an excellent hunter, as were his ancestors. He will check the boundaries of his realm several times a day to make sure all is well. Because of his high exercise needs, he requires space to run and high perches for climbing.
Reference Sources
I gained knowledge of this cat's ancient history from two online sources: hillspet.com and petmd.