Greetings from Lucinda the literate cat, and welcome to our eighth online shopping bazaar. After the last one, a two-legged male subscriber to our website asked if we would include some gifts for men. My CCL (Cantankerous Cat Lady) researched and found a few items featuring cats that she hopes the menfolk will enjoy.
For our first selections, we will be returning to Zazzle. This company has many designs submitted by individuals and then used to create products, for example, the T-shirts that we include here. You, too, could become a Zazzle artist and submit your own design. Contact the company to learn more.
We will include two T-shirt designs with this post. If you'd like to see the other designs available, click on one of the T-shirt links on here and go to Zazzle, where you can explore many more options.
Zazzle will notify you of shipping costs when you order.
Gift Idea #1: "Take It Up A Notch" T-Shirt
This T-shirt pictures a cat riding a motorcycle. Now, that might be fun! I wonder if that cat actually knows how to drive?
This shirt comes in sizes S, M, L, XL, 2X, and 3X. For the last two, add $5.00 to the price. You can select the color: black or white, and also will have other styles to choose from.
The 100% cotton shirt has double-stitched hems for extra durability. These shirts fit true to size.
If I saw a man wearing this shirt, I'd look to see if he had a motorcycle, and if so, would meow for a ride. How exciting! Many cats would run and hide from such a machine, but I am not an ordinary cat. I want the thrill of riding it.
There are many designs for these T-shirts, so make sure to look at some other ones when you go to Zazzle. You might find one you must have.
Gift Idea #1: "Take It Up A Notch" T-Shirt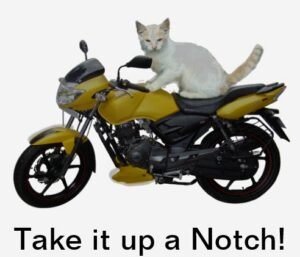 by Breakoutpets
Price: $18.95
Color: Black or White
Sizes: Adult S, M, L, XL, 2X, 3X (Add $5 to price for last two)
Gift Idea #2: Cat Fishing in Fish Bowl T-Shirt
This design is shown on a basic black T-shirt, and I think it looks good on black. However, if you would prefer a white one, you can order it in white. The same sizes are available in this shirt as in the previous one.
Now, the cat pictured here is quite clever to find a way to catch those elusive fish from the fishbowl. I hope his two-legged doesn't catch him or he will be in deep trouble.
Perhaps if you wore that shirt next time you went fishing, it would bring you luck.
Gift Idea #2: Cat Fishing In Fish Bowl T-Shirt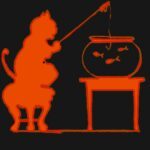 by Sweet and Sour Grits Gifts
Price: $27.30
Color: Black or White
Sizes: Adult S, M, L, XL, 2X, 3X (Add $5.00 for last two)
Gift Idea #3: Cotton Mask With Realistic Lion
Now, here's a scary mask. This cat might be one of my relatives, but I think I'll stay away from him. If he invited me to lunch, he might make me the main course.
For a two-legged man, though, this mask might be just the right one — especially if you like to roar like a lion. You might as well look the part.
This is a really good mask, as it has adjustable ear loops for a better fit. It also has a nose wire, so you can be sure that it fits snugly and comfortably. By the way, have you looked at the Zazzle post featuring several masks? I believe there are a dozen. They are all excellent masks.
I feel sorry for you two-leggeds and all you do to try to avoid this terrible Covid thing. I am very thankful that we cats don't have to wear masks.
How could we hunt with a mask on? We need our sharp teeth to do the job properly.
Gift Idea #3: Cotton Mask With Realistic Lion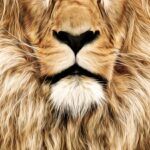 by PrinTee Graphy
Adjustable ear loops and nose wire
Price: $12.95
Gift Idea #4: Gray Cats Playing On Stripes Necktie
Some of you two-legged men still have to go to work wearing a coat and tie, or perhaps you need a special tie for a grand event. Why not take your kitty friends along with you? They will be happy to travel on your necktie.
This tie in lovely soft colors shows cats playing against a striped background. It is 55 inches long and four inches wide at its widest point. It is printed full color on 100% polyester with a silky finish.
Who knows? You could make a very good impression by wearing such a lovely tie. I'm glad you are the one who wears it, though — my toes aren't long enough to be able to tie it properly, and it would drag along on the ground when I walked.
Besides, a cat would look ridiculous wearing a necktie.
Gift Idea #4: Gray Cats Playing On S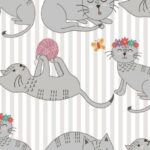 tripes Necktie
by Neato Patterns
Price: $30.10
Length: 55 inches; width: four inches at widest spot
Gift Idea #5: Leather Journal Cat Notebook
This embossed handmade travel journal comes with its own pen. The journal measures eight inches by six inches, and has 300 pages of thick cream paper, plain and unlined.
Part of the profits from your purchase will go to an African charity.
You two-leggeds, with your long paws that you call fingers, could do many wonderful things with this journal. For example, you could write down things you want to remember when you travel.
My CCL does something like that when she goes to bed. She keeps a notebook by her bed, in case she thinks of an idea she wants to remember in the middle of the night.
You could draw little pictures of something you see. That's a skill you are fortunate to possess. Your magic fingers allow you to do so many things we cats cannot manage. Consider yourself lucky.
Since you have the talent and ability to use this journal properly, why not buy one for yourself and one for an artistic friend? Then you will make a couple of two-leggeds happy.
Gift Idea #5: Leather Journal Cat Notebook
by Sovereign Gear
Price: $39.95
Prime
Gift Idea #6: Best Cat Lover Coffee Lover Sampler Set
Here's something that should please many of you two-leggeds. This gift comes with eight delicious (to you) fresh-roasted coffees, each with a humorous feline name.
I know you two-leggeds love your coffee, but as far as I am concerned, you can have all of it! Once, my CCL spilled a little of her coffee on the floor, and I lapped it up.
You know what they say about curiosity and the cat — Well, that coffee didn't kill me, but I learned that I do not care for coffee. The blends may have cat names, but that's the only connection this gift has with cats.
However, you should be very pleased, and will probably find these brews most delicious. It's just as well you have different tastes from us — if not, you might start stealing the mice and voles we catch to have for your lunch.
Instead, order this coffee selection to enjoy when you get up in the morning.
Gift Idea #6: Best Cat Lover Coffee Lover Sampler
by Sillybean
Price: $34.95
Prime
Gift Idea #7: Bewishome Large Cat Tree Condo
Sisal scratching posts, porches, houses, and hammock are included with this cat tree. Roomy and enjoyable for your cat, with three large, cushioned platform beds. Hideaway houses give your kitty a comfortable place to nap.
Yes, this cat tree is not for two-legged men, but it appears that you will be needed to put it all together. With the plush covering, it looks good, and even comes with all the hardware and tools you need to assemble it.
It is 36.6 inches long by 30.7 inches deep and 62.2 inches high (just about as tall as my CCL.)
Oh, I covet this cat tree! So many places to climb, hide, and hang out — and it is said to be sturdy and stable, so we cats could climb on it as much as we pleased.
Oh, Great Cat of Christmas, would you please bring me one of these!
Gift Idea #7: Bewishome Large Cat Tree Combo
Price: $139.90
Prime
Bonus Gift: Blue Buffalo Bursts Variety Pack
This one is especially for your kitty. Here's another Chewy cat treat special. Here are three bags of crunchy cat treats.  Bags are each five ounces.  If you order over $49 from Chewy, you will receive free shipping.
Blue Buffa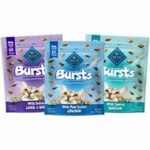 lo Bursts Variety Pack
Crunchy Cat Treats
5-ounce bag, 3-count
Price $14.99