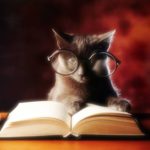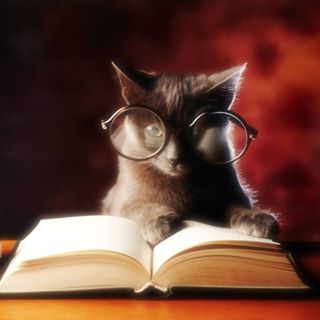 Cats are often aware of that which is beyond our comprehension. Their instincts, their sense of smell, and how they attune to the natural world cause them to do some extraordinary deeds. Enjoy these two super cat tales and marvel at their antics and their understanding of the unseen.
Duchess
Read first about Duchess, the cat belonging to Tess Guthrie. The cat had been acting strangely for days. She was skittish, kept hissing, and was off her food. This behavior was not normal for her cat, who was quite healthy.
Tess wondered if the cat was in pain. She decided to call the vet, just to make sure the cat was not sick.
Tess and her two-year-old daughter, Zara, lived with Duchess in New South Wales, Australia. Duchess always seemed a happy, gentle cat, so Tess worried about her behavior. She made the appointment with her vet for the next day. She gave the cat some food and she and her daughter went to sleep.
A few hours later, Tess awoke because Duchess was hissing in the bedroom. Because the cat was so aggressive and persistent, Tess turned on the light to see what was the matter.
To her horror, she saw a six-foot python coiled around the arm of her sleeping daughter. Then she realized what the cat had been so upset about for several days.
Fast Action Saved The Day
Having grown up around snakes, Tess reacted out of instinct. She grabbed the snake's head to pry it off, startling it. The snake started really biting the child's hand.
The python was wrapped three or four times around the baby's arm. Eventually Tara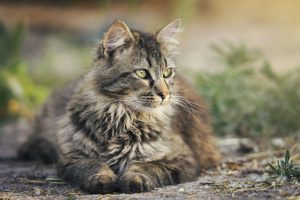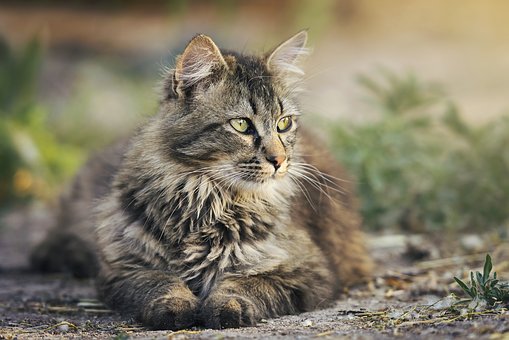 managed to unwind the snake and threw it across the room. They then fled to the Lismore Base Hospital, where Tess worked as a receptionist.
Mother and daughter were both bitten, so their wounds were treated. They made a full recovery. Tess wondered how long that snake had been under her bed.
Tex Tillis, professional snake remover, came by the next day and took away the python. It was released again into the wild, a long way from Tess's house. According to Mr. Tillis, the snake saw the two humans as a source of warmth.
Duchess the cat had apparently sensed the danger for days. If the cat had not awakened Tess that night, Tess knows that it might have been too late. Duchess saved their lives.
Mister Meanor
An officer of the Lindenhurst Police Department in Illinois came across a stray tabby on Memorial Day weekend, 2001. The cat seemed friendly and good-natured, so Officer Ralph Goar took it to the station.
His boss, Chief Jack McKeever, had been thinking the department needed a dog for a mascot. When Ralph introduced him to the cat, they decided he would make a perfect mascot. (Mascat?)
They named him Mister Meanor, or Meanor for short.
He soon made a place for himself with the police officers, and they discovered he had a good instinct for judging character. Said Officer Rebecca Labb: If a bad guy has bonded out, he (Mister Meanor) yells at the guy the whole way down the hallway, giving him the 'what for' with a scolding meow. However, if people here need comforting, he jumps up in their lap and comforts them. He distinguishes between the good guys and the bad guys. It's amazing how he does that.
Meanor considers himself one of the team at the police department. He insists on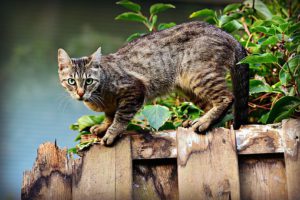 drinking water from the water fountain. He has trained the staff to accommodate him. He stands at the water fountain and meows until he is lifted onto the platform. Here, he presses the button to release water and drink.
Meanor does have his mischievous side. One of his great stunts occurred when a visitor stopped by to pay a fine and left his wallet on the counter.
Meanor pulled it through the window separating staff from public, and began pulling out all his cash. The person paying the fine was not happy to have to pay it, but when he saw the cat pulling out his cash, he started laughing.
Meanor brings laughter and comfort to his colleagues in the police department. He can sense when someone is stressed, and he comes up and asks for a pet. Because the job is so stressful, the cat is a good source for stress relief.
Felix
This cat is a true working cat. She has held her job since 2011. After five years she received an award for her services. She is a great example of a cat who is employed and pleased with her job.
Felix works at the Huddersfield train station in Yorkshire. As commuters arrive early in the morning to catch their trains at the station, they will see Felix, a black and white cat, on duty.
She will be on the platform benches or looking out the ticket office window. She is the official station cat. She arrived in 2011 as a nine-week-old kitten. Her job is mouse control.
After naming her Felix, the staff discovered she was not a "he." However, the cat liked the name, so they kept it. She has been a member of the team ever since.
When the staff put up a new set of ticket barriers, they realized they were interfering with Felix's mouse patrolling duties. They installed a custom-made, personalized cat flap so she could continue her work.
After five years on the job, in 2016 Felix received a promotion. She became senior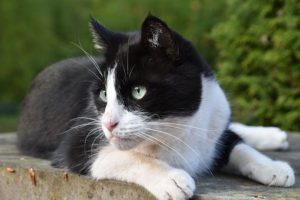 pest controller. With this new role came a special uniform: A high-visibility jacket and a TransPennineExpress name badge.
The staff at the station consider her one of the family. She often poses for pictures on the platforms with customers, or with one of her 20,000+ Facebook fans. Everyone says her presence brings a smile.
Lucinda reviewed a few of these stories for you earlier this year, so I am linking this post to one of those stories. If you would like to get your own copy of this book, you can order it from there. Go to this post to see the full details.
If you enjoyed these stories, or, better yet, if you have an amazing cat story of your own, pass it on to the rest of us to appreciate.  Leave a comment at the end of this post about your remarkable cat friends.