Have you often wondered where your outside cat goes once he leaves the house through the cat door? Now you can find out. GPS (Global Positioning System) for cats provides the technology to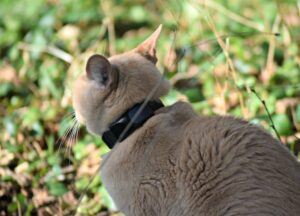 track his movements and learn exactly where he goes.
Unlike the microchip, which, when implanted in the cat, can supply the name and contact information of the owner, the GPS tracker allows you to monitor kitty's activity and movement.
The microchip is invaluable as a way to discover the owner once the lost cat ends up in a shelter due to some disaster, but to be able to track your cat's travel route on a daily, real-time basis, the GPS fills that need.
How A GPS Cat Collar/Tracker Works
You attach a GPS cat tracker to your cat's collar; then the device provides a map either online or on your smartphone. This map displays the cat's exact location.
If you wish, you can establish a "safe zone" for your cat; for example, your house or a block of the neighborhood. If the cat leaves that safe zone, the tracking company sends a text or email letting you know this information.
Range Of A GPS Tracker
Though you can supposedly get satellite-based GPS worldwide, in practice your cat collar device works best in areas that have a good GPS network and cellular coverage.
For example, you could track your cat if on a plane that flies from San Francisco to Chicago, and then into a building there. However, if your cat ended up in a remote forest or in a country with an incompatible cellular network, the device on the cat might lose the connection.
What Information Does The Tracker Give?
Usually you have to pay a subscription fee to the tracking service if you want to receive information. Once you become a subscriber, you can follow the cat's path, either through the company's website or on an app.
Most services allow you to designate a "safe area." If the cat leaves that area, the tracking service immediately informs you via email or text. Having a smartphone allows you to move around while tracking your cat through the neighborhood.
Therefore, it is important to make sure before you buy that you can find the company's app in the app store your smartphone uses (such as Apple, Android, etc.)
Do You Need To Charge Your GPS Cat Tracker?
Absolutely. In fact, a GPS cat collar device with lithium batteries must receive a charge frequently. (You will receive an alert from the device when low on power.) A charge lasts anywhere from a few days to two weeks, depending on the brand of GPS tracker you use.
Best remember to charge the device regularly, or the cat may run out the door and disappear, with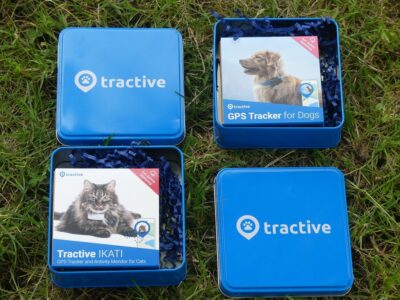 insufficient charge on the GPS to transmit information.
Many GPS cat trackers will let you connect them to your home WiFi network. Do so, if you can. As long as your WiFi system tracks kitty, no signals go to the GPS or cellular system, thus saving battery life.
What Does A GPS Cat Tracker Weigh?
Early generations of GPS trackers worked for dogs, but weighed too much for a tiny cat. Now these devices weigh less than an ounce. When you buy, be sure to check the weight.
These days you will find some collars containing built-in devices. However, the newer cat collar trackers have a clip-on device that attaches to your cat's existing collar. Though a break-away collar keeps your cat from getting snagged on something, if it breaks and the cat loses the collar, you may lose the device as well.
Can You Gain Reliable Information From These Devices?
Read the reviews of the device you choose, but make sure to read ones regarding cats, not dogs. When they don't work, the problem could come from a common error. Some examples: You try to use them in a remote area; the dog chewed on them; you can't figure out the software; you forgot to charge the tracker.
The major problem with cats occurs when the cat escapes from his collar and loses the tracking device. That can cost you the price of the device and often the cost of the year-long subscription as well.
Look Over This List Of Important Considerations Before Buying
1. Size
A small size is vital, so the cat can move, play, and hunt undisturbed, without noticing the device.
2. Live Tracking
A tracker must give real-time locations. When you turn on "live tracking," most trackers update the location a few times per hour. The more often it updates, the more you can save battery use. If you have a recent GPS location and the cat loses the collar, you can often find it again by going to the last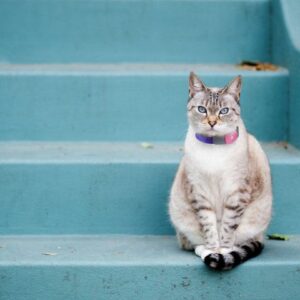 GPS location you saw.
3. Light and Sound
 A tracker with light and sound makes it easier to  find the cat if it has crawled into a dark place. If the tracker makes a sound, you can find it by following the sound.
4. Long battery life
Look for the longest battery life you can find on the tracker you select. It needs to last a minimum of two weeks if possible, even if your cat returns home every day. If your cat suddenly goes missing, then you really need the tracker to work. If the battery has a good charge, you will have more time to find the cat.
5. WiFi location
The collar does not work indoors. It needs a line-of-sight connection to the satellites. If you have the cat indoors, no location will show.
Some trackers include a WiFi clip which will triangulate all WiFi routers in the area. This in turn works together with the satellites. Each router has a physical address. On your map you will see a triangulation between the addresses and satellite locations shown.
6. Multilingual App
Look for a device which has an app that supports your local language. This feature will make your tracker much easier to use.
Here are a couple of GPS cat collar choices
1. Jiobet GPS Dog and Cat Location Monitor
For a good choice, try this collar. Lightweight, it weighs less than an ounce. It uses cellular, GPS, WiFi and Bluetooth technologies. You can set a "trusted area" on the app, and it will alert you if the cat leaves that area.
This collar also features a "ringer" that allows you to use the tracker to call your cat and gain its attention. You can teach your cat to come when he hears that ringer. This tracker can be used in more than 140 countries.
Here are the main features of this tracking device:
Attaches to an existing collar with a clip or pouch (included).

A thin and light device, measuring 1.45 x 1.96 x .47 inches; weighs just 0.64 ounces.

Multiple users can have access to the tracking software

Water-resistant and durable

Charged battery life estimated at 7 days.
Jiobit GPS Dog & Cat Locator Monitor

by Jiobit
Free 1-day shipping
Style: Gen
Price: $129.99
2. Whistle Go GPS Pet Tracker and Activity Monitor
This popular and well-liked cat collar tracker uses GPS, WiFi, and cellular technologies to track your kitty. It simply snaps onto their existing collar. It monitors activity as well, so you will know how much time your cat spends sleeping and how much it moves about.
If the cat leaves its "safe area," you can receive updates via text, smartphone app, or email. The collar has a long-lasting battery. Charge it once and it will last for seven to ten days.
Main features:
Equipped with clips that will attach it to your cat's regular collar

Device measures 1.8 x 1.4 x 0.6 inches, and weighs 0.96 ounces.

Multiple users have access to tracking information

Durable and waterproof

Uses Google Maps tracking system, and AT&T's cellular network (these work in the United States and Canada.)
Whistle Go GPS Pet Tracker For Cats
Free 1-3 day shipping
Price: $99.95
3. Tractive GPS Cat And Dog Tracker
Though marketed primarily for dogs, the Tractive also works well on adult cat collars. Though a bit bulkier, it still weighs just 1.28 ounces. Besides monitoring with GPS location tracking, it also keeps track of activity. Thus, you will know how far your cat travels and where and when he is napping.
Main features:
Clips onto an existing collar

Can be used for dogs and cats

Device measures 2.83 x 1.14 x 0.63 inches and weighs 1.28 ounces

You will have both a GPS and an activity tracker

You can use this system in more than 150 countries

You will need to pay a one-year subscription plan in advance.
Tractive GPS Cat and Dog Tracker
by Tractive
Free 1-3 day shipping
Price: $49.99
I am glad to see many choices of trackers available to pet owners now. I wanted to post about GPS trackers for pets over a year ago and could not find much information. Now I find quite a selection of trackers. The three discussed here represent a small proportion of those available.
If you are interested in these trackers, you will find them at Chewy.com. Click on the blue-highlighted name of the tracker, shown next to it and also under the image. You will then go as if by magic to Chewy, where you can make your purchase.
References I used for this post are as follows:
rover.com/blog/reviews/gps-cat-collars/