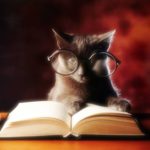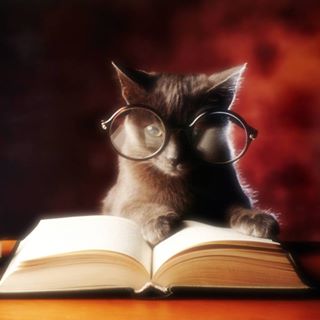 All my life I have gained much pleasure from my friends with fur. If you have shared this experience, ask yourself what it is about a cat's character that makes him so special? What traits add up to "catness"? What happens in that furry head to make him act as he does? Here is a look at what goes on in the mind of your cat.
THE POWER OF THE PURR
When your cat relaxes on your lap and commences to get his whirring motor going — that captivating purr — you know he is happy or content. Somehow, the sound often creates a similar response in us. We may find ourselves feeling relaxed and contented as well.
The animal's purr serves other purposes for the cat. If he is sick or injured, he may purr to sooth himself. Scientists have recently discovered that purring may promote healthy bone growth and accelerated healing.
A CAT'S NOSE IS HIS DAILY NEWSPAPER
One of the cat's most powerful ways to learn about another living creature is through scent. For example, a nose sniff might be said to represent an opening conversation without words.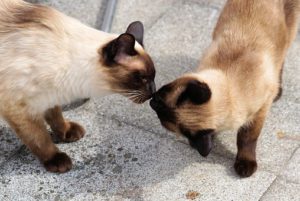 In the Feline Brain Computer there is undoubtedly a large file marked "scent identity." In it are all the different odors a cat might smell and recognize. This file probably has more entries than the list of Eskimo words for "snow".
Scent is used to learn about a new cat in the neighborhood, to define territory, create a bond of friendship, alert a lover, or perhaps to self-soothe.
Your cat can leave information for other animals by depositing his scent in many places. He has scent-making glands in the anus, the chin, the forehead, in front of his ears, in his paws and at the tip of his tail.
SOME OTHER FORMS OF CAT COMMUNICATION
Of course, your cat is undoubtedly very good at letting you know when it is time for his meal. His meow, sometimes unending until he gets what he wants, will serve as a vocal reminder that it is dinnertime.
Observe your cat, and note when and why he meows. Except for aggressive yowling when preparing for battle, he saves his meows for you. Since we can't understand his unspoken forms of communication very well, and since our nose is not as talented as his, he resorts to conversing with us through his meow.
Body language is another form of communication between the cat and another animal. He can transmit a great deal of information through movement of the eyes, ears, or tail, and by body position. Aggression is easy to spot. If his temper reaches volcanic proportions, his hair stands on end, the tail might form an upward loop, and the walk can be stiff-legged.
ADDITIONAL UNIQUE CAT TRAITS
A very common characteristic is kneading — what my mother called "making biscuits". Kneading is the cat's way of recalling babyhood, when he kneaded his mother's breast to get milk.
As a full-grown cat, he uses kneading to relax before sleep, or sometimes to express satisfaction or contentment. Has your furry feline ever kneaded your knee with great enthusiasm? If this is the case, you might do whatever it takes to curb his ardor.
Cats are problem-solvers. They observe and then imitate our behavior. Perhaps their innate sense of curiosity is at work here. They see us do something, so they try it out themselves to see if they find it satisfying.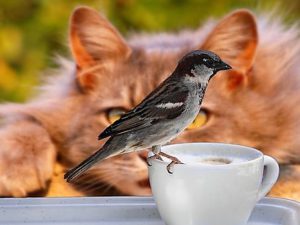 They also like to bring us gifts, partly to demonstrate their successful hunting skills and partly to give back something to us, as we are their "family." My cats have brought me many assorted gifts over the years. The list includes mice, voles, shrews, rats, living and dead squirrels, a live bat, a young raven, also very much alive, and many small birds. These had often already been dispatched to "Bird Heaven", though I disapproved of such behavior. To make me happy, they often brought in live birds, then turned them loose so we could both enjoy catching them again.
YOUR AMAZING CAT
I wish to share with you some gifts that remind me of my furry friends . You will find books, calendars, journals, and assorted whimsical creations that may give you cause to remember why you  love that rascally cat!
I hope that you will share with me, too.  The cantankerous cat lady would like to hear your unusual cat stories.  If you have questions you would like answered, ask away.  If I don't know the answer, I will find someone who does.