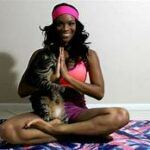 If you have been visiting my website regularly, you will know that Lucinda and I just finished a review of The Dalai Lama's Cat, a three-book series about HHC, His Holiness's Cat. When surfing the web to find a new subject for a post, I came across some articles about cats and yoga: the latest fitness trend.
In the book series I reviewed, you can read about HHC's introduction to yoga at the studio down the street, run by human friends of hers. The cat is fascinated with the class and the yoga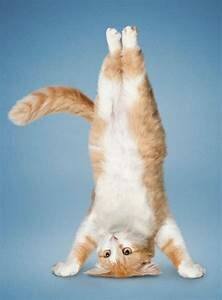 poses.
Now I find that there are places of business that conduct yoga classes attended both by people and cats. No, the cats do not really participate in the class with humans, not by imitating all the poses. Instead, the cats interact with the people in the class in all sorts of ways, creating some comical situations.
When I learned about cat cafes, I was enamored with the idea, but cat yoga went a step beyond. I learned that these places, though not as numerous as the cafes, are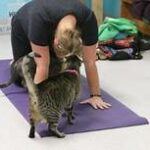 gaining popularity. It's rather a natural fit, actually, as yoga is about being in the moment, and cats live in the moment all the time.
The yoga itself is not particularly strenuous, but is geared more to beginners. It can, however, become adaptable to different levels of expertise. With the cats present and interacting, classwork does tend to become more relaxed. The cats are friendly, and really seem to enjoy the interaction with the yogis.
Cats are brought from nearby shelters, and are usually available for adoption. The number of cats in attendance can vary — I read of one class where 40 cats interacted with the two-legged attendees. At the beginning of one session I read about, the students are given 30 minutes to play with the cats before class starts.
Yoga itself is known to be great for health challenges. It can improve flexibility, increase muscle tone, and help in building mindfulness. It is also helpful for such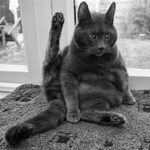 issues as anxiety, chronic pain or illness and depression. It can improve your balance and your breathing, and actually help your overall health.
Having the cats to interact with while you practice adds an extra layer of stress reduction. You can stroke their soft fur, which in itself is relaxing, and you can laugh at their antics. Because of the cats' presence, classes are less formal and often more relaxing.
Meanwhile, the cats, though perhaps a bit distracting during yoga, give loving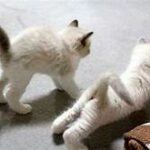 attention to their guests.
The cats interact in some amusing ways. One person reported that a cat licked her hand vigorously during downward dog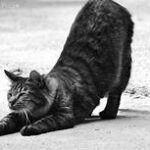 (called downward cat for these sessions.) Another person reported that her socks were stolen and rolled along the floor as a toy.
Amusing pictures in the articles show cats sitting or stretching out on the mats (These places warn you not to bring your own mat, as the cat likes to sharpen her claws on it.)
If you wear your hair in a ponytail for one of these classes, don't be surprised if a cat or two plays with it during some of your poses. One report mentioned that during the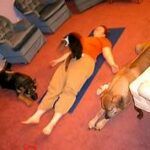 savasana, or final resting pose of the class, usually at least half the people would have a cat asleep on their chest
Despite their antics and interactions with the students, the cats' presence seem to be strangely relaxing. Perhaps you won't get as vigorous a workout as you would without the cat guests, but you may find you're very relaxed and stress-free at the end of your session.
It is felt that having the cats present is a bonus for the people attending, and is also good for the cats. They get stimulation from the humans, and often lots of attention, which only helps the cat become more adaptable. Socialization is a good thing.
Cats are expert at living in the moment. They do not need mindfulness training. However, we might benefit from mindfulness exercises, so here is a link to that story on my other website, build2winaffiliates.com. It's called "How is Mindfulness
 Helpful?"
Here are links to the articles I used to research cat yoga:
eventbrite.com/rally/united-states/cat-yoga-class
hillspet.com/cat-care/play-exercise/cat-yoga-exercise
cnn.com/2016/11/28/health/cat-yoga/index.html
nytimes.com/2017/06/07/well/family/yoga-with-cats.html
It amused me to find many products on Amazon related to cat yoga. I'm listing a few of them here in case you would like a unique cat-yoga-themed gift or personal item. It would please me if you found something you liked. Please be aware that if you purchase any of these items from me, I will receive a small commission from Amazon.
Yoga Cats 2020  12-inch monthly square wall calendar,
animals, humor cat
by Brown Trout Publishers
Prime
As an Amazon associate, I earn from qualifying purchases.
1000-piece puzzle
by Eurographics — Toys
Prime
As an Amazon associate, I earn from qualifying purchases.
Do Difficult Yoga Positions
Customized mouse pad by Apottwa
 Prime
As an Amazon associate, I earn from qualifying purchases.
Paper towel stand — yoga cat cast iron holder
by What on Earth
Prime
As an Amazon associate, I earn from qualifying purchases.
Knseva Cute Yoga Cats Mouse Pad Funny Kitten
Movement Mouse Pads by Knseva
Prime 
As an Amazon associate, I earn from qualifying purchases.
Novica 182531 Kitty Cat Prayer Wooden Sculpture
by Novica
Prime
As an Amazon associate, I earn from qualifying purchases.
There's the selection, folks…I hope you see one that you like.  Just click on the image or the blue highlighted link and you will be taken to Amazon to make your purchase.  Thanks for visiting!