There are no cat cafes in Alaska that I know of, so I have not had a cat cafe experience to talk about. If you have visited one of these establishments, please leave some comments at the end of this article. I really want to read about some first-hand visits, so I'll have a better idea of what they are like.
From my research, I've learned that, first of all, cat cafes have menus that include a variety of items. Most seem to be a place to get coffee and tea and maybe pastry. Occasionally they serve meals; one cafe that I read about serves wine.
The cats sometimes belong to the establishment, but often the cat cafe partners with an organization such as a shelter, and the cats in their cafe are, in that case, up for adoption. What a nice way to choose a new cat!
Part of my article comes from mentalfloss.com , and I loved the way they start their article. They ask: "What starts with a C and wakes you up in the morning?" If you answer "a cup of coffee" or "a cat," both answers are correct.
Have You Ever Visited These Cat Cafes?
Here are ten popular cat cafes that are located in the United States and abroad. If you are familiar with any of them or of another one I haven't mentioned, please comment. If you have information about other cat cafes in your community that are not mentioned here, educate us.
These businesses have been popular at least since 1998, but just came to the United States in 2014. Mostly, these cafes serve as adoption centers — such an excellent idea — and partner with a shelter in their town who provides the adoptees.
Meow Parlor
Address: 46 Hester St., Manhattan, New York 10002
For this cat cafe, reservations must be made online two months in advance. There is an hourly fee to visit, which can be up to $30.00 for five hours
Kit Tea
Address: 96 Gough St., San Francisco, California 94102
Kit Tea is the second cat cafe in the Bay area. Kit Tea is partnered with Give Me Shelter, which is a local non-profit cat rescue organization. According to the founders, Courtney Hatt and Lisa Tsubouchi, the cafe has all-kitten residents.
Le Cafe des Chats
Address: 3435, rue Saint-Denis, Montreal, QD H2X 3L1 Canada
This was North America's first cat cafe. It opened in August 2014, if I did my math right. You must make reservations online in advance. As the cafe has adopted all the resident cats, sadly, none are up for adoption.
Cafe Chat l'heureux
Address: 172 Avenue Duluth E Street, Montreal, QC H2W 1H3 Canada
Here's a cat cafe that serves an extensive breakfast, lunch and dinner menu. Their cats are also not up for adoption. However, you can read their bios online.
Planet Tails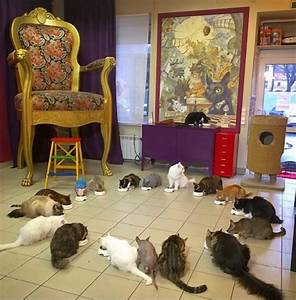 Address: Shoppes at Vanderbilt, 2355 Vanderbilt Beach Rd., Naples, Florida, 34109
This cafe is Florida's first cat cafe. Besides having lots of cats to visit, they also feature free WiFi. These adoptable cats are all from the Collier County Domestic Animal Services
Calico Shinjuku
Address: 1-16-2- Kabukicho, Fuji Bldg., 6 F, Shinjuku 3 Chrome, Tokyo
When you visit Calico Shinjuku, you are in one of the largest cat cafes in Tokyo. There are over 50 cats. The fee is 1,000 yen for the first hour per person. Drinks and food are available, plus free WiFi.
Catfe
Address: 2nd Floor of the International Village Mall (aka Tinseltown), Vancouver, BC
The animals in Catfe all come from the BC SPCA, and are all available for adoption. If an adoption is pending, you will have to wait in line. The cafe serves cat-puccinos, cat-themed treats, and crafty meowchandise. They also have a website. This cafe has found homes for over 550 cats since opening in December of 2015.
Denver Cat Company
Address: 3929 Tennyson St., Denver, Colorado
The cats in this cafe are up for adoption. They are from the Rocky Mountain Feline Rescue. You may visit the cafe for free during the week. There is a charge of $5 on the weekend. Reservations are not accepted.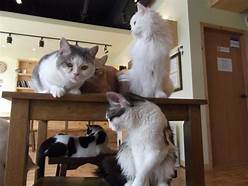 The Cat Cafe
Address: 472 Third Ave., San Diego, California 92101
San Diego's first cat cafe finally opened after months of delays. They operate in partnership with the San Diego Humane Society. Though the cafe does not charge an entry fee, customers are obligated to purchase a beverage or a pastry if they want to hang out with the cats.
Little Lions
Address: 40 Grant St., New York, New York 10013-6201
This cafe is a cat sanctuary and tea house. Its specific purpose is to try to help cats find homes. Spend time with the cats and enjoy tea, coffee, or local baked goods and sandwiches. The owner, Erin McShane, partners with New York Cares and Anjellicle Cats Rescue.
How Did the Idea Get Started?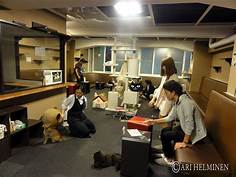 First of all, the idea fills a need. Thousands of cats are put down every year because they have no home — or they live very short lives, out on the streets. The cat cafes, by partnering with an animal shelter or rescue facility, can bring people and cats together, helping to place animals in a good home.
The world's first cat cafe, Cat Flower Garden, opened in Taipei, Taiwan, in 1998. The cafe soon became a favorite tourist destination.
When cat cafes moved to Japan, they really became popular. One of Tokyo's first cat cafes, Neko no mise (Shop of Cats), opened in 2005. Here, all the cats can be cuddled except newborns, too fragile to endure much handling.
The owner of Neko no mise, Norimasa Hanada, explained that most Japanese rentals prohibit pets. Just condominium apartments for families will allow them. Therefore, young singles in their 20s and 30s cannot have a pet. They miss out on the stress relief, comfort, and companionship that a pet can give. Cat cafes provide a partial solution.
New York's first cat cafe, which is named Cat Cafe, was sponsored by Purina ONE. They have adoptable cats who come from the North Shore Animal Legion.
New cat cafes are gaining popularity. and more folks are opening these combination cat cafes and cat adoption centers. In Europe and in the UK these establishments are also becoming popular. In Britain, with the help of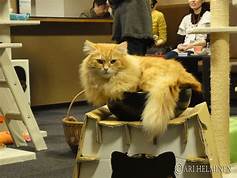 more than 100,000 British pounds in donations, Lady Dinah's Cat Emporium opened. It is located in the hip East End area.
So consider — when it is morning, maybe you DO need both C's — Cats and coffee.
If you have visited any cat cafes, it would be wonderful if you would describe your experience in the comments below. I know I would like to read them, and am sure some of the other visitors to this site would as well.