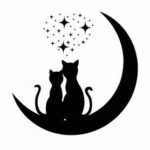 There are many ways our cat shows us his love. Unless we understand how the cat communicates, we may not realize that we are receiving love demonstrations. Can you recognize the signs of cat and human bonding?
In an article from www.theguardian.com, comes this list of ways in which your cat demonstrates his love. Have you recognized them in your pet? Does he show his attention and affection in these ways?
These Are Signs Your Cat Loves You
First, he greets you at the door. My cat, Carlos, always knew when my truck came in the driveway. When I entered the house, he would be sitting just back from the door far enough so it wouldn't hit him when it opened.
He follows you around. My cats liked see what I was up to, so they would come and check on me. If I went hiking, the cat would go along.
He stares at you. The experts say that he will only make eye contact with people he likes.
He blinks at you. This is an example of a kitty kiss. Give him one back. Look at him and slowly blink your eyes and open them.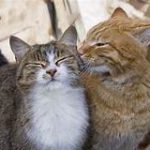 He meows. He only talks to you, not to other cats. He may also be loudly purring.
He tolerates your affection. A human kiss has no meaning for the cat, but he will tolerate such behavior if he thinks it makes you happy.
He bites you, but only in play. A gentle nip is a sign of affection.
He head-butts you. This is a cat's way of depositing pheromones on you, and marking you as theirs.
He sleeps close to your side, but wakes you in the morning, in various ways, depending on your cat's favorite method.
He touches you. Perhaps it is a pat on the cheek with a soft paw. My Siamese, Maxine, would lie next to me at night and rest one paw on my hand — a soft, loving gesture.
He licks you. Because you are part of the cat's family, he will help with grooming. It is a great honor to be licked by your cat.
He kneads you. My mother said he was "making biscuits," You have become his surrogate mother, and he adores you.
He brings you presents. Usually these are mice, and sometimes a bird. My cat, Carlos, surprised me with all sorts of gifts. He brought in a young raven, and a squirrel. He liked to bring in small birds and turn them loose. He brought home rabbits, and though I never asked to share, I think he would have gladly given me a portion.
Once Maxine brought me a live bat.
He weaves through your legs or rubs against you when you are trying to walk. He's just saying how much he loves you.
He sulks when you leave him for a number of days. He is annoyed that you, the love of his life, left him alone for so long. It might take a couple of days, but he gets over it.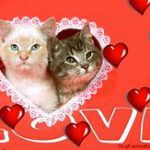 He sits on your lap, or perhaps on other parts of you, like your head. He wants to be as close to you as he can get.
He shows you his belly. It's his most vulnerable part. He wouldn't roll on his back like that if he didn't love and trust you.
He allows you to live in the same house as he. After all, the cat considers himself your equal, so if he cohabitates with you amicably, it must be because he loves you.
He tells you with his tail that he is glad to see you. He might greet you with a question mark tail, which tells you he likes you. If his tail is fully upright, it indicates familiarity, trust, and affection.
Do Cats Feel Emotions?
Cats, like most mammals, feel emotions. They may be expressed differently from the way we express them, however. Some emotions observed and studied in cats include fear, happiness, sadness, curiosity, anger, grief and anxiety.
Though love is difficult to measure, there is no reason to believe that when a cat acts affectionate, he isn't feeling an emotion as well.
Cats' brain structures are similar to those of humans, including the areas that are involved with emotions. Their brains respond in similar ways as ours. Though they don't show their emotions in the same way, they do let you know by cuddling in your lap, rubbing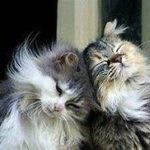 their heads on you, or vocalizing their feelings.
Pet your cat. It is a good way to respond to his gestures of affection.
Why Do We Love Cats?
The magazine, Psychology Today, had an interesting discussion about why we love cats.
First of all, they have a large capacity to receive affection. When we see a cat, you may have an irresistible urge to stop and stroke him.
Stroking a cat with a rhythmic motion focuses our attention and therefore is akin to meditation.
One reason we adore them is because they really react to the stroking. They are delighted to have our attention, often offering purrs, or perhaps rolling on their back, trustingly offering that vulnerable tummy.
They forget any past actions on our part that might have upset them. They forget all that and live in the moment.
So often our interactions with other humans are sullied by past misunderstandings. Not so with the cat. He loves you now — forget about the past.
Cats can be very healing to us. We are less apt to die of a heart attack if we have a cat. Other studies show that cats can lower blood pressure, as well as releasing dopamine and serotonin, which reduce stress and improve our immune systems.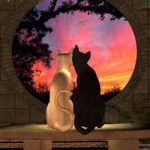 Cats can also cause the release of the chemical, oxytocin, associated with the feeling of being in love. Love heals, and love for your cat can help dispel deeply-held feelings of stress or worry.
The cats in our lives can give us so much love. On Valentine's Day, be sure to return some of that love to your four-legged pal. And, while you are passing around the love, here are some catly Valentine's gifts that you might give to that two-legged love in your life as well.
Click on the image or on the highlighted gift name, and you will be taken to Amazon, where you can make your purchase. Please note that, as I am an affiliate marketer, if you purchase one of these items, I may make a small commission.
 Angel Caller Cat Necklace .925 sterling silver,  Silver and black cats seated on a heart.  This necklace for women is adjustable, from 18″ to 20′ long.  
by My Style My World
Price:  $24.99 Prime
Cute silver and black cats circled in a heart, they snuggle up together.  This cat necklace symbolizes true love, never to separate.
Tarnish-resistant .925 sterling has been treated to not change color and darken
100% satisfaction plus a 30-day money-back guarantee (replace or refund.)
Blue Q Women's crew sock People I Love: Cats
Precious Gifts by CraftyKatz
Price:  $10.99 Prime
58% combed cotton, 40% nylon, 2% Spandex
Imported
Funny Cat Stemless Wine Glasses, Set of 4
Hilarious Valentine's gift idea
Price:  $29.89  Prime
by Du Vino
Give as a set or as 4 individual gifts.  Great quality print; dishwasher safe.  Customer satisfaction guaranteed fo
r exchange or refund if necessary.
Cat Selfie Fleece Throw Blanket
by Dawhud Direct
Price:  $18.99
Prime
As soft as your love, this throw will provide comfort and charm.
 Sterling silver cat necklace for girls
Silver jewelry with CZ
Cat gifts for animal lovers, by SISGEM
Price:  $22.99
Prime
Happy Valentine's Day, everyone.  May your day be filled with love, laughter, friendship, and love.