Your cantankerous cat lady has received a couple of questions about taming and domesticating a feral cat, so I will tell you what I know. My knowledge is based on first-hand experience, as I "trapped" two feral kittens and took them to my Alaskan homestead on Spruce Island.
Where I Found the Cats
A construction crew resided in a compound of trailers provided by the village of Ouzinkie for workers. The wife of the project foreman fed a feral cat and three kittens for about three months that summer. She and I became friends, and I visited several times during their stay.
"I don't know what will become of the cats when we leave this fall," worried the woman. I told her that I hoped I could catch two of the kittens and take them home with me. I'd never seen cats that looked quite like them. They had the markings and the coat of a seal point Siamese, except they both had four white feet and a white chin. As it turned out, they were both female.
How I Captured the Kittens
A couple of weeks after the crew left, I went to the site armed with cat food and a cardboard box with a tight lid. The kittens were then about four months old, and had long since been weaned from their mother. At least they weren't totally freaked by the arrival of a new human on the scene, as they had been fed by the foreman's wife all summer. She had never tried to touch them, though, so they were still pretty skittish.
I am sure I was meant to have those two, because when I went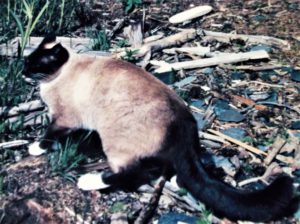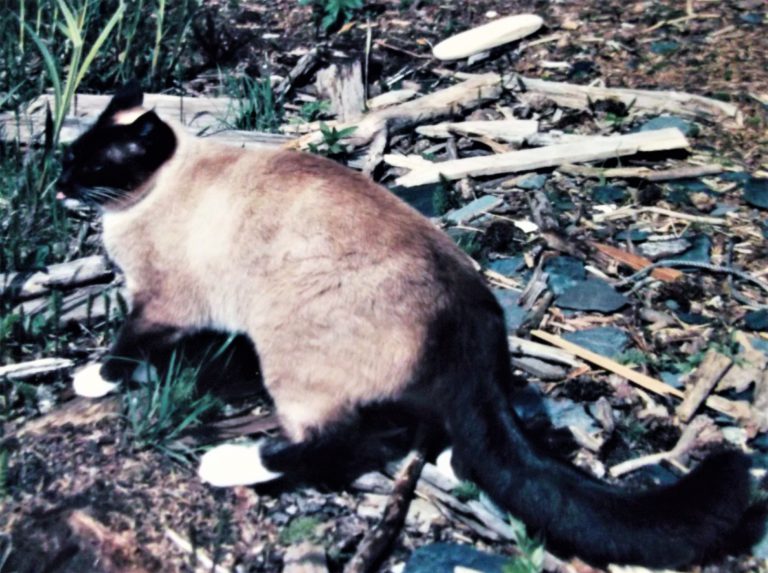 behind the trailers to look for them, I couldn't find the mother cat and her black kitten, but the two Siamese hid near the building and watched me. After all, their regular meal ticket had been gone for two weeks, and they must have been very hungry. Perhaps they had the idea that I had come to feed them.
I set the box down, making a big production of putting the cat food inside. Then I backed off and watched. Their hunger finally conquered their fear. The bravest of the two jumped in the box and began devouring the food. Soon the second kitten followed. While they were occupied with the food, I quickly shut the box lid and headed back home with my two captives.
Did They Adapt Successfully?
If you want to adopt a feral kitten, you'd have the best luck with one that had just been weaned. My two, at approximately four months, were a little old for domesticating. They never did quite get over their skittishness, even with me. When I came home after an absence, long or short, as soon as I came in the house, they would both run and hide. Then, finally they'd venture out and come to greet me. They never lost that bit of reflex action — hide if you feel threatened and don't come out until you are sure it is okay.
Thank you, Uncle Sam
The usual routine when you bring a new animal into your home is to keep it in a separate room, away from your other pets, until it gets used to the smell and sounds of another animal. It did not work with these two. My cabin only had one room. Fortunately, I had Sam Cat.
For the first couple of days, he did make sure they knew he was in charge, and that they were in his territory. One he had established that fact, he adopted the two of them, much as he had done with my dog, Teddy Pup. His behavior prompted me and my beach visitors to call the cat "Uncle Sam."
Sam Establishes Rules
Sam took his job seriously. He watched over those kittens from their first day at Banjo Beach, my homestead. He taught them a couple of rules, both of which applied for the first year they were with us.
Rule #1: Do not go to the beach without me
The kittens loved to play on the beach, but somehow Uncle Sam knew about big winged creatures that could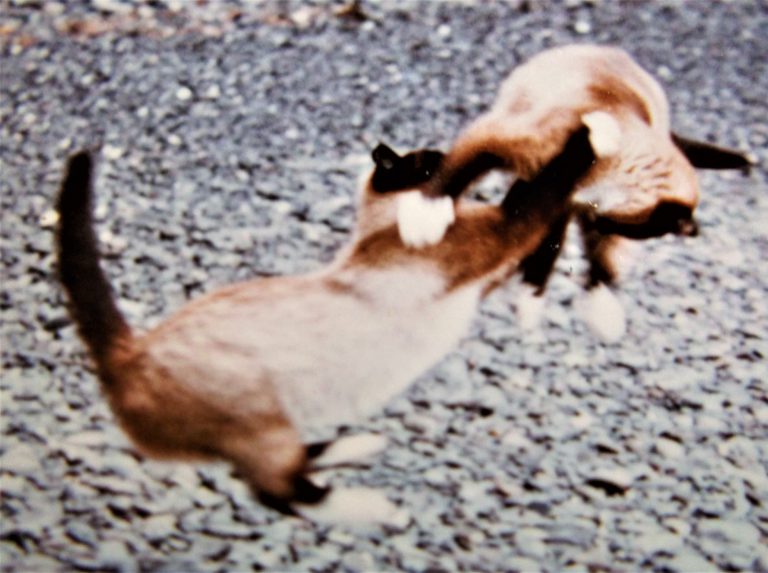 swoop down from the sky and snatch up a small cat. If the kittens went to the beach without Sam, he would go down after them and chase them back to the house.
Rule #2: No hikes with Mom, Teddy, and me until I say it is okay
Sam, Teddy, and I loved to walk in the woods, and did so often. For the first year after the kittens moved in, Sam would not let them accompany us. They wanted to go, and tried to follow. However, Sam would chase them back under the house. By the following summer, he must have decided they were mature enough, so he let them join us.
What should I Name Them?
When I lived in Kodiak, I'd had two male black cats from the same litter. Due to their personalities, they were named Uptight Cat and Loose Cat. I shortened those names when I talked to the cats or called them. Their nicknames were Poo and Lou. Now I gave this second set of twins those names. For the second time, I had cats called Poo and Lou.
Now What Do We Do? The Kittens Come Into Heat
It wasn't all that long after Poo and Lou moved in with me that they came into heat for the first time, one after the other. Sam had no interest in their lascivious moves, so they looked for other possible paramours. They began making the trek to Danny's house, a quarter mile away. He, too, had a male neutered cat and, one after the other, the females tried to seduce him. He wanted nothing to do with them.
After both Poo and Lou had traipsed over the Danny's house through a couple of heats, he came to my house one day and said, "Either you get those cats spayed or I will do it myself!" So, into Kodiak I took them. It was just as well, before they found all the male cats in Ouzinkie.
How They Adjusted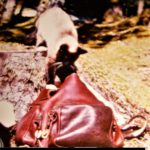 I believe my two adjusted faster at my house than they might have because of "Uncle Sam" and because we lived a relatively quiet life, out in the woods. It took a while for them to get used to being petted, but they did demonstrate to me that they had a purr.
When you first bring a feral cat home, move slowly and try not to startle it. Don't touch it at first, and when you do, make the first contact brief. Keep a treat handy to remind them that you are not the enemy. Play with them with a string that has something small tied to it — perhaps a feather. The play will help them relax. Brush them with a soft brush, as that reminds them of their mother's care. Eventually you will be able to cuddle them and handle them freely.
Their Lives Develop
Both of my kittens slept with me at first, once they discovered the comfort of the bed. Then Sam and Lou fell in love, and she slept curled up with him every night in his special round bed.
I felt a little sorry for Poo, because once a relationship order had been established, Sam would pick on Poo, I believe just because it was so easy to get a reaction from her. They got along well, but she was low cat on the totem pole. One of his favorite games was to chase her up the huge tree that grew right next to the kitchen.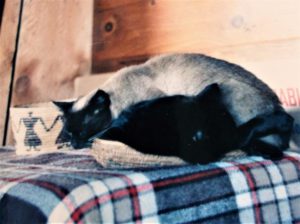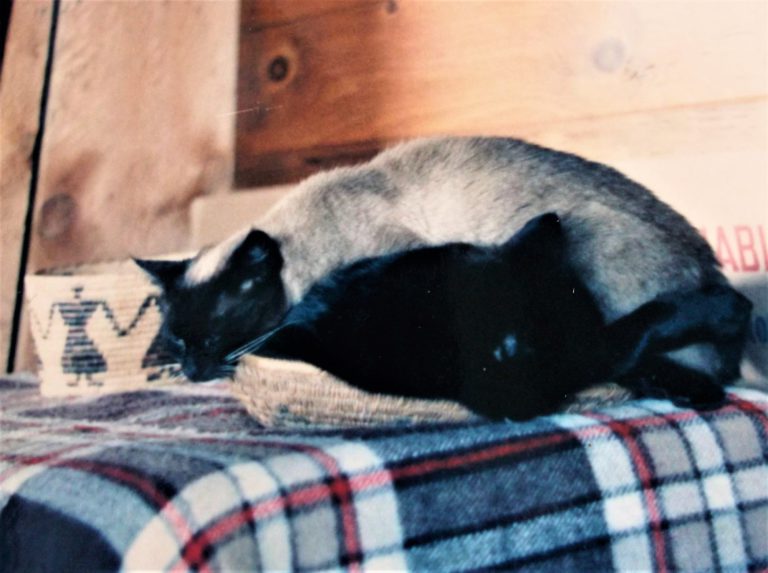 He'd back her out onto a long branch, batting at her with one paw, never touching her, but slowly backing her further along the branch. Poor little Poo would be yelling so loud you'd think she had blood pouring from multiple wounds, though Sam never touched her. More than once I had to go outside and yell at Sam, who would race down the tree and disappear.
We Were All a Family Unit
My little twins lived with me on Spruce Island for their entire lives, and we became a tight-knit family unit. My life on Banjo Beach could have been very lonely, but because I had my fine, four-legged family, I felt adequately blessed with loving companionship. The four of us lived happily together.