If you have ever shared a home with a cat or two, you have undoubtedly laughed many times at their crazy cat antics. I have shared lodgings with cats for my entire life, and have been amused every day at their  cat capers. They say that finding humor in our life helps keep us healthy, so be happy living with cats that make you laugh. I am now 80. My cats have kept me young.
OUR UNFORGETTABLE KODIAK ALLEY CATS
For this story, I will share some humorous moments I enjoyed with two cats, brothers, who joined our household in Kodiak, Alaska. My husband, Les, brought them home one day. He said he didn't want the cats to be lonely, so he brought two instead of one. They were quite young when they moved in.
For some time they were nameless. What to call them? Eventually, our boarder gave them names that stuck. The two, though from the same litter, were totally opposite in personality. One was high-strung and nervous, like a cat whose tail has just been stepped on. That one he named Uptight Cat. This cat grew to be lean and fast. He looked like a miniature black jaguar.
The other cat grew up to be fat and happy; about as relaxed as a cat can be. This one the boarder named Loose Cat. He claimed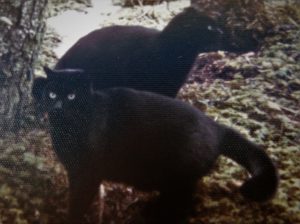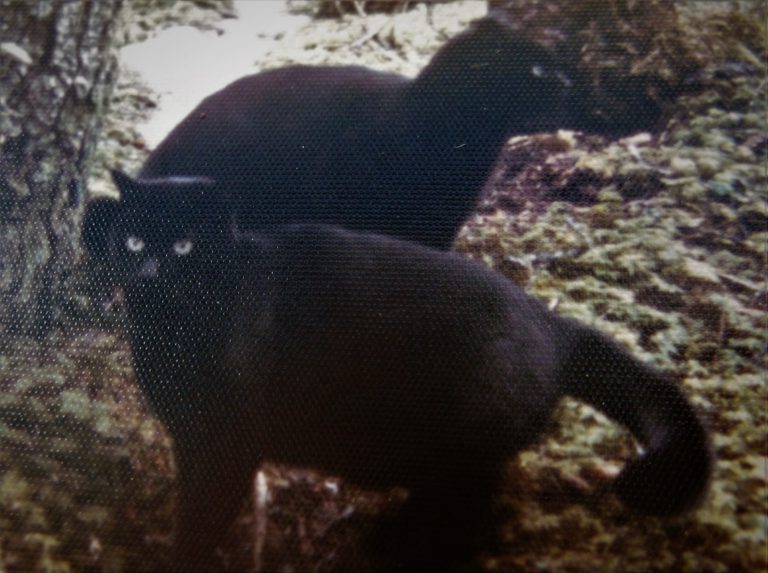 that Loose Cat's calm personality could be attributed to the fact that he once stole into the boarder's bedroom and ate a whole gram of hash. The boarder also kept a few joints rolled up and stuck in a cup on his desk. More than once, Loose Cat took a joint from the cup and chewed on it for a while. Needless to say, the name really fit.
CAT AND DOG INTERACTIONS
We remodeled a house in Kodiak and settled in. We added two dogs to our family: a foxy little Norwegian Elkhound named Sheba, and a big, gangly Great Dane-Labrador mix named Sabir. Sabir and Loose Cat became great friends. Once, Loose Cat came home from a hunt with a large rat in his mouth. He gave it to Sabir, who happened to be entertaining a guest dog from next door. The two started playing with the rat, which was still alive. It escaped and ran under the little travel trailer, parked next to the house. Loose Cat ran under the trailer, caught the rat again, and gave it back to the dogs. I can only imagine the unspoken message between cat and dog: "Here it is again — now, don't lose it this time." The dogs must have understood, as they promptly killed the rat.
THE GREAT ESCAPE ARTIST
We often went by skiff to Spruce Island, a 10-mile trip by water, to work on our homestead. I remember once when we were loading the skiff, we carried Uptight Cat to the loading ramp. The cat was sealed in a cardboard box, making him extremely unhappy. He told us in no uncertain terms that he wanted out! We left him in his box on the boat ramp and went back to the truck for another load. When we returned, the box still appeared to be sealed, but Uptight Cat was sitting on top of it. After that, we just put the cats in the skiff. Uptight Cat hid in the gunnels until we reached shore again.
THE CATS LEARN ABOUT CAMPING OUT
When my husband was discharged from the navy, we went to Colorado for a couple of years. As we were traveling by truck and pulling a camper, we planned to spend our nights in campgrounds along the way. We decided it might be a good idea to harness the cats and keep them on leashes to keep them safe.
"Not on your life," chorused the cats. When we put the harness on Uptight Cat, he again put on his Great Houdini act. He twisted and wiggled until he somehow got out of that harness.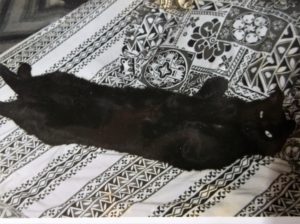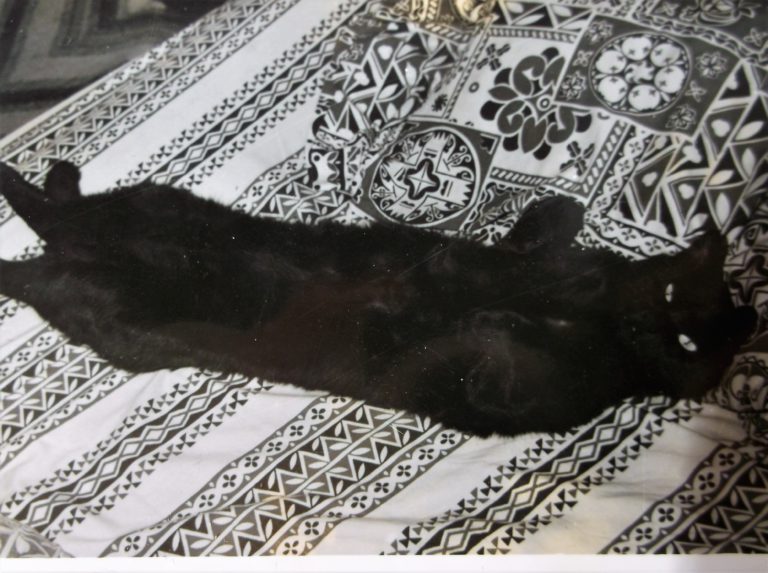 Not so Loose Cat. We put the harness on him, snapped on the leash, and tried to convince him to walk with us. He simply laid down. We could have dragged him anywhere on that leash, but he was not going to be submitted to being led around like a mere dog.
Thereafter, we just left them in the trailer until we were camped for the night. Then we let them out and they explored and hunted, coming home at dinner-time. In one campground, I sat on a hillside, writing in my journal. Les was below me, talking to some nice folks who were camped next to us.
From out of the brush, Uptight Cat came speeding toward camp, chasing a small, terrified chipmunk. The chipmunk ran into the group of people, frantically seeking a hiding place. He found a good one — he ran right into the lady's pant leg and up her leg. She began dancing around, screaming, "Get him out! Get him out! Her husband finally retrieved the tiny creature and gave it to Les, who put it in his shirt pocket until the cat stopped searching for it. Then Les put it high in a tree, where it was safe at last.
LOOSE CAT'S ESCAPE AND RECAPTURE
For a few months before we returned to Kodiak for good, we rented a small house on a creek near Deckers, Colorado. A dam broke above our place, flooding the area. Les was visiting relatives in Texas at the time. I'd been warned of the flood danger and had moved with the cats to a motel in Woodland Park. The cats did not like being shut in that room, as they were used to freedom. On the first night there, I brought the last load of things from the truck to the room, and opened the door. Loose Cat bolted through the door and down the sidewalk. I hurried after him, afraid he'd hide somewhere.
The sidewalk was straight, past several motel units. Then it made a sharp turn to the left before continuing on. Just around that corner, a German shepherd snoozed in the afternoon sun. When Loose Cat reached the corner and saw that dog, he shot straight up into the air a good four feet. When he came back down, he appeared to be three sizes larger than when he went up. The dog, after one startled look at this creature from outer space, bolted across the yard before that apparition could leap on him. Fortunately, the distraction stopped the cat's flight and I returned him to our room, securing the dog's safety.
TELL ME SOME OF YOUR FAVORITE CAT STORIES
These stories give you just a taste of the crazy cat antics I have witnessed and enjoyed. A little levity in life is definitely a good thing, so be thankful for cats that make you laugh. If you have any favorite stories about your cats and their misadventures, I'd love to hear about them. Send them to me in the comments section at the bottom of this page. Here's to cats and laughter!
---
If you need to find toys for your cat, try this "activity center" with a variety of toys for your cat to choose from.  To order, just click on the image, and you will be taken to Amazon. As an Amazon associate, I earn from qualifying purchases.