The making of ceramics started in the distant past.  When we research the history of ceramics pottery, we learn that the use of clay to make items, artistic or practical, became an industry thousands of years ago.  When people discovered that clay could be mixed with water and then fired in an oven, the industry of making objects from clay was born.
What is the oldest ceramic artifact?
The oldest ceramic artifact that we know of dates as early as 28,000 BCE (Before Common Era.)  The piece was made during the late Paleolithic period and was a statuette of a woman.  This piece was found near Brno, in the Czech Republic, from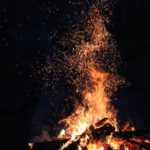 a small prehistoric settlement.
First examples of pottery
Several thousand years later came the first examples of pottery.  In China, from the Xianrendong Cave, archaeologists found fragments of pots dating from 18,000 to 17,000 BCE.  It is believed that the making and use of pottery spread from China to Japan and the Russian Far East.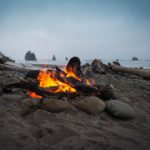 During the Neolithic period, use of ceramics increased dramatically.  Clay-based containers became popular as containers for all manner of things.  Early pottery was either dried in the sun or fired at low temperatures in rudimentary kilns dug in the ground.
When the wheel was invented, (around 3,000 BC) it became possible to form pieces that had radial symmetry.  Artists also began decorating their pieces.
The start and development of porcelain
Through the 16th century, earthenware was the main class of clay product made in Europe and the Middle East.  Then the Chinese introduced high temperature kilns, and around 600 CE (Common Era), they developed porcelain from kaolin clay.
During the Industrial Revolution of the 16th century, blast furnaces were capable of reaching up to 1,500 degrees Celsius.  With these furnaces came the ability to melt metals and glass on an industrial scale.
Due to these high temperature furnaces,  the manufacture of coke, cement, chemicals, and ceramics became possible. Since those early days, traditional ceramics and glass have been developed in new ways, taking advantage of such properties as their low thermal and electrical conductivity, high chemical resistance, and high melting point.
By 1850, with the introduction of the first porcelain electrical insulators, an era of
technical ceramics started.
After World War II, ceramics and glass have contributed to the growth of technical and design fields, such as electrons, medical, energy, automotive, and aerospace.
You are invited to look at a selection of ceramic and glass items that represent a high point in the development of porcelain.  Here is work by good artists for your pleasure.  These pieces all come from the fine studios of The Bradford Exchange Online.
These are beautiful and charming items that make very nice gifts.  Oh, and if anyone wants to get me a Christmas gift, send me one of these.  As I hand-picked all of them, that means I like them. (I jokes– you don't have to get me a present.) Click on the item or the blue-highlighted item name to be taken to Bradford Exchange to make your purchase.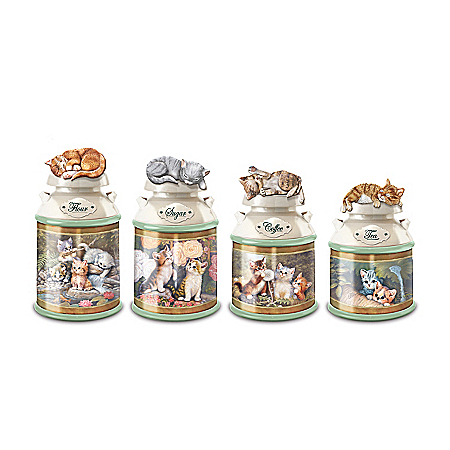 Jurgen Scholz Cat Canisters With Freshness Seal
Cozy Kittens Canister Collection
Price:  $69.99
Available in 2 installments of $34.99
Express Shipping Available
Kitchen Capers Cat Wall Clock
by Jurgen Scholz
Price:  $99.99 + $14.99 shipping or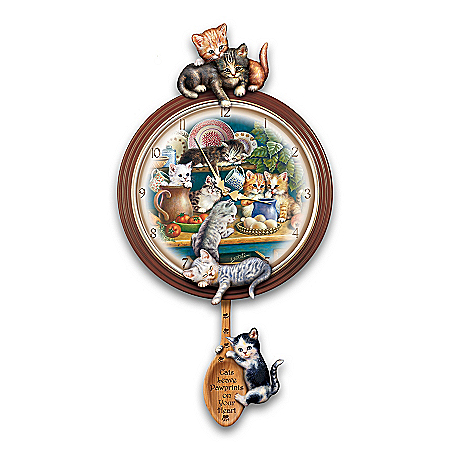 3 installments of $33.33
Express Shipping Available
Sophisticats Crystal Cat Figurine Collection
Available in two payments of $24.98
Express Shipping Available
Garden Purr-Fection Figurine Collection
Begin with issue one of four
Price:  $49.99 each issue
Express shipping available
A Meow-y Christmas to All Tabletop Christmas Tree
Price:  $99.99
+Shipping $14.99
Available in 3 installments of $33.33
Express Shipping Available
I Love You to the Moon and Back
by Blake Jenson
Cat figurine
Price:  $39.99 + 8.99 shipping
Cats Leave Paw-Prints on our Hearts
Music Box, mahogany finish
Price:  49.99 + 9.99 shipping
Available in 2 installments of $25.00
Express Shipping Available
There's the assortment.  I hope you like them.  To go to Bradford Exchange, just click on the image or on the blue link. Let me know what you think of these…I'd love feedback!